Here are the job openings in the United Arab Emirates for this month. The United Arab Emirates is composed of 7 territories (Dubai, Abu Dhabi, Sharjah, Ajman, Ras Al Khaimah, Fujairah, and Umm Al Quwain). The most popular emirates are Dubai and Abu Dhabi. Plenty of expats visit this country in search of jobs. So if you're looking for work opportunities, please be guided in the information we've shared below.
Below are the companies that have posted their job vacancies in the UAE this month. Please check and go through each link for reference on the opportunities for you to grow your career while in another country. Do understand that it is illegal to work while on a tourist visa so make sure that you secure an employment visa first before working.
Related Post: UAE Do's and Dont's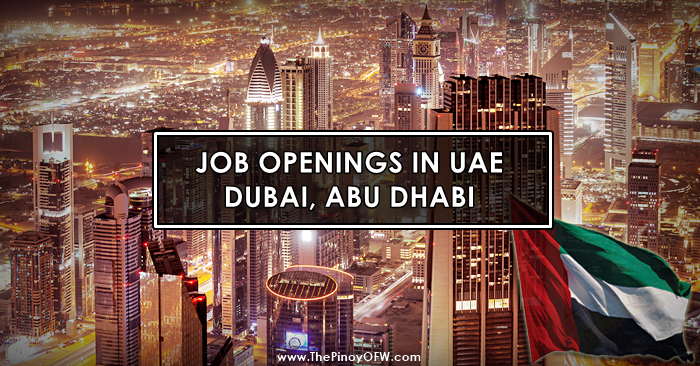 Jobs for OFWs and Expats in UAE – Dubai, Abu Dhabi
Disclaimer: Please be advised that we are not a recruitment agency. We are listing these jobs on a monthly basis to provide updated information so you can apply directly to each company. The links you click will lead you to the official websites of these companies where you can directly apply and fill out your information.
In order for you to view what are the open positions, you simply need to check which company you are interested to work in and click the company to be redirected to the vacancies of that particular company:
Jobs in Abu Dhabi
We hope the above information and jobs will help you land a career in Dubai, Abu Dhabi and the rest of the UAE. By the way, please also make sure that you meet the qualifications as well as the requirements under each job post. If you are not qualified, chances are you will be rejected right away. Making sure that you meet the requirements avoids in wasting time and effort in sending your online application.
This also helps the HR team in scanning your resume. Good luck in the application process and we hope you secure a job.