Pork Afritada is a classic and enduringly popular dinner dish, and it's easy to see why. Filipino food offers many versatility in preparation methods, like the variations of Pork Afritada available today – all of which evoke that special feeling found only with homemade cooking. Indeed, when eating traditional Filipino cuisine you don't even need a knife- just fork your way through an amazing array of flavorsome dishes! Your family is sure to love this authentic Filipino Pork Afritada Recipe inspired by the classic Spanish dish.
This succulent and nutritious Pinoy dish is a cinch to make; cubes of pork meat are cooked with vegetables in tomato sauce until the pork becomes fork-tender. You will be savoring this deliciousness in no time! Whether it's for a special occasion or an everyday meal, this scrumptious pork afritada is the perfect dish to serve.
Also Read: How to Cook Filipino Pork Menudo
With carrots, potatoes and bell peppers in tomato sauce, its combination of flavors creates similarities with other classic Filipino dishes such as menudo and mechado. Although there are slight variations between them in terms of ingredients used and flavor profiles, they all share similar ways of cooking – making these recipes easy to prepare!
Afritada isn't just limited to pork; you can also make it with chicken! The ingredients remain the same as for a traditional afritada, but since chicken cooks faster than pork, you'll need to reduce cooking time by approximately 10 minutes. So if you have some spare chicken instead of the usual pork in your fridge, simply follow this recipe and enjoy a delicious Chicken Afritada anytime!
This beloved Pinoy dish, Pork Afritada, can be cooked up in only six simple steps and presented on your dinner table! You'll need basic ingredients such as hotdogs, potatoes, and red bell peppers to make this meal both savory and flavorful. For a delightful extra touch of flavor with a dash of color, add green peas and bell pepper – the vibrant colors will bring this dish alive!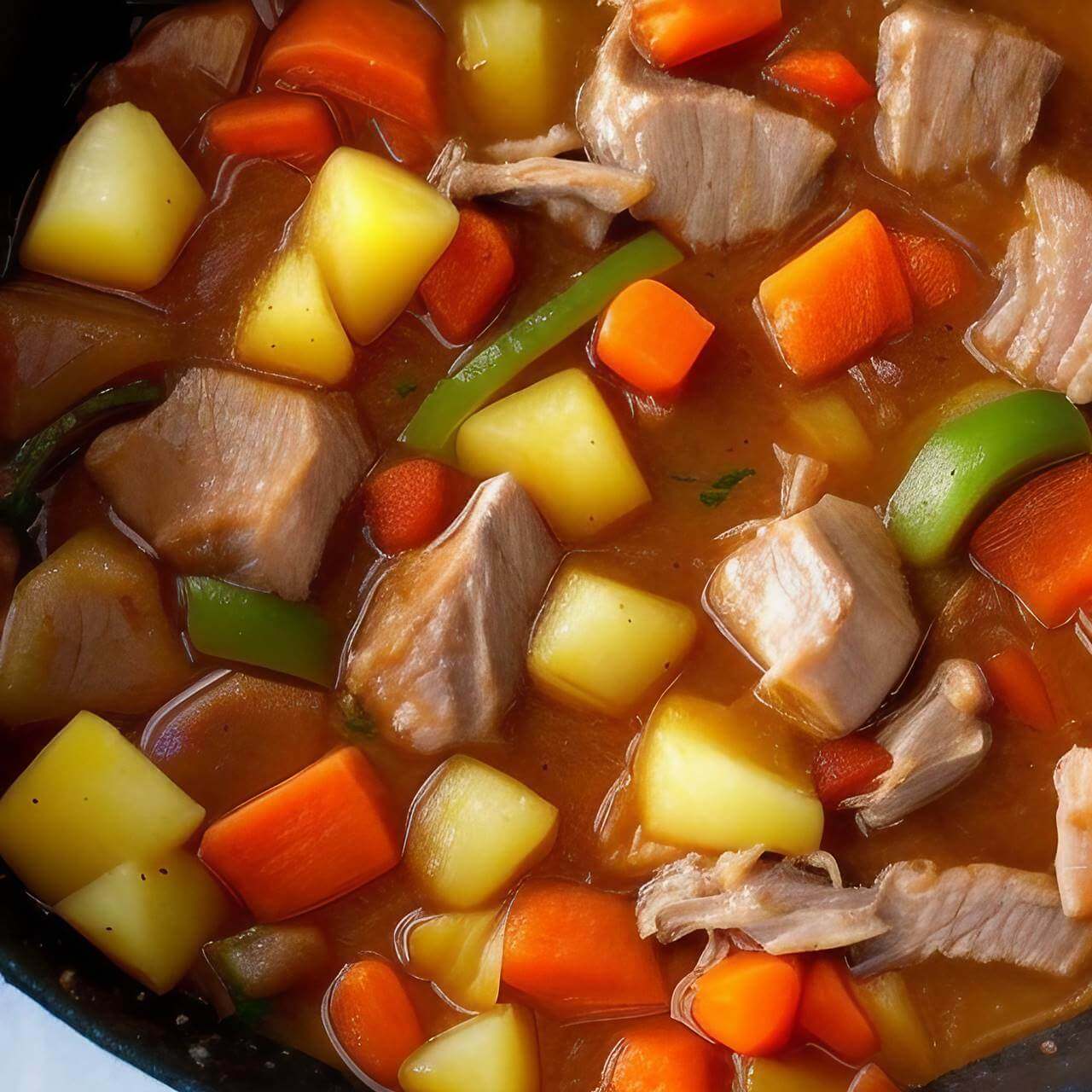 Ingredients
Cut .910 grams of pork shoulder into cubes.
1 piece Knorr Pork Cube
3 pieces hot dogs sliced
pork liver (optional)
Slice two carrots into small, triangular wedges.
Two cubes of diced potatoes.
Add 226 grams of tomato sauce to the recipe.
Invigorate your meals with 110g of succulent green peas!
Cube one tomato for a flavorful addition to your dish.
Include four crisp and dried bay leaves in your recipe for an added taste of flavor.
For a flavorful twist, add one chopped onion.
Finely mince six cloves of garlic for your dish.
750 grams of water
2 pieces bell peppers (red and green)
3 tablespoons cooking oil
Enhance your dish's flavor profile with a generous sprinkle of salt and freshly-ground black pepper to suit your palate.
Tips
Tomatoes – For a dish that truly tantalizes the taste buds, nothing beats fresh tomatoes. By adding just two tablespoons of tomato paste to thicken and deepen your sauce's hue, you'll have an exquisite concoction in no time.
Seasoning – For a truly distinctive and flavorful classic pork Afritada, this recipe adds soy sauce to the usual salt and fish sauce ingredients. The additional ingredient enriches the taste of the dish while providing an appetizingly deep red hue to its signature savory gravy.
Pork cut – To achieve the perfect mix of texture and flavor, I love blending pork shoulder (Kasim), pork butt (pigue) and pork belly (liempo). These cuts are generally too tough to eat on their own but become melt-in-your mouth tender after slow cooking.
Vegetables – Delightfully traditional! Carrots, potatoes and bell peppers come together to create a delightful dish. If you're feeling especially festive, add some frozen green peas for an extra boost of flavor.
Steps in Making Filipino Pork Afritada
In a hot, wide pan, heat up some oil and then add the potatoes and carrots. Cook until they are browned and crisp before draining them on paper towels.
Carefully scoop out all but two tablespoons of oil from the pan and place it on a heat source. Toss in bell peppers and whisk for about 30 seconds until they become tender. Relocate them to paper towels to absorb any residual grease, allowing your veggies to remain crisp yet succulent!
Sauté some onions and garlic until they are tender to the touch.
Sauté the pork until lightly golden and cooked through.
Allow the fish sauce to simmer for approximately 1-2 minutes, stirring occasionally.
Begin by combining tomato sauce and water in a pot. Heat it up until you hear the liquid boiling, then reduce the temperature to low heat and cover your pot with its lid. Cook for approximately 40-45 minutes or until pork is soft enough that it can be cut through easily when pierced with a fork.
Bring to a simmer the potatoes and carrots over low heat until they reach tenderness, stirring occasionally. Simmer for an additional 15 minutes or so until the sauce has reduced and thickened.
Cook bell peppers for approximately 1-2 minutes, or until they become tender yet still crisp.
Enhance the flavor with a pinch of salt and pepper, then enjoy while it's still hot.
How to Make Your Pork Afritada Special
Elevate the regular family meal with Afritada! With just a few easy additions, you can transform this dish into something truly special.
To make this meal a festive concoction, pineapple chunks are my go-to choice. Not only do they offer vibrant colour to the dish, but also add a subtle sweetness that perfectly complements the tomato sauce.
Elevate the flavor of your dish instantly by including smoked meats like ham, bacon, chorizo de bilbao or hot dogs.
For an extra special presentation, fry cubed potatoes and carrots until they're lightly golden and tender. When done correctly, these fried veggies will maintain their shape in the stew rather than dissolve into it; plus, you can garnish your bowl with them when serving!
Allowing the meat to simmer over low heat helps draw out its natural flavors, making for a more succulent and flavorful dish. To ensure your tomato sauce is perfectly cooked, be sure it has turned thick and dark red in color – bright red means that it's undercooked which results in an acidic taste.
The most time-consuming step of the dish is this one – and it's worth it! We want a slightly charred flavor, however be careful not to let the meat get scorched. Don't forget to stir every 10 minutes while you fry your pork so as to ensure each piece is cooked evenly under consistent heat. Take your time with this process; overcooking can ruin everything in an instant.
To ensure that my pork liver is tender and juicy, I always cook it first before I add water. This way, the meat won't become dry or tough when served.
Allow the tomatoes to soften and exude their juices before adding water in order to deglaze the pan, resulting in a stew full of rich flavor. Ensure that you use firm yet ripe tomatoes for an added layer of taste!
To add a bit of extra vibrancy to your vegetables, try pan-frying them with the drippings from pork – totally optional but recommended if you have some time to spare!
Get the most out of your pork and create a flavorful sauce by pan-frying it until its golden brown. You can fry both sides if you have time, or just one side for a quicker dish!
Seal the pot with a lid to soften the meat and avoid any exorbitant loss of liquid. Then, take off the lid shortly before cooking is complete in order to thicken up the sauce for an incredibly robust flavor. You can also add tomato paste as another way of intensifying your marinade's texture and taste.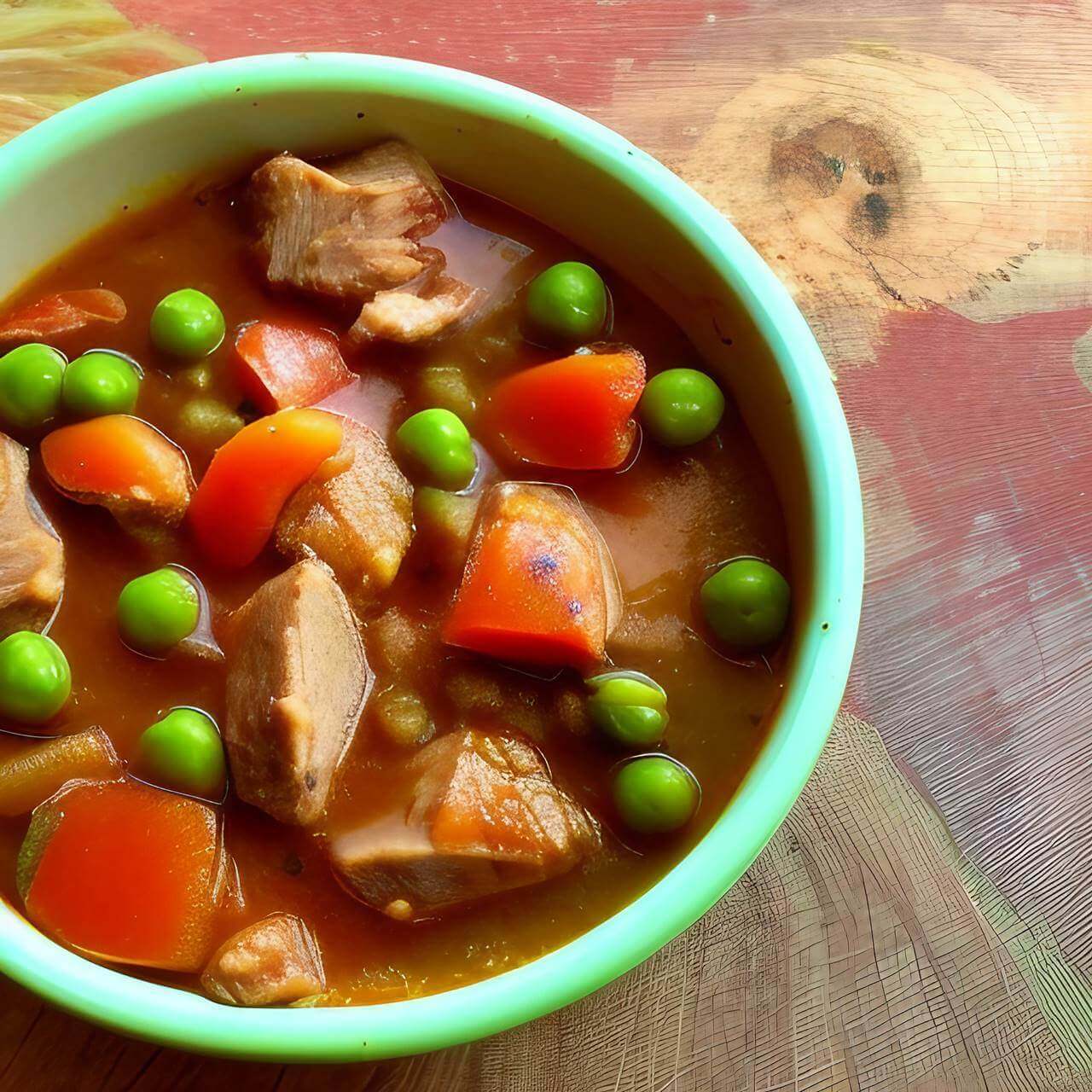 How to Serve and Store
Enjoy a satisfying and nutritious meal for lunch or dinner by serving this dish with steamed rice.
Make sure to properly store your leftovers in airtight containers and resealable bags – the refrigerator is ideal for up to 3 days, while the freezer holds them optimally for up to 2 months.
Deliciousness awaits – reheat your meal by placing it in a pan over medium heat until its internal temperature reaches 165°F.
Frequently Asked Questions
1. How do I make sure my pork does not become dry and tough when cooked?
To ensure that your pork does not become dry and tough when cooked, it is important to seal the pot with a lid while cooking in order to keep the juices in. Also, take off the lid shortly before the cooking process is complete in order to thicken up the sauce for an incredibly robust flavor. Finally, use a meat thermometer to make sure the internal temperature of your pork has reached 165°F for a succulent, juicy result. Enjoy! 🙂
2. How long should I simmer the tomato sauce for Afritada?
The tomato sauce for Afritada should be simmered for at least 30 minutes, or until it has thickened to the desired consistency. This will help to enhance the flavors and intensify its texture. Make sure to stir occasionally and keep an eye on your pot while simmering in order to avoid burning. Enjoy!
3. Can I add pineapple chunks to enhance flavor and color?
You can definitely add pineapple chunks to enhance flavor and color; just make sure not to overcook them or they may become mushy.
4. Is it necessary to pan fry vegetables and how do you recommend doing this?
Pan-frying vegetables before adding them to the stew is not necessary, but it can help enhance and intensify their flavor. To pan fry vegetables, heat up oil in a skillet over medium-high heat and add in your chopped vegetables. Sauté until they are lightly browned and tender, then season with salt and pepper to taste. Transfer to a plate and set aside until ready to add to the stew.
5. Can I make this dish vegetarian?
Yes, you can definitely make this dish vegetarian! Just use vegetable broth instead of pork broth and omit the pork or replace it with plant-based meat alternatives. You can also add more vegetables to make this a hearty and delicious vegetarian meal. Though it will not be called Pork Afritada anymore.
6. Can I use canned tomatoes instead of fresh?
Yes, you can certainly use canned tomatoes instead of fresh for this recipe. However, keep in mind that the flavor and texture may be slightly different from what you would get with fresh tomatoes. Also, make sure to drain off any excess liquid or additional salt before adding them to the stew.
7. Where did Pork Afritada Originate?
Originating during Spain's colonial era of the Philippines (1521-1898), this delicious concoction was derived from "fritada," a Spanish word meaning "fried." A slow cooker brings out all its flavors, making it a timeless favorite that will have everyone asking for seconds!
An appetizing blend of pork slices, hotdog, potato and carrot – Pork Afritada is a hearty Filipino dish that can be savored for lunch or dinner. Enjoyed best with warm white rice, this classic stew recipe begins by sautéing garlic and onions to bring out its full flavor. Cooking it is easy too; the same method used to prepare most Philippine dishes!
For added flavor and aroma, these two ingredients will do the trick. It's ultimately up to you if you want to add garlic before onion – I personally enjoy roasted garlic in my stew so I tend to go for that option first. After cooking it until it browns, only then do I throw-in the onions and let them simmer with everything else!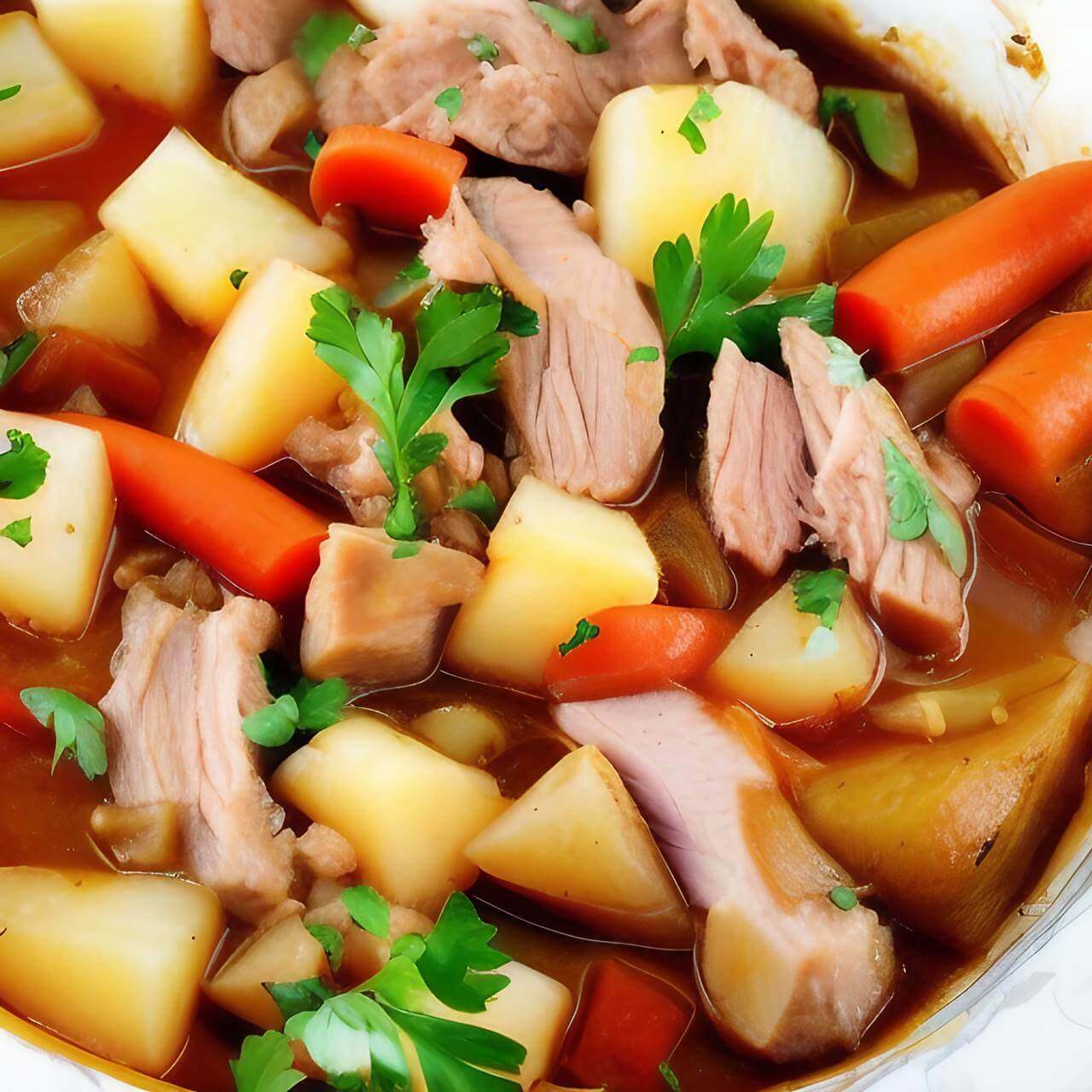 Summary
With a few simple tweaks and additions, you can transform your regular pork Afritada into something extraordinary. By allowing the meat to simmer over low heat for an extended period of time, it will draw out its natural flavors resulting in a succulent and flavorful dish. Be sure to use firm yet ripe tomatoes when making the tomato sauce as they offer vibrant colour and subtle sweetness that perfectly complements this stew.
Add some extra vibrancy by pan-frying vegetables with the drippings from pork or add smoked meats like ham or bacon for added flavor! Don't forget to store leftovers properly in airtight containers so you can enjoy them later – deliciousness awaits!