Philippine Ambassador to Morocco, Leslie Baja, shared grim updates on Monday regarding the aftermath of a destructive 6.8 magnitude quake that shook the southwest of Marrakech in Morocco. The earthquake, one of the strongest to hit the nation in over a century, struck on September 8, 2023.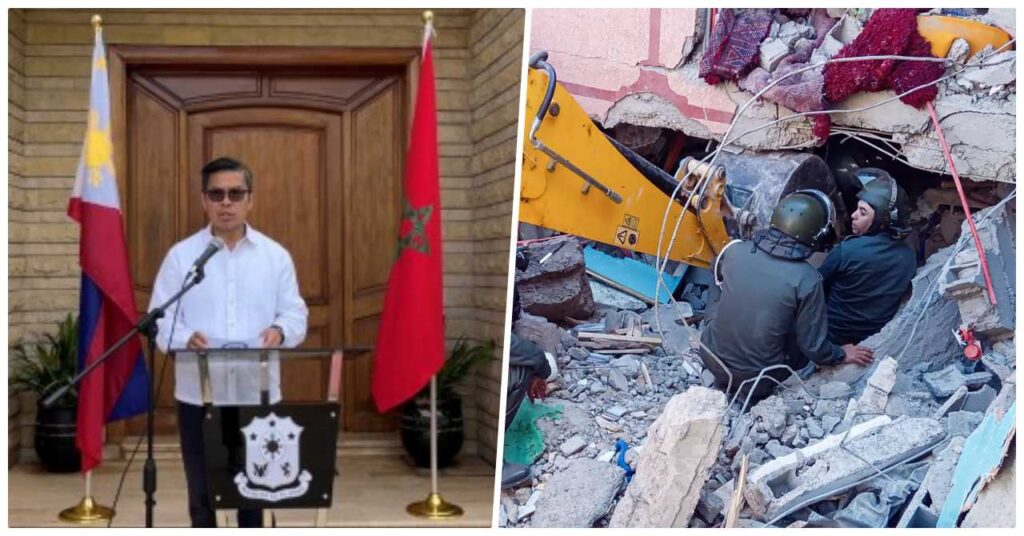 6.8-Magnitude Quake Hits Morocco; No Filipino Casualties Reported – Envoy
According to Ambassador Baja, the number of fatalities has tragically climbed to 2,681, as reported by the Moroccan Interior Ministry, the Inquirer reported.
Additionally, as of September 11, a total of 2,501 individuals have been injured, further highlighting the scale of this natural disaster.
Remarkably, Ambassador Baja stated: "Up to now, the Embassy has received no reports of any Filipino being affected by the earthquake. It remains in touch with Filipino leaders and coordinators in various areas of Morocco."
This reassuring news comes as a relief to the estimated 4,600 Filipinos residing in Morocco, with approximately 50 Filipinos residing in Marrakech, who must have been deeply concerned about their safety.
The Philippine government, through its Foreign Affairs Secretary, Enrique Manalo, has expressed solidarity with Morocco in the wake of this devastating event.
On behalf of the PH government, I wish to express our solidarity with Morocco in light of the devastating earthquake yesterday. Our thoughts and prayers are with the families of the victims of this tragedy.

— Enrique A. Manalo 🇵🇭 (@SecManalo) September 10, 2023
As Morocco grapples with the aftermath of this powerful earthquake, the world watches with empathy and offers support to the affected individuals and communities.
The priority remains on providing aid, medical assistance, and resources to help those affected by the Morocco quake as of this writing.
Here's a video report on the ongoing rescue efforts after a massive 6.8 quake hit the North African country:
READ NEXT: How to Apply for a South African Tourist Visa