According to the Department of Foreign Affairs, the Philippine Embassy in Jerusalem has not received any reports of Filipino casualties as the conflict between Israel and the Palestinians continues to escalate.
If the current situation worsens, DFA Strategic Communications Executive Director Ivy Banzon-Abalos said, contingency plans are already in place.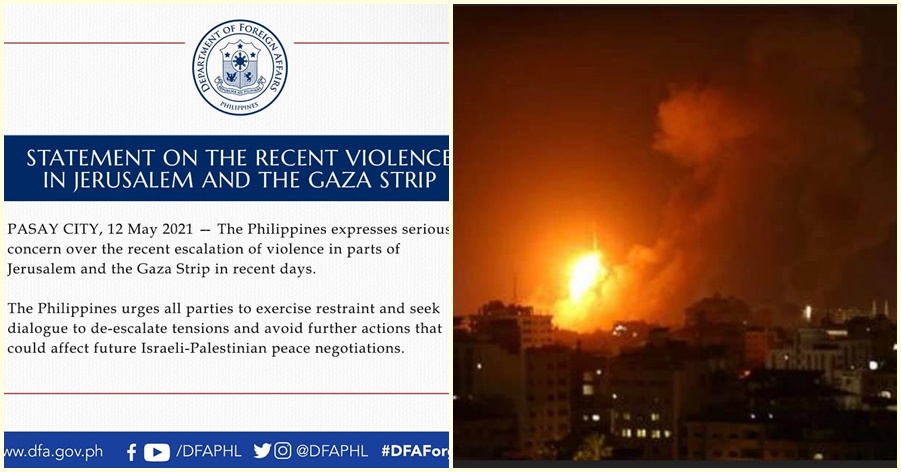 DFA Ready with Contingency Plan Amid Israeli-Palestinian Hostilities
In a message to reporters, Abalos said, "Our embassy in Israel has received no reports of Filipino casualties so far. The Embassy is in contact with Filipino organisations and networks; shelters are available to provide refuge, including for Filipino workers; and contingency plans are in place for developments in the situation," the Manila Bulletin reported.
As of June 2020, there are an estimated 29,473 Filipinos in Israel, according to data given by the DFA.
According to reports at least 35 people have been killed in Gaza, including a dozen children, while Israel has suffered five casualties as hostilities continue unabated.
Even as international demands for calm have grown in recent days, neither the Israelis nor the Palestinians have shown any signs of stopping their respective operations.
UN Secretary-General António Guterres expressed his "grave concern" about the escalation of violence in Gaza and "the heightened tensions and violence in occupied East Jerusalem" in a statement.
Guterres also urged Israeli security forces to "exercise maximum restraint and calibrate their use of force," while emphasising that "indiscriminate firing of rockets and mortars into Israeli population centres is unacceptable."
READ NEXT: Israel Do's and Dont's