If you are a returning OFW, OWWA has recently launched its Balik Pinay Balik Hanapbuhay Livelihood Program. Because of the pandemic that has affected not just the Philippines but other countries as well, some Filipinos who were working abroad were laid off. Now, a lot of OFWs are returning home due to unemployment. If you are one of them, you may avail of OWWA's program so you can get a job here in the Philippines.
Also Read: OWWA Balik Pinas Balik Hanapbuhay Program
In this article, we are sharing with you the essential information about OWWA's program. We want to help you get as many details as you need so you can start availing of the said program.
If you don't have any idea about OWWA, let's first identify what it is and what it does. OWWA stands for Overseas Workers Welfare Administration. It is an agency attached to the Department of Labor and Employment (DOLE) and it is considered as a member institution as well. The main function of OWWA is to protect and promote the welfare of Overseas Filipino Workers (OFW) including their dependents. Formerly known as the Welfare and Training Fund for Overseas Workers, OWWA was organized in 1977 and later renamed OWWA. To date, OWWA has 31 overseas posts which is located in 27 countries. Locally, it has a regional presence in about 17 regions.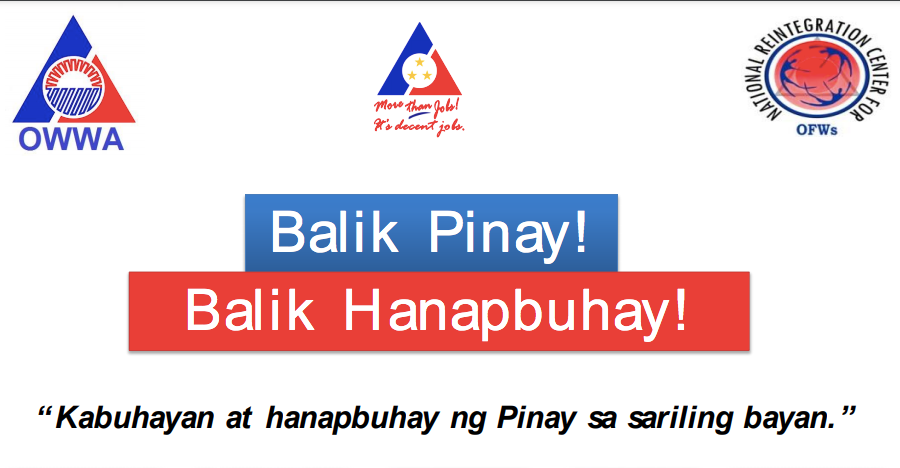 What does OWWA do?
Now, you may be wondering about the roles of OWWA. According to its main website, this agency is responsible for the welfare of OFWs and their families. OWWA is tasked to educate Filipinos on what will happen if they work abroad. Essentially, OWWA is there to assist in all three stages of migration, which are the pre-departure, on-site, and upon arrival.
Filipinos who are being assisted by OWWA also undergo basic language training. Once Filipinos are abroad, OWWA doesn't stop assisting especially in terms of employment. And, when Filipinos get back to the Philippines, OWWA helps them to undergo livelihood training programs for reintegration.
OWWA's Mission and Vision
OWWA has its own mission and vision.
The mission of OWWA is as follows:
"The Overseas Workers Welfare Administration (OWWA) is a national government agency vested with the special function of developing and implementing welfare programs and services that respond to the needs of its member-OFWs and their families. It is endowed with powers to administer a trust fund to be called the OWWA Fund."
While its mission is:
"By 2023, OWWA has instituted more effective mechanisms to ensure that the rights and interests of OFWs are adequately protected and safeguarded."
Additionally, OWWA upholds its two-fold mandate, namely, the delivery of welfare services and benefits and ensuring capital build-up and fund viability.
What is OWWA Balik Pinay Hanapbuhay Livelihood Program?
The Balik Pinay Hanapbuhay Livelihood Program of OWWA is a government program intended for returning OFWs women. The focus
Former President Benigno Simeon C. Aquino III had addressed this program during his inaugural address. Stating that the policy basis of the program is to increase the employment rate in the Philippines so that no Filipino would need to fly abroad to look for work.
"Layunin nating paramihin and trabaho dito sa ating bansa upang hindi na kailangan ang mangibang bansa para makahanap lamang ng trabaho…"
Additional to this is what the Philippine Labor & Employment Plan 2011-2016 stated: "Facilitate reintegration of OFWs and assist them and their families in achieving financial stability through training, investment, savings, and entrepreneurship programs."
Strategic program
OWWA considered this program as strategic in a manner that it trains returned OFWs to improve their socio-economic well-being by reintegrating them into the country. Also, this program expands their employment opportunity.
Concept & Objectives
OWWA gives the concept of the program in 4 letters—KITS: Knowledge acquisition & sharing, Inputs for reproduction and services, Tools, Jigs, & equipment, and Skills on entrepreneurship.
The program has four objectives as well. It is to start, set-up, plan, and operate. When starting, OWWA gives technical and marketing assistance. When setting up, there are start-up kits provided for those who joined the program. When planning, entrepreneurial and livelihood training are provided. And when operating, OWWA doesn't give multi-skilling programs and business counseling.
Priority projects
This program of OWWA has its own priority projects. The program will focus on health and wellness, which includes reflexology, home spa, massage, cosmetology, production of bath soap, scented oils, herbal medicine, and skin/health care products. Personal accessories repairs and maintenance and handicrafts are also included in priority projects.
Who can apply for Balik Pinay! program?
Returning women OFWs can apply for the program. However, OWWA has laid down its priorities for the program. According to OWWA, its priorities are the following:
Distressed workers sheltered by POLO at the Migrant Workers and Overseas Filipinos Resource Center (MWOFRC).
Other distressed and displaced women household service workers (HSWs)
If you are one of the two categories laid down by OWWA, you may apply for the program. Currently, only women are accepted into this program.
What are the requirements to apply?
The first step in knowing whether you can apply is to check if you fall under the two categories mentioned above. If you are, the next step is preparing the requirements so you can submit your application later on.
It's important that you know the requirements. This is so you can prepare early and submit your application as soon as possible. It's better to submit your application early. We all know that government programs are usually packed with applicants who want to members and beneficiaries of the said programs. If you will be late in submitting your application, there's a tendency that you won't be chosen.
So, here are the requirements when you apply. These are from OWWA's website.
Application Form (with Undertaking that the cash assistance will be used solely for self-employment or for starting or expansion of livelihood project or business)
Certificate of Entrepreneurial Development Training
Business Plan/Proposal approved by RWO Director indicating sustainability/feasibility of the chosen livelihood undertaking
Proof of repatriation or return to the Philippines (passport or travel documents, airline ticket)
How to Apply for Balik Pinay Balik Hanapbuhay?
To apply for the program, there is a step-by-step procedure that you should follow. If you are distressed workers sheltered by POLO or HSWs, then you have a great potential to be a part of the program. Once you have completed all the requirements mentioned above, you can now follow this procedure:
Step 1: Make sure you have all the requirements ready.
OWWA will likely ask for the complete set of requirements. If you lack one, you may be asked to come back later to apply. So, before you go to any DOLE, NRCO, or OWWA office, complete the documents.
Step 2: Go to DOLE, NRCO, or OWWA office.
According to the presentation of OWWA, these agencies are involved in the program. DOLE, NRCO, and OWWA are partners and they have roles in the programs as well. You may go to any office of these agencies with your documents and ask for assistance on how you can submit your requirements.
Step 3: Submit your requirements.
Once a staff is ready to assist you, you may now submit your documents.
Step 4: Wait for their call. This is where you will know whether you are accepted to the program or not.
The application might take a while, which means that you won't get the results the same day you submitted your requirements. The agencies have their own internal process to scan the applicants. You might need to wait for days before you can get a call from them.
There is no information about how many OFWs are only allowed to join the program. To date, there were already about 4,000 OFWs who benefited from DOLE's programs for distressed OFWs. You don't have to worry about the numbers right now as the government is still open to new applications. If you are in doubt, you can always go to DOLE's office or call them to ask for the program availability.
Contact Information
To know more about this program, you may refer to the following contact details below:
DOLE
DOLE Central Office Address: Department of Labor and Employment (DOLE) Building, Muralla Wing cor. General Luna St., Intramuros, Manila, 1002, Philippines
Opening hours: Monday – Friday: 8:00 am – 5:00 pm (except holidays)
Hotline: 1349
Websites: www.doel.gov.ph
NRCO
Address: Ground Floor Blas F. Ople Development Center (Old OWWA Building), Corner Solana and Victoria Streets, Intramuros, Manila
Email: nrcoreintegration@gmail.com
Website: www.nrco.gov.ph
POLICY PROGRAM DEVELOPMENT DIVISION (PPDD)
Melvin D. Caseda – Division Chief
Tel. No.: 527-6184 526-2633 (Telefax) ; 526-2392
Email: pdpmd.nrco@gmail.com
PROGRAM COORDINATION AND MONITORING DIVISION (PCMD)
Elizabeth C. Zambarrano – OIC, Division Chief
Tel. No.: 527-6184 526-2633 (Telefax) ; 526-2392
Email: pcmd.nrco@gmail.com
WORKERS REINTEGRATION TECHNICAL SUPPORT DIVISION (WRTSD)
Geronico M. Herrera – OIC, Division Chief
Tel. No.: 527-6184 526-2633 (Telefax) ; 526-2392
Email: wrtsd.nrco@gmail.com
OWWA
NCR Address: 2nd Floor STWLPC Bldg., #33, Sen. Gil Puyat Avenue, Pasay, (besides KFC / LRT Gil Puyat)
Email:psd-ncr@owwa.gpv.ph; ncr@owwa.gov.ph; wau@owwa.gov.ph; language_trng@owwa.gov.ph
Contact numbers: Reintegration Unit – 834-0719
Website: www.owwa.gov.ph