A sad day for one of our kabayans in Kuwait as a Filipina allegedly committed suicide only a couple of days before New Year. It was mentioned that she was found inside her room limp and hanging with a rope around her neck until the police cut her down leaving her in a very disturbing position in her photo below.
Marife Librada – also known as Bhiee Bii Acer in FB – worked in Kuwait as an Overseas Filipino Worker and was found dead in her room allegedly committing suicide just a couple of days before New Years Eve. She is also the sister of Super Tekla, a stand-up comedian and host of GMA7's variety show, Wowowin.
The incident spread like wild fire especially with the multiple Facebook posts that followed a few days after.  Her room was locked the whole time, and she did not even come out of her room after taking a bath on that day. It was also discussed that she was staying in Kuwait at her employer's house with an Ethiopian and another Filipina who is very close to her almost like a mother.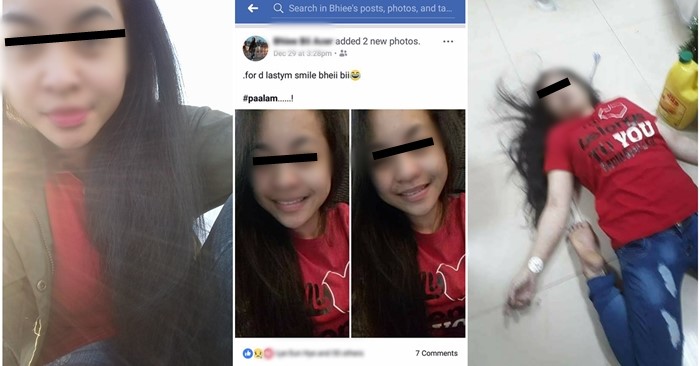 Super Tekla's OFW Sibling Allegedly Took Her Own Life
Others who know Marife personally have reported that her recent posts in Facebook are littered with unhappy messages about her love life and that they were truly caught off guard by this incident especially it being too close to the New Year celebration.
Who would have thought that this 25 year old, born in Makilala, Mindanao, who also has so much going for her would suddenly pass away during the holiday season!
Although this looks to be a legitimate suicide case, this did not stop Super Tekla who is currently on a tour in Canada to create a heartfelt Facebook live video appealing to the authorities as well as the embassy to conduct a thorough investigation on his sister's case.  He explains that his sister is no stranger to being maltreated at times by employers abroad as with other OFWs all over the world and he honestly does not believe that this would push her to do such a grave thing.
Below is a Facebook Live Video of Super Tekla asking for help from our Philippine authorities to conduct an investigation about the death. FB embedded from Duterte sa Masa FB Page:
Wherever the future investigation leads us, this incident has clearly sent waves of sympathy from people especially in the Filipino Facebook community.
Her body is now with the embassy presumably being processed to be sent back home to her country.