A staple comfort food in the Philippines, Lugaw is a comforting rice porridge that has become an integral part of Filipino cuisine no matter what the weather may be. To make this Chicken Arroz Caldo truly delectable, top it with hard-boiled eggs, scallions and roasted garlic. Then, to taste up a notch further, squeeze some calamansi or lime over these flavorsome toppings for an added zest of freshness! This version is made using glutinous rice (or malagkit), which is commonly used to create scrumptious kakanin such as biko and suman.
Growing up, my mother would frequently make lugaw for us during the rainy season in the Philippines. Even if it was solely to clear out leftovers from the refrigerator, she always put her spin on it and made something special with just a few ingredients. As a kid, I may have complained about how basic this dish was but as an adult – I now understand why everyone enjoyed and appreciated such simplicity.
Also Read: How to Cook Filipino Special Lomi
This porridge is made with three essential ingredients: onion, ginger and garlic. For more flavor, you could use chicken stock instead of plain water when soaking the rice. Lastly, it's seasoned to perfection with a hint of black pepper and fish sauce for an irresistible umami taste! Once the rice has cooked to a tender consistency, consider adding several pinches of safflower herb for a delightful aroma and warm reddish hue. You can top your dish with whatever you like! Traditional Filipino accompaniments include boiled eggs, green onions, lemon wedges, fried garlic bits and crunchy chicharron (pork rinds).
This modified version of lugaw is a delightful twist on the classic recipe. By infusing shredded chicken, it requires minimal effort to make; simply sauté your spices, boil rice and season! With just a few steps you can enjoy this delectable dish in no time at all.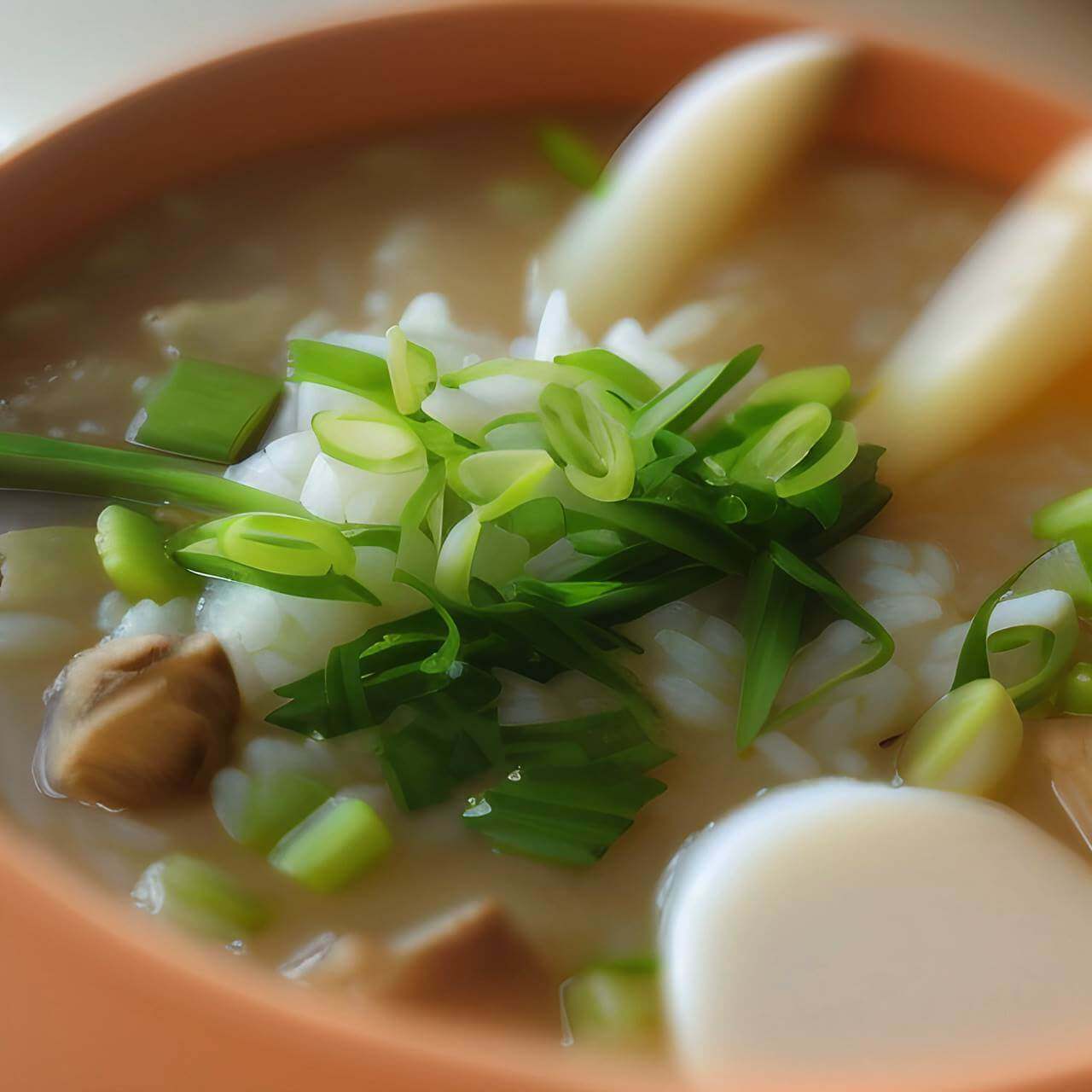 Ingredients
For a savory dish, 1 medium-sized yellow onion is the perfect addition.
6 cloves garlic
1 (4-inch) piece of fresh ginger
3 medium scallions
For this recipe, you'll need 1 ½ pounds of bone-in chicken thighs or drumsticks.
1 1/2 teaspoons kosher salt
1/2 teaspoon freshly ground black pepper
1 tablespoon vegetable oil
For this delicious dish, you'll need one cup of uncooked jasmine long-grain rice to get started.
8 cups low-sodium chicken broth (chicken Knorr cubes will do)
Fish sauce and calamansi or lime juice or extract, for seasoning
Lime wedges, for serving (optional) calamansi
Steps to Cook Lugaw or Filipino Rice Porridge
For the aromatics, finely mince 1 medium yellow onion and 6 cloves of garlic. Peel a 4-inch piece of fresh ginger, then slice half into thin quarter-inch thick rounds while mincing the other two inches. Last but not least, thinly slice 3 scallions – being sure to keep the whites and greens separate – with their respective chopped pieces stored in your refrigerator until you're ready to use them!
Begin by getting the chicken ready. Remove any excess moisture with paper towels and season it generously with an even combination of 1 1/2 teaspoons kosher salt and 1/2 teaspoon black pepper for a flavorful kick.
For a delectable, golden-brown chicken, heat one tablespoon of vegetable oil in a Dutch oven or heavy-bottomed pot over medium-high heat until it's shimmering. Put the chicken into the hot oil skin side down and sear for five minutes to achieve that deep, golden hue you desire. Then transfer your succulent seared piece to a plate!
Begin cooking the aromatics and reduce to medium heat. Stir in onion, garlic, scallion whites, and sliced ginger; let cook until onions are softened (about 5 minutes) while stirring occasionally.
Pour in one cup of jasmine rice and stir until the grains are evenly coated with fat.
Place the chicken and broth into the pot, then toss in any leftover juices from the plate. Subsequently add 8 cups of chicken broth to bring it all to a boil, stirring every once in a while for even heat distribution.
Simmer the lugaw for 90 minutes and then reduce the heat to maintain a consistent simmer. Make sure to stir occasionally, scraping along the bottom of your pot to prevent any rice from sticking. Continue cooking until you can tell that both the rice is very broken down and creamy as well as when your chicken has become fall-off-the-bone tender – usually about 1 1/2 hours should be enough time. If at this point you find your lugaw too thick (like risotto), add additional water until it reaches an ideal consistency for yourself. Finally, while this is all happening make sure not to forget about adding pork crumbles or fried garlic!
Tips
Once the lugaw is ready, discard the ginger slices. Move the chicken to a plate or clean cutting board and let it cool until you can handle it easily. Separate all bones, skins and cartilage from the meat before shredding off pieces of it onto your plate. Transfer those shredded pieces of delicious chicken back into your now flavour-infused lugaw!
Perfect your porridge. Enhance the flavors of your lugaw by adding a dash of fish sauce and some calamansi juice to taste. Presentation matters, so serve each bowl delicately garnished with scallion greens, chopped ginger, pork crumbles, crispy garlic and lime wedges for an added citrusy kick.
Safflower is the preferred ingredient for this recipe, however, if you can't find safflower, why not try out more costly yet flavorful alternatives such as saffron or turmeric powder? Or better yet – add both and take your dish to a whole new level!
It's essential to stir the lugaw every few minutes for two critical reasons: first, you can adjust its consistency as desired; second, it prevents sticking or burning at the bottom of your pot.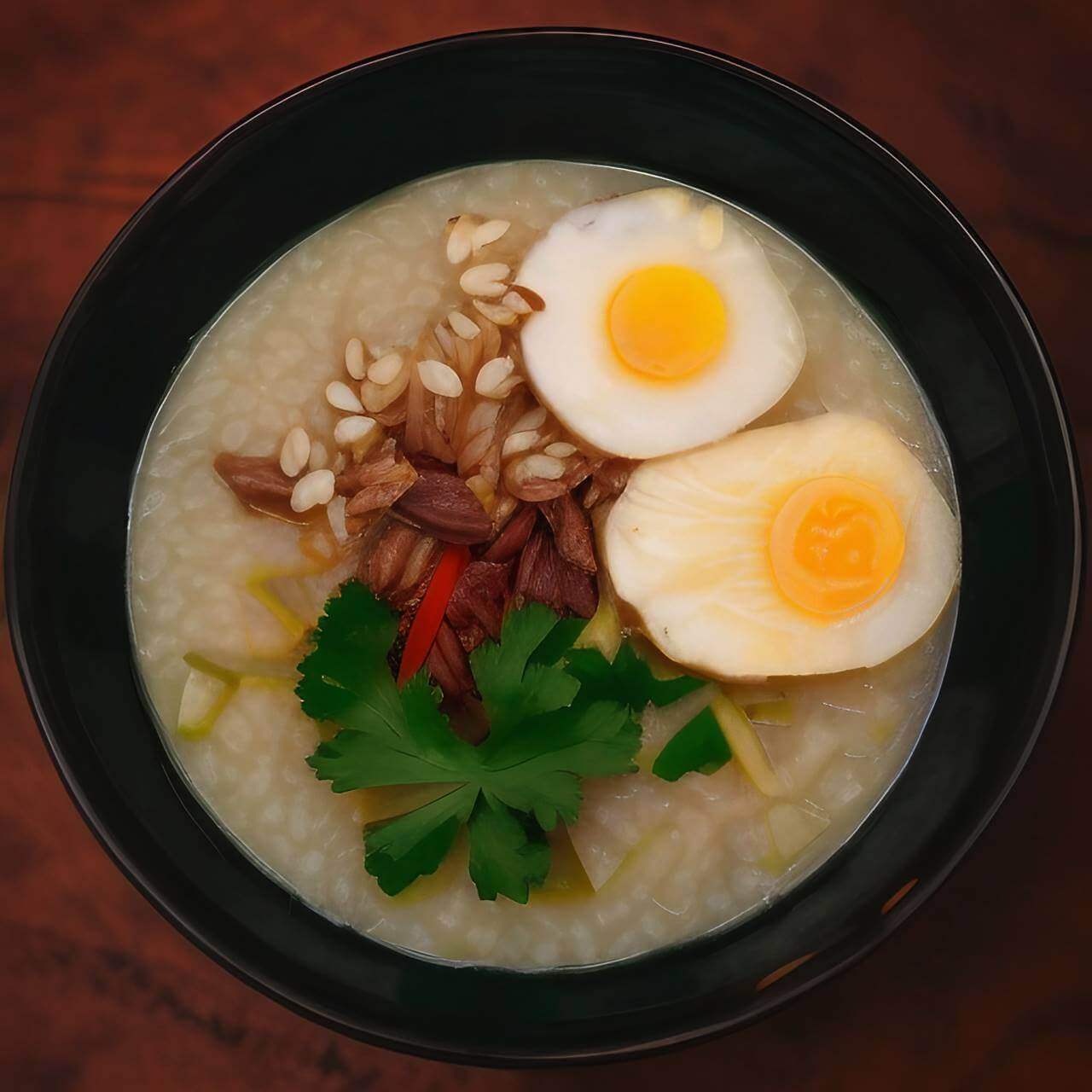 Frequently Asked Questions
1. Can I use other types of rice for this recipe?
Yes, you can! Long grain white rice or brown rice are also suitable alternatives and will still give delicious results. Just be sure to adjust the amount of liquid used accordingly and cook for the appropriate time frame.
2. Is lugaw gluten-free?
Yes, it is. However, if you're using pork crumbles, make sure to check the label for any gluten-containing ingredients before adding it to your lugaw.
3. How do I store leftovers?
Leftover lugaw can be stored in an airtight container and refrigerated for up to three days or frozen for up to one month. When ready to eat, simply reheat it in a pot over medium heat until hot and bubbly.
4. Can I use fresh ginger instead of powdered?
Yes, you can certainly opt for fresh ginger instead of the powdered version. Start by peeling a 3-inch piece of ginger root, then mince or grate it into small pieces. You can add the ginger in with the aromatics at the beginning of cooking or stir it in just before serving for a more vivid flavor.
5. What other proteins can I use for lugaw?
In addition to chicken, you can also make a delicious lugaw with shrimp, pork, or beef. Just adjust your cooking time accordingly and make sure that the meat is cooked through before serving.
6. Is there anything else I should keep in mind when making lugaw?
Yes! Other than cooking time and adding other proteins, you can also add hard-boiled eggs to your lugaw for an extra boost of flavor and protein. Start by boiling the eggs for about 8 minutes or until cooked through. Once cooled, peel and add them whole or in chunks to each bowl of lugaw before serving.
7. What is the best way to serve lugaw?
Lugaw is typically served warm with a side of crunchy fried garlic bits, pork crumbles, and garnishes such as spring onions and calamansi juice for added flavor. You can also opt for other traditional Filipino accompaniments such as boiled eggs, chicharon, toasted garlic bits, or fish sauce.
8. How can I make my lugaw richer?
For a richer and creamier bowl of lugaw, try adding some coconut milk or thickened cream before serving. The coconut milk adds an extra layer of flavor while the thickened cream gives the porridge a richer and more indulgent texture.
9. Can I make lugaw in advance?
Yes, you can definitely make lugaw ahead of time. Start by cooking your lugaw as usual then allow it to cool completely. Transfer it into an airtight container and store in the fridge for up to three days. When ready to eat, simply reheat it in a pot over medium heat until hot and bubbly. Enjoy!
10. Is lugaw suitable for those on a vegan diet?
Yes, absolutely! To make your lugaw vegan-friendly, opt for vegetable broth instead of chicken broth and use tofu or tempeh as a protein source. You can also add in your favorite vegetables to pack in some extra nutrition.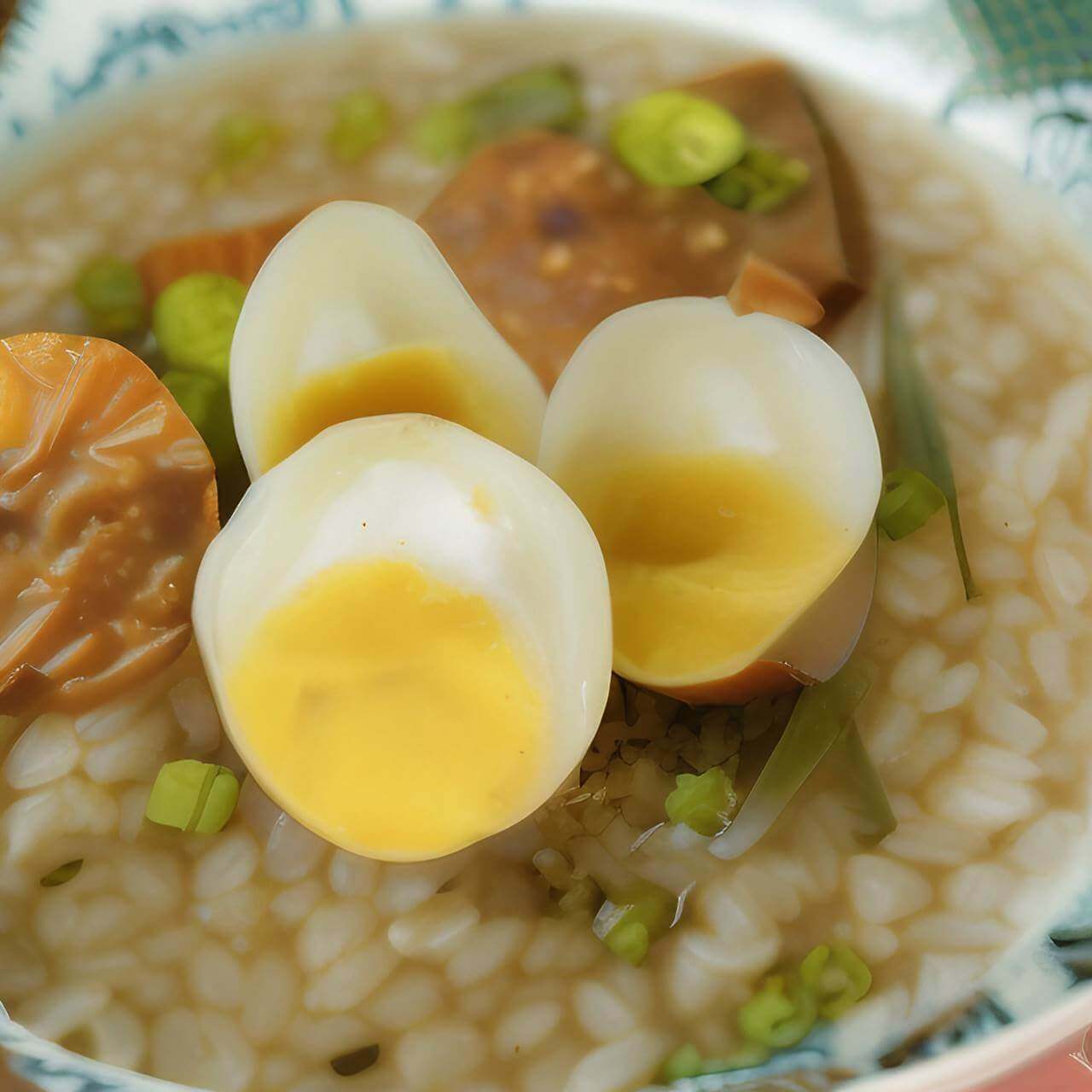 Summary
Lugaw is a delicious and versatile dish that can be tailored to suit your taste. You can use different types of rice, proteins, aromatics and garnishes to create unique flavors for every meal. The best part about making lugaw at home is that you have complete control over the ingredients used so it's easy to make this dish vegan-friendly or gluten-free if needed. With these tips in mind, you now have all the information necessary to start creating your own delicious variations of this classic Filipino porridge! Enjoy!