Originating from Filipino cuisine, pancit bihon guisado is a popular noodle stir-fry often served as both an everyday meal and special occasion dish. According to Asian culture, the long noodles signify longevity – thus making it perfect for birthdays or other important celebrations! Not only that, but its scrumptious flavor makes it delectable on its own when eaten as a snack or paired with rice. Pancit is a traditional dish that symbolizes long life, which makes it an ideal menu item for special occasions like birthdays.
Also Read: How to Cook Filipino Tortang Talong or Eggplant Omelet
As the highlight of potluck Christmas parties and Noche Buena festivities alike, this savory favorite adds flavor to any holiday celebration. Pancit's presence at these festive meals creates fond memories sure to last beyond the holidays.
Pancit Bihon Guisado with rice noodles, meat, shrimp, and vegetables is sure to be a family favorite. The savory and mildly sweet flavors, combined with the crunchiness of fresh vegetables, make this dish delicious! Begin by stir-frying cubed pork or chicken in oil until golden brown. Then add onion, garlic and shrimp, followed by carrots and other vegetables of your choosing.
Once all ingredients are cooked through, add the pre-soaked rice noodles and season with soy sauce, fish sauce, salt and pepper. Finally, top the dish off with some chopped green onions or cilantro for a final touch of flavor. Serve hot and enjoy! Pancit Bihon Guisado is an easy and flavorful noodle dish that's sure to leave your family coming back.
With countless potential variations, you can create a uniquely tasty version of this dish. Check out my ingredient suggestion list below and feel free to incorporate additional flavors or choose different ingredients according to your taste preferences!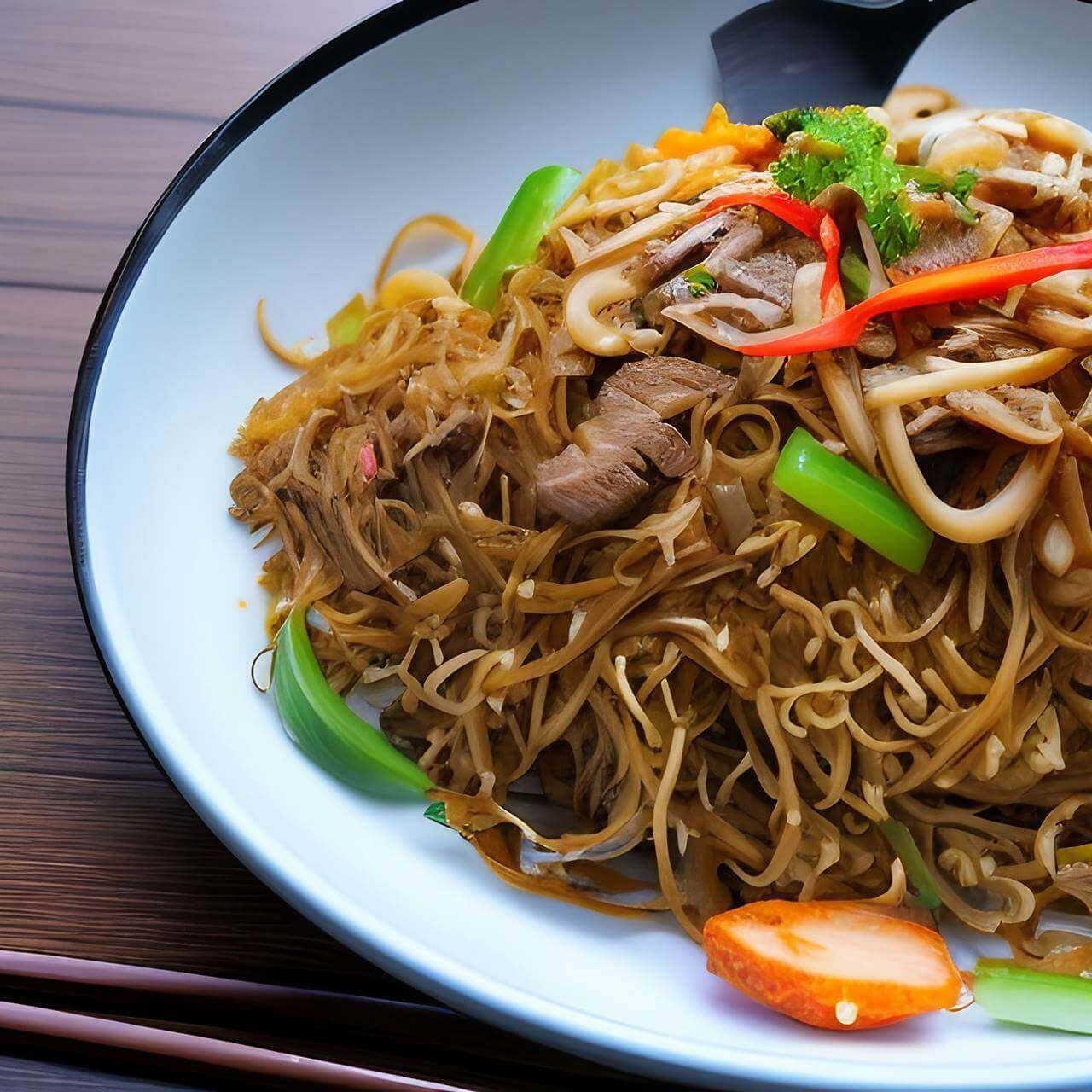 Ingredients
450 grams Bihon
250 grams Pork
3-4 cloves Garlic (minced)
1 piece Onion (sliced)
1 piece Carrot (julienned)
2 pieces Red Bell Pepper (sliced)
150 grams Baguio Beans (thinly sliced)
100 grams Chicharo / Sitsaro
50 grams Spring Onion (chopped)
1⁄2 cup Cabbage (shredded)
3⁄4-1 cups Soy Sauce
1 liter Water
1⁄2 teaspoon Salt
1⁄2 teaspoon Pepper Powder
2-3 tablespoons of Cooking Oil
Dried Salted Shrimps
Seasoning Granules (to taste)
Steps to Make Pancit Bihon Guisado
Heat a large skillet over medium-high flame, then pour in the vegetable or corn oil.
Quickly sauté garlic, onions and celery for 1-2 minutes until the onions turn translucent.
Start by adding the pork slivers, and if desired, include chicken and shrimp. After about 8 minutes of cooking until all meats turn a brownish color, add broth and fish sauce for an extra savory flavor.
Blend the ingredients thoroughly, then add a dash of soy sauce. Throw in some carrots and allow them to cook for 1-2 minutes until they soften. Finally, toss in your green beans which will take around 6 minutes to fully prepare. Enjoy!
Be careful when adding the shredded cabbage to your dish as you don't want it to overcook. If cooked too long, the cabbage will become almost transparent and disappear! Give it 1-2 minutes of cooking time for optimal results.
At this time, the broth should be steaming hot and combined perfectly with the scents of meat and vegetables. In increments, incorporate your noodles into the skillet. Allow them to absorb all of that flavorful sautéed vegetable-meat-broth mixture until they turn from a soft white coloration to an attractive golden shade as it interacts with soy sauce and fish sauce.
Generously season with salt and pepper, then add a few drops of sesame oil for extra flavor.
For the finishing touch, top your dish with freshly chopped scallions. Add a splash of lemon juice for an extra burst of flavor and serve warm.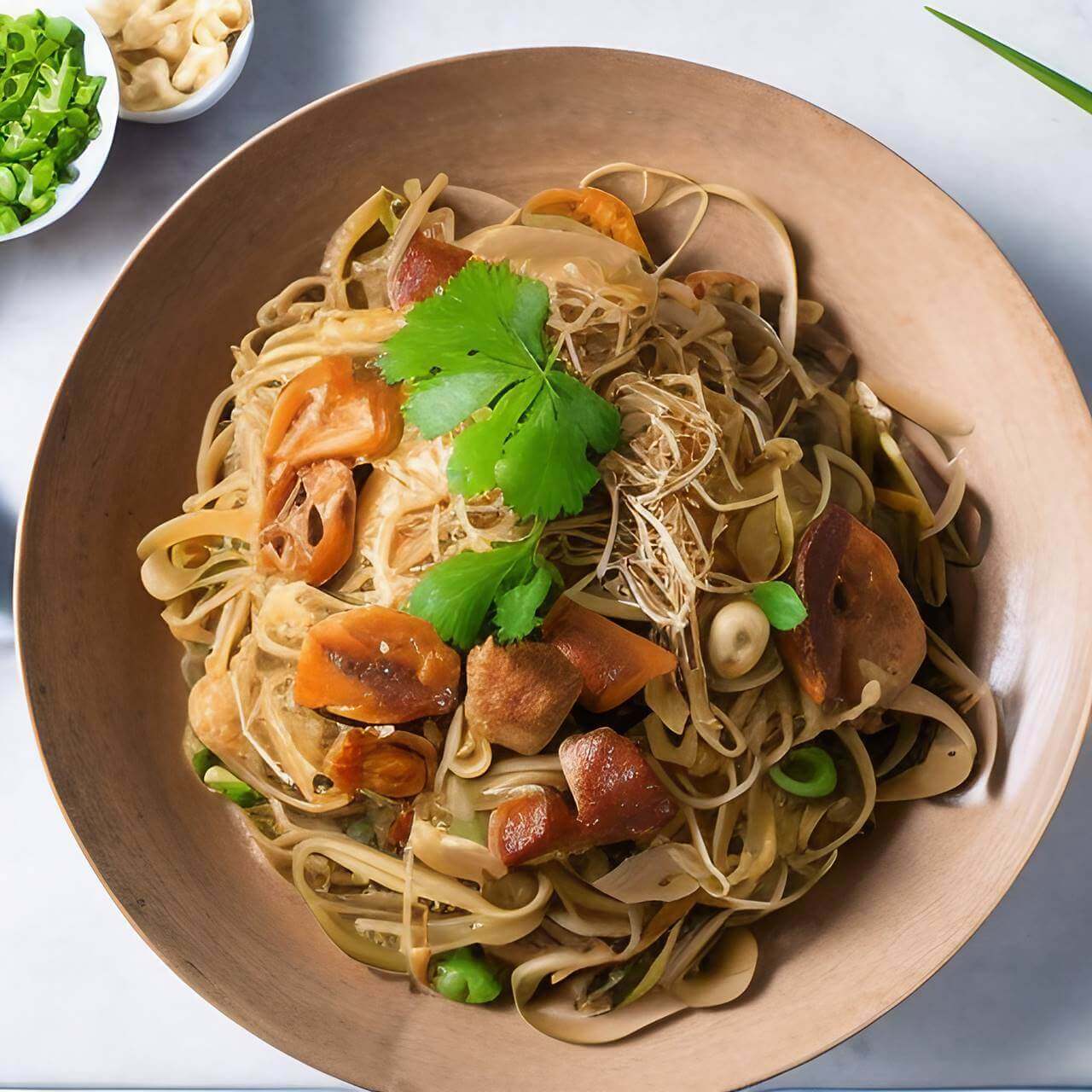 Tips
For the best flavor, do not overcook the vegetables – they should have a pleasant crunch when you take a bite!
When it comes to flavoring the pancit bihon sauce, a pinch of extra salt is best as the noodles, chicken and vegetables will all absorb some of its flavor. This way you'll get an evenly seasoned dish from start to finish!
For added variety, try green beans instead of snap peas for a delicious side dish. You can also substitute with thinly sliced green peas for a unique twist!
Consider experimenting with other proteins! For a delicious twist on the dish, try pork or shrimp as your flavor base instead of chicken.
Chinese sausage may not be a classic, yet its salty, fatty flavor gives recipes an irresistible kick that can't be replicated. Thinly slicing ensures each bite is packed with savory goodness.
Adding a spritz of freshly-squeezed calamansi, lime or lemon juice to the Filipino-style stir-fried noodles will instantly brighten up the flavors and make it even more enjoyable.
To preserve leftovers, make sure they are completely cooled and transfer to an airtight container. Then refrigerate the contents for up to three days.
Frequently Asked Questions
1. How long does it take to cook Pancit Bihon Guisado?
It usually takes around 20 minutes to prepare a full batch of pancit bihon. This includes the time needed to sauté the ingredients, mix in the sauce and noodles, and simmer all together until everything is combined and cooked through.
2. What can I do to add more flavor to my Pancit Bihon Guisado?
To add extra flavor, consider adding a dash of fish sauce and soy sauce. You can also add some drops of sesame oil for an extra depth of flavor. Additionally, if desired, you can top with freshly chopped scallions and a spritz of lemon juice before serving.
3. How do I store leftover Pancit Bihon Guisado?
To preserve leftovers, make sure they are completely cooled and transfer to an airtight container. Then refrigerate the contents for up to three days. Alternatively, you can freeze it for up to one month.
4. Can I substitute the noodles for something else?
Yes, you can use different types of noodles such as egg noodles or vermicelli instead of bihon. Additionally, you can try experimenting with other proteins like pork or shrimp to create a unique flavor.
5. Is Pancit Bihon gluten-free?
Yes, the majority of pancit bihon recipes are gluten-free as they use rice noodles. However, it is best to double-check the ingredients list before purchasing any products as some brands may contain wheat flour or gluten.
6. Is Pancit Bihon vegan?
While most traditional recipes do include meat, you can easily make a vegan-friendly version by substituting the ingredients. Just use a soy sauce-based sauce, exclude the meat and add more vegetables as desired.
7. Can I make Pancit Bihon Guisado in advance?
Yes, you can prepare your pancit bihon up to two days in advance and simply heat it up when ready to serve. Alternatively, you can assemble the ingredients and then store in an airtight container in the refrigerator until ready to cook.
8. Is Pancit Bihon spicy?
It depends on the recipe. If desired, you can add a few dashes of chili powder or red pepper flakes for some heat. However, most recipes use milder flavors as the focus is on the saltiness of the soy sauce and fish sauce.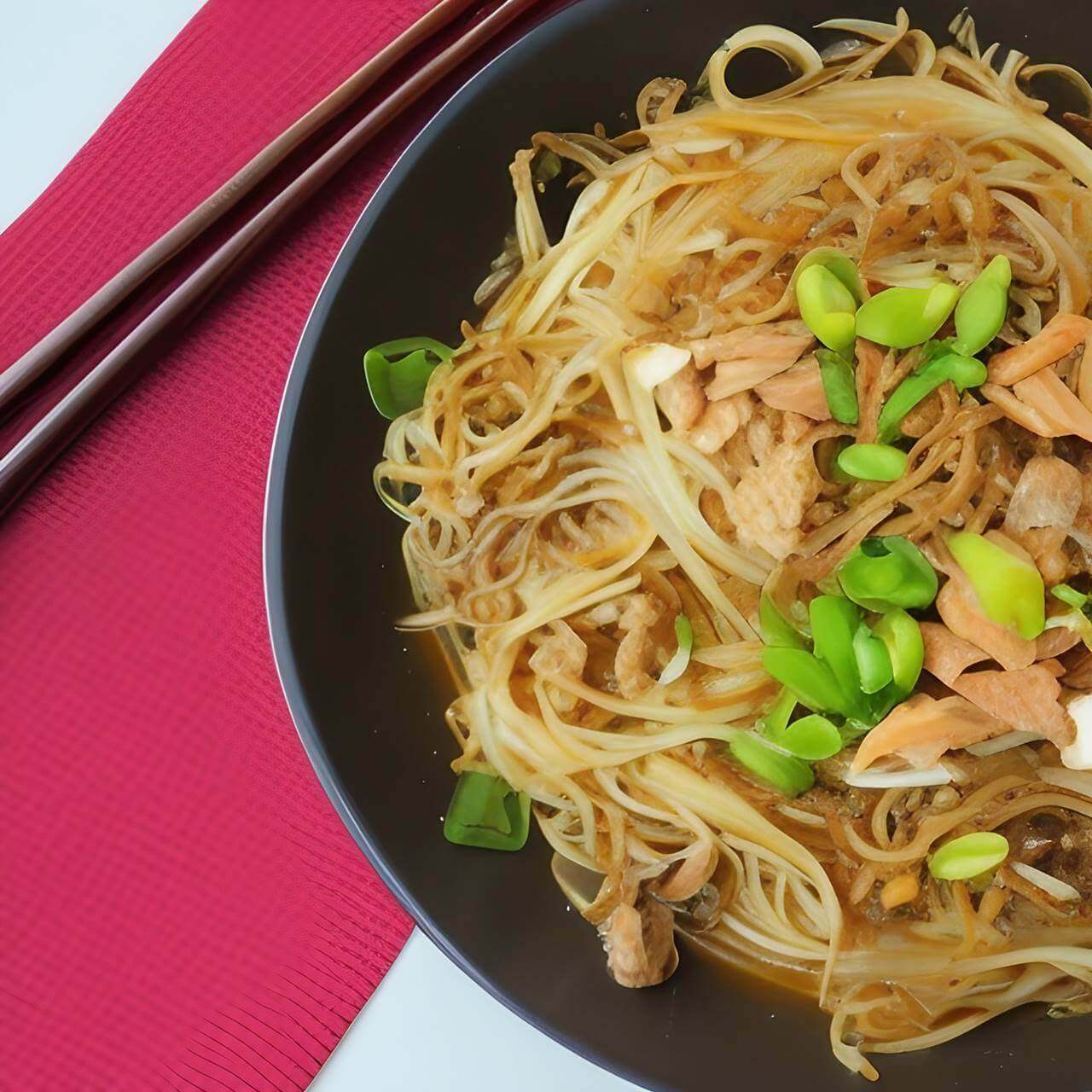 Summary
Pancit bihon guisado is a delicious and versatile dish that can be tailored to your own personal tastes. With our detailed guide on how to make this Filipino-style stir-fried noodle dish, you'll be able to create the perfect meal for any occasion. Whether it's an everyday dinner with family or a special gathering of friends, pancit bihon will always hit the spot! Don't forget to add Chinese sausage for additional flavor as well as freshly squeezed lime juice for added zing. Enjoy experimenting with different proteins and vegetables so you can customize each batch according to your taste preferences – bon appétit!