PHILIPPINES: Taal Volcano on Taal Lake has erupted on a Sunday afternoon (January 11, 2020) and has forced residents from towns nearby to evacuate. Experts have warned of another eruption to occur soon. The Philippine Institute of Volcanology and Seismology says the volcano is showing a "fast escalation" in activity and could erupt lava within weeks.
In a report by Philippine News Agency, the Philippine Institute of Volcanology and Seismology (Phivolcs) raised the status of Taal Volcano to Alert Level 4 at 7:30 p.m., Sunday, only a few hours after it was placed under Alert Level 2 and Level 3.
Airport flights (both arrivals and departures) have been cancelled at Manila Ninoy Aquino International Airport (NAIA) until further notice due to the eruption. To those who are travelling, please check with your airlines for updates on your flights.
At the moment on January 13, 2020 at 3:20am Philippine Time, lava fountain is spotted from Taal Volcano. Image from Phivolcs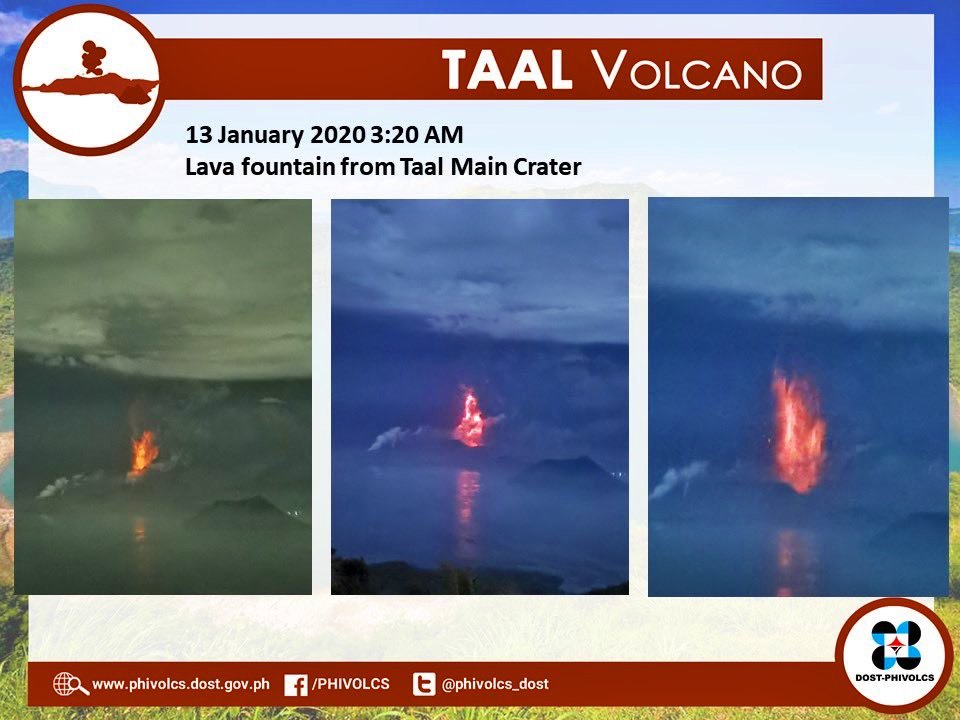 Please check the statement by DOST-PHIVOLCS as of January 13, 2020 at 3:20am below. They have listed the areas affected by the ashfall as well advised residents to take care and secure their health due to problems that arise from the ashes.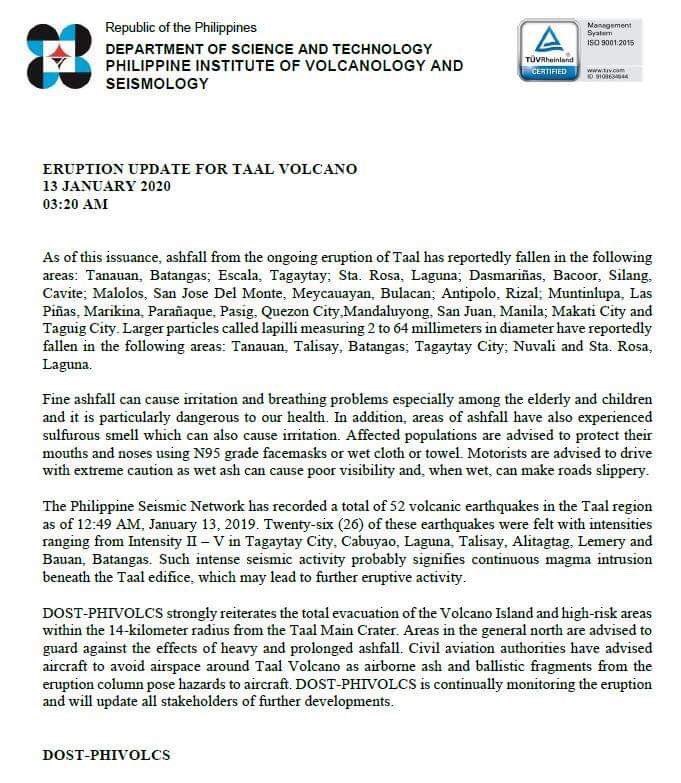 Please check the statement by NAIA below:
Due to the suspension of flights in NAIA, due to Taal Volcano eruption, all passengers are advised to coordinate with their respective airlines before proceeding to the airport.

— NAIA (@MIAAGovPH) January 12, 2020
Here's a Tweet from PHIVOLCS of the eruption of Taal Volcano:
Inside the Taal Volcano Main Crater taken on January 12, 2020. The eruption was captured by PHIVOLCS IP camera at 5-minute interval from 1 PM to 3 PM. #HandaAngMayAlam #TaalVolcano #TaalEruption2020 pic.twitter.com/kA2HZ4aYQs

— PHIVOLCS-DOST (@phivolcs_dost) January 12, 2020
Experts warn of an "explosive eruption" after the Taal Volcano in the Philippines spews ash near Manilahttps://t.co/yJZsw8Ztu6 pic.twitter.com/P0Fjoczxv6

— CNN Breaking News (@cnnbrk) January 12, 2020
LOOK: Rescue operation at Talisay, Batangas after the phreatic eruption of the Taal Volcano, Sunday afternoon. (Photo courtesy of Philippine Weather System) pic.twitter.com/rP3DKTo366

— Manila Bulletin News (@manilabulletin) January 12, 2020
The Department of Health has posted of Health has posted a note against the effects of ash fall and this serves as a warning for residents to prevent health problems.