Working abroad follows numerous steps and processes to ensure that as an Overseas Filipino Worker (OFW) you are protected even outside the boundaries of the Philippines – one of which is obtaining an Apostille.
In an effort to ease the pain of documentary authentication for Filipinos, the Department of Foreign Affairs (DFA) has released statements announcing the new policies, after the Philippines officially became a party to the Apostille Convention in May 2019.
Following the rules of membership, the DFA announced that it will no longer issue Authentication Certificates (Red Ribbon), replacing it with Apostille as proof of document authenticity. This means that after the authentication by the DFA, there is no more need for legalization by any concerned Foreign Embassies or Consulates General if the country or territory of destination of the authenticated document is already a member of the Apostille Convention.
Likewise, public documents executed in Apostille-contracting countries and territories (except for Austria, Finland, Germany, and Greece) to be used in the Philippines no longer have to be authenticated by the Philippine Embassy or Consulate General once Apostillized.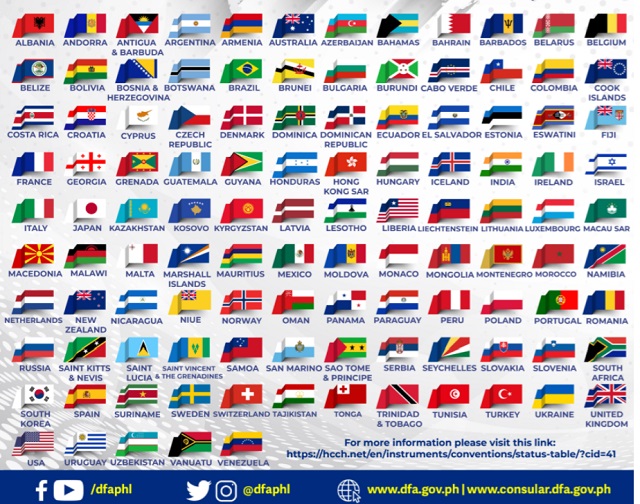 In countries and territories which are not Apostille-contracting parties, however, the same process of authentication (legalization) by the Foreign Embassies or Consulates General of the country of destination still applies.
What types of documents can be Apostillized?
The Philippine Apostille Services can be used for the same types of documents that need authentication. Among them are the following:
Export Documents;
Immigration Records;
Notarized Documents;
Barangay Clearances;
Police Clearance;
Medical, AIDS-Free Certificate;
Court Decisions, Resolutions, Orders;
PRC Professional Licenses, Board Certificates, Board Ratings, Certifications;
LTO Driver's License;
NBI Clearances;
Certificate of Employment/Trainings/Seminars, Baptismal Certificate and other documents issued by a private entity;
DepEd Transcript of Records, Form 137, Diploma;
PSA/NSO Documents;
Civil Aviation Authority of the Philippines – Issued Licenses;
DSWD Clearance; and
Business Registration and other documents issued by a Government Agency.
How to acquire Apostille documents?
Regardless of your purpose in acquiring Apostille documents, here is a complete guide to help you get it done in the Philippines:
Step 1: Prepare the Apostille fee for validation of each document. The fee for the DFA-OCA's Authentication Service remains the same: Php100.00 for Regular Processing (i.e., released after four working days) and Php200.00 for Expedited Processing (to be released the following business day).
Step 2: Fill out the Certificate of Authentication Request Form. To do so, prepare the following information:
Name of Requesting Country;
Contact Details;
Address as to where the documents should be mailed; and
For documents considered minor, indicate the name of the individual requesting for the document(s).
Step 3: You can avail the apostille in the following branches:
DFA-Aseana;
DFA NCR-Northeast (Ali Mall);
DFA NCR-East (SM Megamall);
DFA NCR-West (SM Manila);
DFA NCR-South (Metro Gaisano Alabang);
DFA San Fernando;
DFA Pampanga;
DFA Davao (SM Davao); and
DFA Cebu (Pacific Mall-Metro Mandaue)
No online appointment with DFA is necessary for Apostillization Services, but if more information regarding the service is needed, DFA can be reached through the following numbers: 556-000 / 651-9400 / 234-3488 / (02) 834-3000 / (02) 834-4000. The Office of Consular Affairs can be found on Bradco Avenue, corner Macapagal Boulevard ASEANA Business Park, Parañaque City, Metro Manila.