China is planning to hire thousands of Pinoy household service workers with a salary up to 50,000 Pesos per month. According to Department of Labor and Employment (DOLE), China is studying to get household service workers (HSW) in the Philippines.
Currently, the primary destination for household workers is Saudi Arabia, but it is possible that the next in-demand in the next few years will be China.
Related Post: Understanding OWWA Membership and Benefits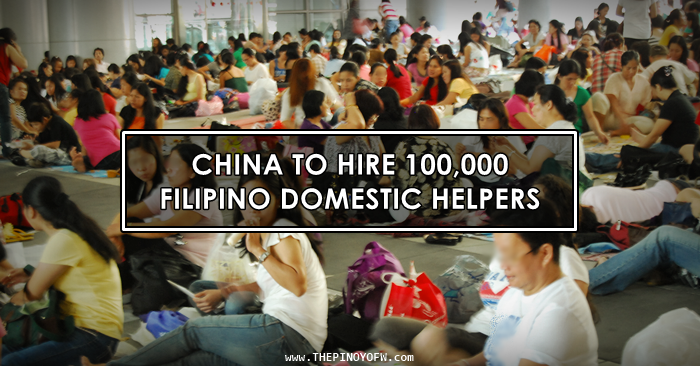 China to Hire 100,000 Filipino Domestic Workers
A report from from GMA7's 24 Oras shares that Labor Undersecretary, Dominador Say, discusses that the demand for household workers (kasambahay) is increasing as more and more Chinese families are able to afford to get domestic helpers.
"Ang China, there is a new rising class ng mga may pera na mga households na ngangailangan ng household workers, and ang hinahanap nila, ang preference nila Pilipino," said Labor Undersecretary Dominador Say.
View full report here – China eyes hiring thousands of Pinoy household service workers
Dominador Say also says that Chinese prefer Filipinos because we are, religious, neat, and we are good English speakers (to teach employer's children with the Language)
The current minimum salary is 400 USD (20,000 Php) and the Philippine Labor officials are lobbying to increase the wage to 1000 USD (50,000 Php). Aside from domestic helper jobs, China has some infrastructure projects, industrial zones (electronics, manufacturing and food processing).
Video: Filipino Domestic Workers Needed in China
Check out a video from 24 Oras to see the full report from GMA7 News.
This is great news for many Filipinos who are planning to work abroad. But we would still advise everyone to please make sure you follow due process once the jobs are available. Remember to through proper channels in getting a job so you will be protected and you will have rights as an employee in becoming an OFW abroad.