In case you are wondering how much are your monthly expenses and cost of living as an Overseas Filipino Worker in the USA, here's a guide to help you. A Filipino nurse in America shares their experience living in the city of Chicago, Illinois and how much they spend per month. May this post serve as a guide to help you understand the monthly costs if you plan to work in America.
Also Read: How Safe is the USA?
To everyone who is going to read this article and may think of working in the US, the salary may be in US dollars and will translate to a big amount when converted to Philippine Pesos. However, it is important to note that the expenses you have when you live here is also huge. So you have to take into account how much you allot per month for your housing, food, transportation, and other personal expenses.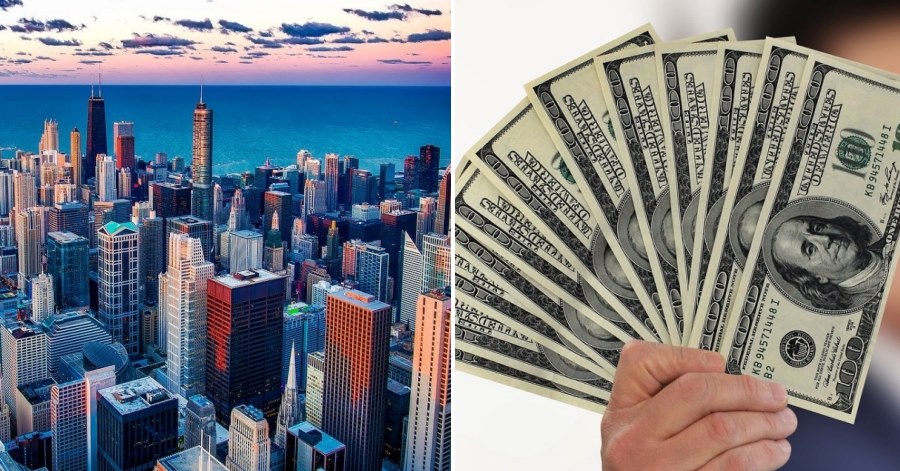 Filipino Couple In America Shares Monthly Budget in Chicago, Illinois
So our video we are sharing today talks about a Pinoy couple who both work as nurses in USA. Let this be a helpful resource in case you are thinking about moving to America and work as nurses.
Disclaimer: The information shared in this post are based on a video shared by the vlogger. Let this article and the video act as a guide only as expenses can change without prior notice depending on the working conditions for the year and the company. Thank you to this Filipino Couple in America vloggers.
The following are the basic living expenses in Chicago, Illinois:
Housing
According to Rina, the apartment rent in their state ranges from 1,300 USD to 1,700 USD per month.
While that may sound expensive, Rina actually said that this is already cheap compared to when you are renting in locations that are close to the city.
The apartment they are staying in is a 2-bedroom apartment which is big enough, and it's a beautiful accommodation.
Electricity
Rina said that your energy bill depends on what season it is. Here is a summary of how much they typically pay for energy during the summer versus during the winter:
Summer – around 200 to 300 USD per month
Winter – around 150 per month.
Gas
Aside from electricity, they are also paying for gas. In Chicago, gas bill rates also vary depending on the season. Here is a summary of how much they typically pay for gas during the summer versus during the winter:
Summer – 100 to 150 USD per month
Winter – 350 to 450 USD per month
Rina mentioned that unlike in the Philippines, where most people buy gas through LPG tanks, in the U.S., gas is a commodity that is paid on a monthly basis just like electricity.
That's because the gas people are using is underground, that connects to your home, and so you have to pay for it on a regular basis.
Gas is really important, too, since in Chicago, when the winter season arrives, it is really, really cold. The only way to beat the cold is by using a heater.
Yet another expense is the water bill. According to Rina, the amount you pay for water depends on several factors, including, but not limited to, your landlord if you are renting, and what their rate is.
Rina stated that in the apartment that she and her husband is renting in, she doesn't have to pay for the water bill. That's already included in their monthly house rent.
Cellular Phone Bill
Two years ago, Rina and her husband arrived for the first time in Chicago, and one of the first things they did is get a smartphone. They got an iPhone X, and they paid it off at 45 dollars per month.
The smart phone is useful for several obvious reasons, but one particular use for the iPhone X is that Rina is using the device to shoot her vlogs.
Phone / Internet line
Rina is using T-mobile for her phone and internet line, and they are spending 50 USD per month for that.
Car Monthly Payment
Rina and her husband bought a 2019 Honda CRV. The monthly payment is 500 USD per month. On top of that monthly payment, though, you also have to pay for car insurance worth 100 USD per month.
Food
Food expenses vary greatly depending on how much you eat and are willing to spend on it. Rina shared that for both groceries and house supplies, the estimated cost per month gets to around 500 USD.
Again, to emphasize, food expenses are not fixed. In the case of Rina, she shared that they like to eat out a lot. As a result, that raised their expenses to the point of reaching an average of about 500 USD per month.
Overall, Rina's and her husband's cost of living per month is around 2,500 to 3000 USD. If you convert that to Philippine Pesos, that's a lot of money.
Summary: 2500 USD to 3000 USD per month
Based on the couple's monthly expenses, they spend 2500 USD to 3000 USD per month.
This huge amount is also one of the main reasons why people work hard in the States. They need to earn enough to live comfortably and pay the expensive bills. In many cases, OFWs work more than one or even two jobs so that they can not only help themselves but their family back in the Philippines as well.
Despite the fact that the expenses in the US are really high, it's still okay because you are earning a lot more compared to the Philippines. At the end of the day, after all deductions, you can still earn and save more money while working in the US.