The Department of Foreign Affairs has raised the crisis alert level 4 for Ukraine to mandate the evacuation of Filipinos in the affected areas.
In an advisory on Monday (March 7), the Department of Foreign Affairs said the mandatory evacuation of persons from certain areas due to the ongoing crisis in the country is at the government's expense.
Ukraine Placed on Alert Level 4, DFA Implements Mandatory Evacuation of Filipinos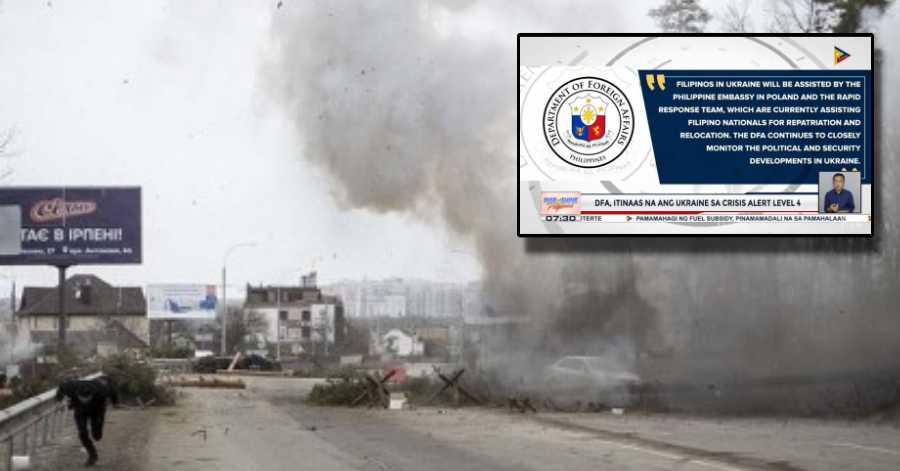 The DFA has four alert levels, which are usually categorized as alert level 1, precautionary phase; 2, restriction phase; 3, voluntary repatriation phase; and 4, mandatory evacuation, the PNA reported.
The Department of Foreign Affairs' website states that an alert level of 4 is issued when a major internal conflict or external attack occurs in a country.
The Philippine Embassy in Ukraine urged its citizens in the country to contact its embassy in Poland through telephone, WhatsApp, or Viber on +48 604 357 396.
"Filipinos in Ukraine will be assisted by the Philippine Embassy in Poland and the Rapid Response Team, which are currently assisting Filipino nationals for repatriation and relocation," the DFA said.
Meanwhile, the Assistance-to-Nationals hotline can be reached through phone, WhatsApp, or Viber at +48 694 491 663.
"The DFA continues to closely monitor the political and security developments in Ukraine," the DFA said.
It was also revealed that over a hundred Filipinos have been assisted in getting them settled in the Philippines. Some of these include those who have traveled to various countries such as Austria, Bulgaria, Romania, and Poland.
On March 7, the Department of Foreign Affairs stated that three groups composed of 16 Filipinos arrived in Manila.
The UN's refugee agency said Monday that almost a million people have fled Ukraine since the country's civil war broke out a week ago.
Due to the ongoing fighting, multiple explosions have hit various cities in Ukraine. They have damaged civilian infrastructure and halted evacuation efforts.
The Philippines denounced Russia's invasion of Ukraine. It backed a resolution at the UN condemning the Russian actions.
Here's a video report posted by PTV News via YouTube:
READ NEXT: Here are the 25 Countries Where Filipinos are Not Allowed to Work