The Department of Foreign Affairs (DFA) has urged Filipinos in Myanmar to remain calm and stay inside their homes after the military took over the country in a coup.
The Embassy also appealed to all unregistered Filipinos in the country to contact them so that they can assign a coordinator to them.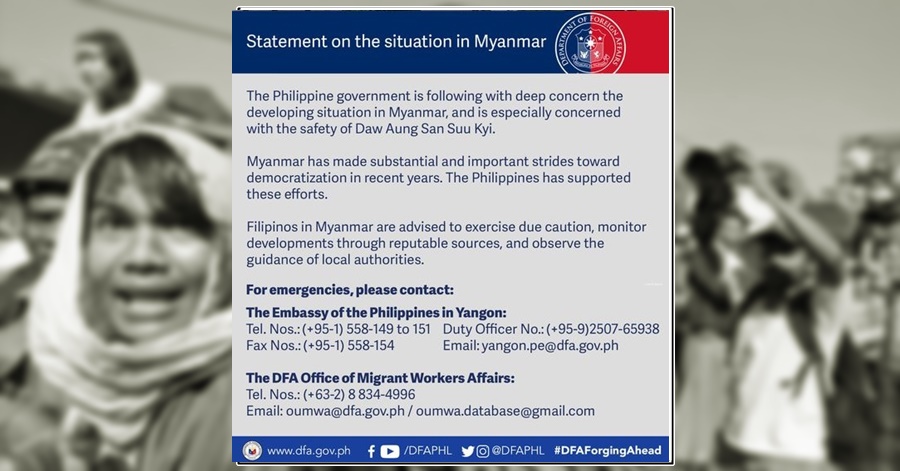 'Remain Calm Yet Vigilant' Says DFA to Filipinos in Myanmar Amid Military Takeover
In a Facebook post, the Embassy said: "The Embassy urges all Filipinos in Myanmar to remain calm and to stay at home. All Filipinos are encouraged to register with the Embassy. Please also make sure that you are included in the Embassy township coordination group."
The post added that in the case of an emergency, Filipinos may call the Embassy landline at 01 558149-153 or the Embassy hotline at 09250765938.
The DFA noted that there are 1,273 Filipinos based in the country.
In line with this, the Malacañang said that the government is prepared to assist Filipinos willing to be repatriated amid the current situation in Myanmar. Those who wish to benefit from the Philippine government's special Yangon-Manila flight may register using this form.
Presidential Spokesperson Harry Roque said that the issue is an internal matter in Myanmar, but the Philippine government is more focused on ensuring the safety of Filipinos there.
READ NEXT: What Are the Visa-Free Countries Filipinos Can Visit?