New batches of Overseas Filipino Workers (OFWs) displaced from their jobs continue to arrive at the Ninoy Aquino International Airport (NAIA), as part of the estimated 250,000 home-bound Filipino workers affected by the global crisis.
For June, some 30,000 OFWs are expected to be flown in by various charter flights, or brought in by their cruise ships to Manila Bay.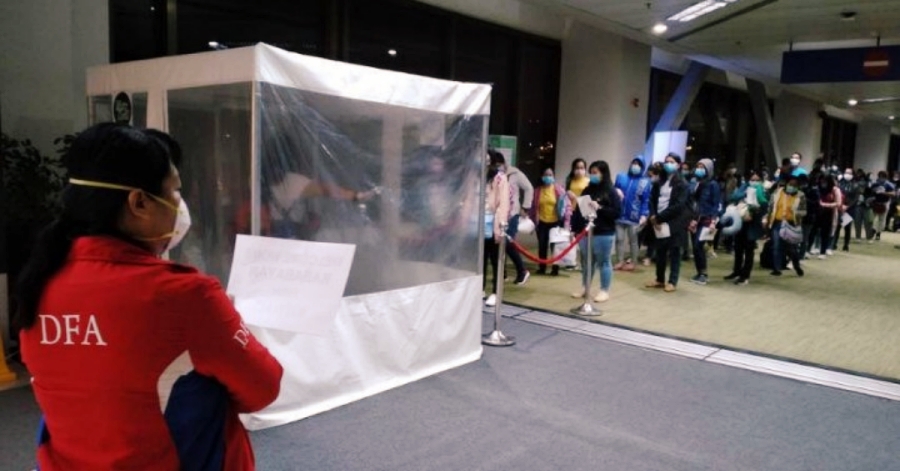 More Batches of Jobless OFWs to Return Home in the Coming Weeks
Last Thursday (May 28), 786 OFWs stranded in the United States, Germany, Portugal, and Cambodia arrived at the NAIA in four separate charter flights, as shared in a report by Business Mirror.
On hand to welcome them are representatives from the Department of Foreign Affairs (DFA), Overseas Workers Welfare Administration (OWWA), Department of Labor (DOLE), Philippine Coast Guard (PCG) Bureau of Quarantine (BOQ) and the Manila International Airport Authority (MIAA).
The newly arrived batch will undergo swab testing by trained quarantine personnel and then brought to designated quarantine sites. 
The group's temporary shelters for the next 14 days are either hotels or sites arranged by their manning agencies while waiting for the results of their virus test.
Those whose results will come out negative will be sent home assisted by the PCG and OWWA while those positive of the virus will spend the rest of their stay undergoing treatment.
According to the Media Affairs Division (MAD), the first to arrive on Thursday were 124 stranded seafarers from San Francisco, California, on board Philippine Airlines (PAL) Flight PR105.
This batch was followed by some 375 seafarers from AIDA cruise ship from Germany onboard Evelop Airlines Flight EVE 594, followed by another batch of 167 OFWs from Phnom Penh, Cambodia, onboard Cambodian Airlines, including the 120 seafarers from MV Star Pride. They boarded the sweeper flight from Lisbon, Portugal.
Additionally, 16 cargo flights arrived on Thursday bringing essential food, medical supplies, and equipment.
Meanwhile, the first cruise ship to have registered an infected patient onboard, the Diamond Princess, has dropped anchor in Manila Bay after coming from Yokohama, Japan. 
There are at least 100 remaining Filipino seafarers onboard, some of them are cooks while the majority are crew maintaining the engines. 
The first batch of 444 seafarers aboard has already returned to the Philippines back in the second week of March.
In line with this, the PCG has been warned to take all necessary precautions in boarding the Diamond Princess and to test any remaining Filipinos for signs of infections.
Meanwhile, the NAIA is looking at the possibility of resuming commercial flights in the coming days.
According to Transportation Secretary Arthur Tugade, "Commercial domestic flights will be allowed between areas under general community quarantine [GCQ] and even expanding operations in international aviation gateways to include Clark and Davao."
"While the mandate of the DOTr is to provide transportation, mobility, and convenience, it is now also vested with the responsibility to help in preventing the spread of the virus…. Our approach will be partial, gradual, calculated, and by phases," the transportation chief explained.