Not all jobs are created equal. But during times of crises, some jobs become more than just a set of tasks needed to be carried out – they become an invaluable source of pride, joy, and a reason to hope. Such is the nature of the work of nurses all over the world during these times. 
Also Read: What is the Monthly Salary of a Nurse in the United Kingdom?
And for nurses, no matter how physically, mentally, and emotionally exhausting and demanding their job may be, their call to serve is greater than any fear or threat of an invisible enemy that has already claimed the lives of thousands of people all over the world.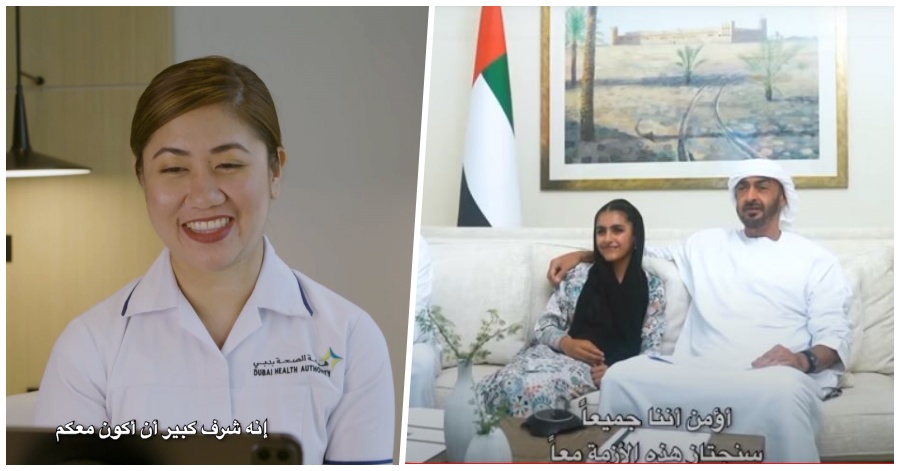 Video: Filipina Nurse Says Sheikh Mohamed's Appreciation of their Work Provides Hope and Inspiration to All UAE Frontliners
In line with this, a Filipina nurse shares her experience talking with His Highness Sheikh Mohamed bin Zayed Al Nahyan, Crown Prince of Abu Dhabi and Deputy Supreme Commander of the UAE Armed Forces, in the third episode of the Sheikh's virtual majlis on 13th May, as shared in a report by WAM.
Jessa Dawn Ubag, 31, who works as a staff nurse at the Infectious Disease Unit at Rashid Hospital in Dubai shared, "We think we are an instrument of hope to give spiritual, mental, and emotional support also to our patients in times of despair. That's why when Abu Dhabi's Crown Prince personally appreciated me, I felt he was recognizing all nurses for spreading hope."
Jessa was referring to her experience talking with Sheikh Mohamed via a video conference call last May 13.
During the call, Sheikh Mohamed had expressed his appreciation to all the frontline medical workers for their sincere efforts to contain the virus.
"His words have inspired me and my fellow nurses to spread more hope to patients and the community at large. We, nurses, felt that we somewhat are heroes in our own small way. It has inspired me to be a better nurse and a better instrument of hope," shared Jessa who has been working at Rashid Hospital for six years.
Jessa's work as a staff nurse at the Infectious Disease Unit, is risky, to say the least, but most especially during this time. 
Her job requires her to don heavily layered personal protective equipment, PPE, for several hours, often sacrificing basic personal needs, which can be very uncomfortable, Jessa shared.
Performing a stringent medical treatment regimen is only one aspect of the job, the rest is taking care of the mental and emotional wellbeing of the patient, especially handling their anxieties and fears. 
She added, "When critically-ill patients get well and go home with a smile, expressing their heartfelt thanks, we realize the importance of our human touch in our job."
After speaking to Sheikh Mohamed, Jessa felt how the country treats its citizens and foreigners alike.
While speaking to Sheikh Mohamed, she got the impression that she was "talking to someone who knows me for a long time."
Jessa also expressed her gratitude to the UAE leadership for having been given the opportunity to speak with His Highness despite being a foreigner.
"I am a Filipina and I felt it was a recognition to the Filipino community in the UAE along with all frontliners," Jessa explained.  
Watch Jessa's conversation with Sheikh Mohamed in this video shared by WAM via YouTube: