President Rodrigo Duterte has placed the entire island of Luzon under an "enhanced community quarantine," as part of the Philippine government's efforts to help contain and prevent further spread of the novel coronavirus or COVID-19.
During a briefing on Monday, 16th March 2020, the President urged everyone to practice social distancing and to follow the latest quarantine measures. He also called for unity and solidarity among all Filipinos in combating the novel coronavirus.
Things to Know About the "Enhanced Community Quarantine"
Soon after President Duterte's briefing was broadcast, Executive Secretary Salvador Medialdea issued a memorandum with the subject, "Community Quarantine Over the Entire Luzon and Further Guidelines for the Management of the COVID-19 Situation."
Based on the memorandum, here are the specific guidelines to be followed by all departments, agencies, schools, local government units (LGUs), and other stakeholders in the entire Luzon:
#1. Suspension of classes and all activities at all levels until 14th April 2020.
#2. Prohibition of mass gatherings.
#3. Strict implementation of home quarantine in all households. Movement will be limited to acquiring basic needs. The provision of food and essential health services will be regulated. There will also be a "heightened presence" of uniformed personnel to enforce these measures.
#4. The executive branch of government shall implement a work-from-home arrangement. Meanwhile, the AFP, PNP, PCG, health and emergency front line services, border control and other critical services will continue to operate through a "skeletal workforce."
#5. Only the establishments providing basic needs like food, water, medicine, and health services will be open, provided that their respective managements will operate on a skeletal workforce and follow strict social distancing measures.
These establishments include:
Public markets
Supermarkets
Groceries
Convenience stores
Hospitals
Clinics
Pharmacies
Food preparation and delivery services
Water-refilling stations
Manufacturing plants of basic food and medicines
Banks
Money transfer services
Power, energy, water, and telecommunications facilities
#6. Business Process Outsourcing (BPO) companies and export-oriented industries will remain open, provided that strict social distancing measures are followed, a skeletal workforce is implemented, and personnel are provided with temporary accommodation arrangements by 18th March 2020.
#7. Media personnel will be allowed to travel within the quarantine area, provided that they secure an identification card from the Presidential Communications Operations Office (PCOO) within 72 hours from the effectivity of the quarantine.
#8. Suspension of public mass transportation facilities.
#9. Restriction of land, air, and sea travel.
#10. People who are planning to depart from the Philippines through any of the international airports in Luzon will be allowed to travel for a period of 72 hours from the effectivity of the quarantine.
#11. Inbound international passengers will be allowed to enter, subject to applicable quarantine procedures if coming from countries with existing travel restrictions.
#12. Inbound Filipino citizens (including their foreign spouse and children), permanent resident visa holders, and diplomat visa holders will be allowed to enter, subject to applicable quarantine procedures if coming from countries with existing travel restrictions.
#13. Movement of cargoes to, from, and within Luzon will continue, subject to guidelines to be formulated by the Department of Transportation (DOTr).
#14. Land, air, and sea travel of uniformed personnel for official business, including those transporting lab specimens and medical supplies related to COVID-19, will be allowed.
#15. The Department of Labor and Employment (DOLE), Department of Social Welfare and Development (DSWD), Department of Trade and Industry (DTI), Department of Budget and Management (DBM), and Department of Finance (DOF) will formulate measures for the social amelioration of affected workers and residents.
These measures may include, but are not limited to:
Moratorium on lease rentals
Advancing a pro-rated 13th month pay
Reprieve in utility bills
Assistance to micro, small, and medium-scale businesses
#16. The DWSD is directed to formulate measures to expedite the distribution of food assistance to the most affected residents.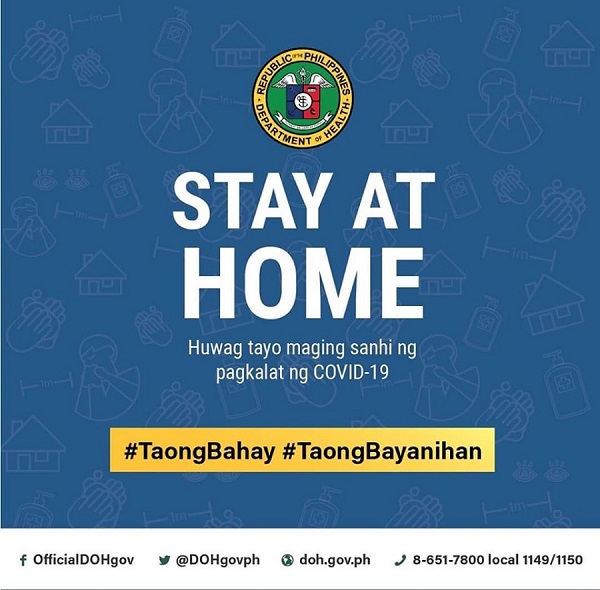 "Not Martial Law"
During his briefing, President Duterte emphasized that placing Luzon under quarantine does not mean that the country is on Martial Law.
"We are not facing an invasion or rebellion, but we are fighting against a vicious and invisible enemy, which is the coronavirus disease 2019 (COVID-19), thus the need to prioritize the health safety and well-being of Filipinos," he stated. "In this fight against the virus, we are all soldiers."
Notably, the President also expressed his gratitude to all doctors, health professionals, and health workers who are in the front lines, fighting against COVID-19.
As the COVID-19 cases in the Philippines continue to rise, and as our government takes drastic measures amid the spread of the novel coronavirus, let us all do our part by following their instructions, for our own safety, protection, and well-being.