President Rodrigo Duterte has discussed urgent measures to combat COVID-19, particularly in the National Capital Region (NCR), which has seen a rise in confirmed cases in the past few days.
The President discussed the matter through a live broadcast over television and online media channels. He talked about social distancing measures, region-wide class suspensions, travel restrictions, and guidelines for community quarantine in case of a COVID-19 outbreak.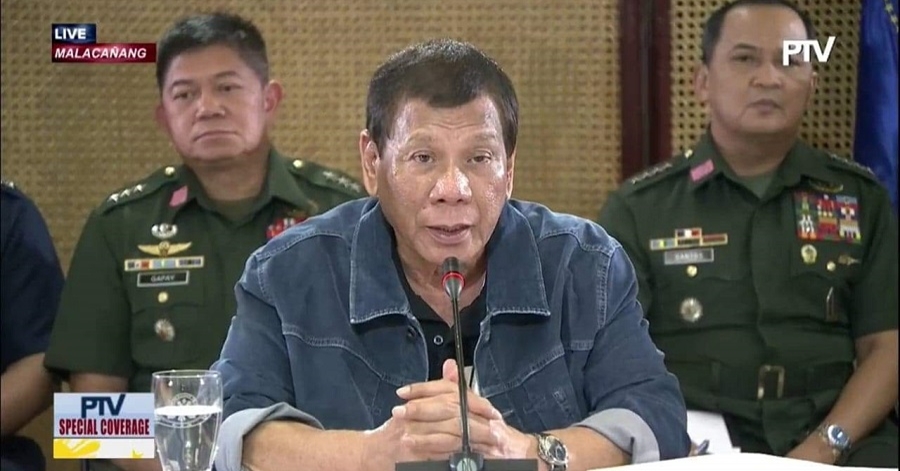 Duterte Tackles Measures to Combat COVID-19 in NCR
During the broadcast, President Duterte discussed the provisions of Resolution No. II, which was prepared by the Inter-Agency Task Force (IATF) for the Management of Emerging Infectious Disease.
Basically, the resolution raises the Code Alert System for COVID-19 to Code Red Sublevel Two, which prescribes the following recommendations:
Stringent Social Distancing Measures
These measures include:
#1. Suspension of classes in all levels in Metro Manila until 12th April 2020, provided that all students shall continue to fulfill their educational requirements during the said period. Moreover, the concerned Local Government Units (LGUs), under the supervision of the Department of Interior and Local Government (DILG) shall help to ensure that students remain in their homes during the said period.
#2. Mass gatherings shall be prohibited during the said period.
#3. Community quarantine shall be imposed, based on these guidelines:
Barangay-wide Quarantine – advised when there are at least two confirmed COVID-19 cases belonging to different households in the same barangay;

Municipal/City-wide quarantine

– advised when there are at least two confirmed COVID-19 cases belonging to different barangays in the same municipality/city; and

Province-wide quarantine

– advised when there are at least two confirmed COVID-19 cases belonging to different municipalities/cities in the same province.
#4. Work in the executive branch of the government shall be suspended during the said period, though there would be skeletal workforces to maintain delivery of public services. Health and emergency frontline services shall continue to operate. Meanwhile, the legislative and judiciary branches are encouraged to adopt the same policy.
#5. The private sector is encouraged to make flexible working arrangements, and the Department of Labor and Employment (DOLE) and the Department of Trade and Industry (DTI) shall be issuing guidelines to protect workers' welfare. Manufacturing, retail, and service establishments are advised to continue operating during the said period, provided that the respective managements observe strict social distancing measures.
#6. Mass public transportation (e.g. Metro Rail Transit, Light Rail Transit, and Philippine National Railways) shall continue to operate, provided that the Department of Transportation (DOT) shall issue guidelines on social distancing in the said public transport modes.
#7. Land, domestic air, and domestic sea travel to and from Metro Manila shall be suspended 48 hours after the issuance of this resolution.
#8. The above measures shall be subjected to close monitoring and reassessment seven days after the issuance of this resolution.
OFWS Can Travel to China
The resolution states that overseas Filipino workers (OFWs) will be allowed to travel to China (except to Hubei Province), provided that they sign a declaration affirming their knowledge and understanding of the risks involved.
Travel Restrictions
The resolution states that travel restrictions will be imposed on people coming from countries with localized COVID-19 transmissions, except for:
Filipino citizens (including their foreign spouse and children);
Permanent resident visa holders; and
Diplomat visa holders.
Here is the full video of the broadcast, as shared by PTV News on Facebook:
According to President Duterte, he intends to turn the Resolution into an Executive Order. He also mentioned that the IATF, along with the different government agencies and other stakeholders, will be closely monitoring the situation and making necessary reassessments. So let us continue to wait for further announcements; in the meantime, here is the
list of COVID-19 cases in the Philippines
, for your reference.