It was a tear-jerking and emotional moment for the father and his two daughters when, after three years of being apart, they were finally reunited. The Facebook video posted by the OFW's sister in law, Juv P. Montańer has since gone viral. It shows the father-daughters reunion that took place at a Jollibee branch in Tubod, Iligan City.
This family's story is something that many OFWs can relate to. It's a story of sacrifice and hard work for the sake of the their loved ones. For someone working overseas, there will be many Christmases, birthdays and other important family gatherings that they have to miss. It is truly difficult to endure the distance and the misery of being away from their families, especially of there are children involved. But a lot of people still persevere. To all OFWs, we applaud all of you!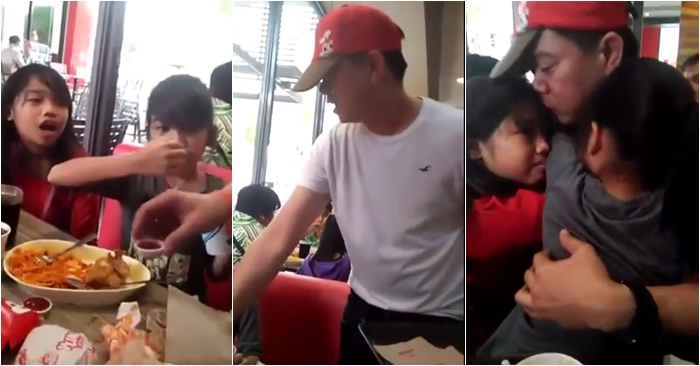 Family Reunion: OFW father surprises daughters by acting like a Service crew
The OFW father Glenn, works as a nurse in Dubai and had not been able to come home for more than three years. The mother on the other hand is in Bohol finishing her Doctorate degree. Both children, Breanna and Chayyen had undergone a lot of struggles. They were in Bohol when the big earthquake in 2013 shook the province. They had to be relocated to Marawi City to live with their relatives. During the Marawi Siege, they had to travel for 10 hours just to be away from the war zone and moved to Iligan City.
Despite these struggles, the hardest that they had to endure was being separated from their parents. Although they understand the reason why their Mom and Dad are away, they still continue to long for their parents especially on special occasions.
Here's a the heartwarming video from Juv P. Montańer's FB page.
According to Juv P. Montańer's post, it was his brother in law's idea to surprise the kids just a few days before Yenny's 8th birthday. She coordinated with the manager at Jollibee who agreed to allow Glenn to wear a Jollibee cap, pretend as a service crew and deliver food to her daughters.
The kids did not recognize Glenn right away but Breanna noticed a bracelet that the service crew was wearing. It was the same one that her sister made for their dad; something that Glenn does not take off as it reminds him of his daughters and comforts him despite their distance.