Stories during times of crises and suffering all the more hold weight, because these inspire us to connect and empathize more with others who may be going through the same struggles as we are, or perhaps even more.
Such is the kind of love story between this Filipino couple, who both got infected with COVID-19 and yet only one made it through and landed in the New York Times.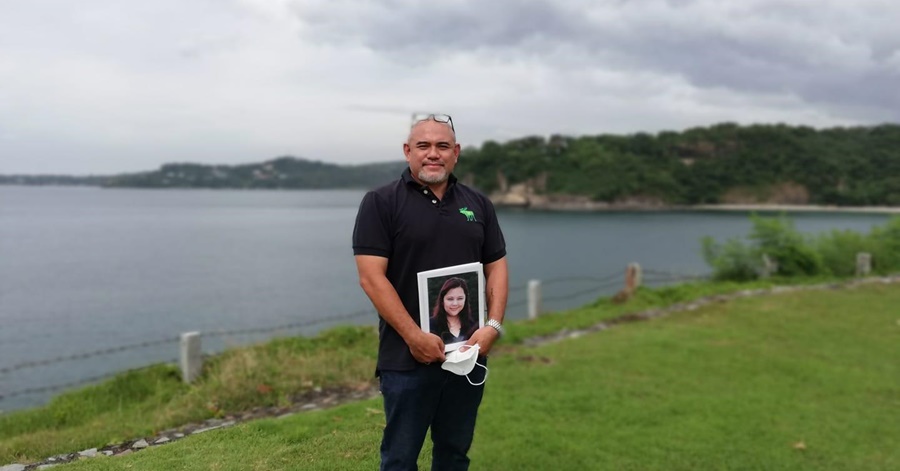 A Filipino Couple's Love Story Lands on The New York Times
As featured by GMA News Online, the New York Times included the heart-breaking story of the couple in its "Tiny Love Stories," a section of featured stories in no more than 100 words, where Sean Luke Dado narrated his love story with his late wife, Hazel.
The piece, "Now I Know Why," takes a deep dive into Sean's pressing thoughts and questions about their relationship: Why they got married so young at the age of 20 and 21, how he could support a family when a baby arrived soon after, how he felt they were too young to be grandparents in their mid-40s.
"Then when Hazel passed away at 50 from the coronavirus, I finally realized why we got married so young: We weren't meant to grow old together. And I am grateful for our time," Sean wrote.
In an interview with GMA News, Sean revealed how he met Hazel: They were both in college, studying in the University of the Philippines. He was from the Los Baños campus, Hazel, from Diliman.
He shared that they both met at a sports meet in the QC campus and went on their first date that very same night.
Sean, who now manages his own coffee plantation in Benguet, shared how he started writing her letters because he didn't have any allowance to call her. It was something he continued to do, even after getting married, whenever he had to work away from home. Sean was going to mail his letter to Hazel, even if it meant driving for miles to find the post office.
He goes on to share, "When the coronavirus started spreading around the world, we quickly followed all the protocols set by the DOH and the WHO. During the five months that we were in lockdown, Hazel only went out once, during the first month, to buy groceries."
He said that considering their age and disposition, they followed everything: they avoided going out, wore masks, and washed their hands frequently.
But in July of last year, things started to turn for the worse, after Sean had to go to a drugstore to purchase medicine.
He recalled that there was a man behind him on the line who started sneezing continuously. A few days later, he felt unwell, but did not have a temperature, sore throat, or cough.
"I did not lose my sense of smell or taste. I felt ill, but did not think it was COVID-19 due to the lack of symptoms," Sean shared.
A few days after, however, his wife and daughter started becoming sick until such a time that Hazel had to be rushed to the hospital because her oxygen level was going down.
Soon, the doctor recommended for her to be intubated, which Hazel feared would put her into a coma and never wake up. True enough, she never did. Hazel passed away on July 30.
After they have paid their final respects to Hazel, Sean was contacted by one of his nieces who was based in New York. As she was an avid follower of the New York Times' Tiny Love Stories, she told him that if he wrote about Hazel, then everyone around the world can get to know her story, so he did.
"So I sent the story, written in exactly one hundred words. The editor of the column sent me an e-mail the very next day expressing interest, and after hashing out the details, she chose the story not only for their online publication but also for print," Sean said.
"I'm happy because more readers will be able to know that there once was a person named Hazel, who was full of life and joy and kindness, but was not blessed by God to have a long life. So whatever time God gives people, they should be grateful for it, because some people's journey are shorter than others," Sean continues to share.
According to Sean, one of the reasons why he chose to share Hazel's story is to tell everyone that COVID-19 is real.
He shares, "I look around outside, and I see people milling about, as if we have already won the war against the pandemic.  We haven't yet, and I agreed to tell my story in the hope that it will make people realize that COVID is very much alive among us, an invisible enemy in a crowded society."
Although Hazel has already passed, Sean still sends her letters to this day.
This way, he can compose himself and say everything that he wanted to – through letters – by which, their bond has been strengthened through time.
On Facebook, Sean can be seen consistently updating Hazel on what has been going on with their lives — how their grandson won't stop crying, how they finished decorating the Christmas tree, how he put her name on his arm permanently, and even how the packages she ordered just arrived.
"Hazel loved reading my letters when she was alive. I feel that she still loves reading them now," Sean said.
Indeed, losing a loved one is a devastating experience for anyone of us. But with it, there's the hope of living their legacy through one's life, which allows people to look forward to another day. With Hazel's passing, Sean not only wants people to remember this very special and beautiful woman who made his heart flutter with joy and pride – but also to remind everyone that we are still amid a pandemic and that COVID-19, when seen through the eyes of the people who lost families and loved ones, is as real as it gets.
READ NEXT: Pinoy Nurse in UK Shares Experience in Receiving COVID-19 Vaccine