People who are new to Canada or who have the desire to meet their compatriots are encouraged to look for Filipino organizations that they can join and become a part of. The good news is that there are a lot of Filipino groups in Canada for you to get in touch with. In the following sections, we will highlight some of them to give you some insight into your options.
Some of these organizations provide aid to newcomers, while others hold events for their members to engage in activities together, such as game nights and socials. You can conduct a search for Filipino groups using either Google or Facebook if you are interested in finding out more information about them. The following is a list of some of the most renowned Filipino organizations in Canada: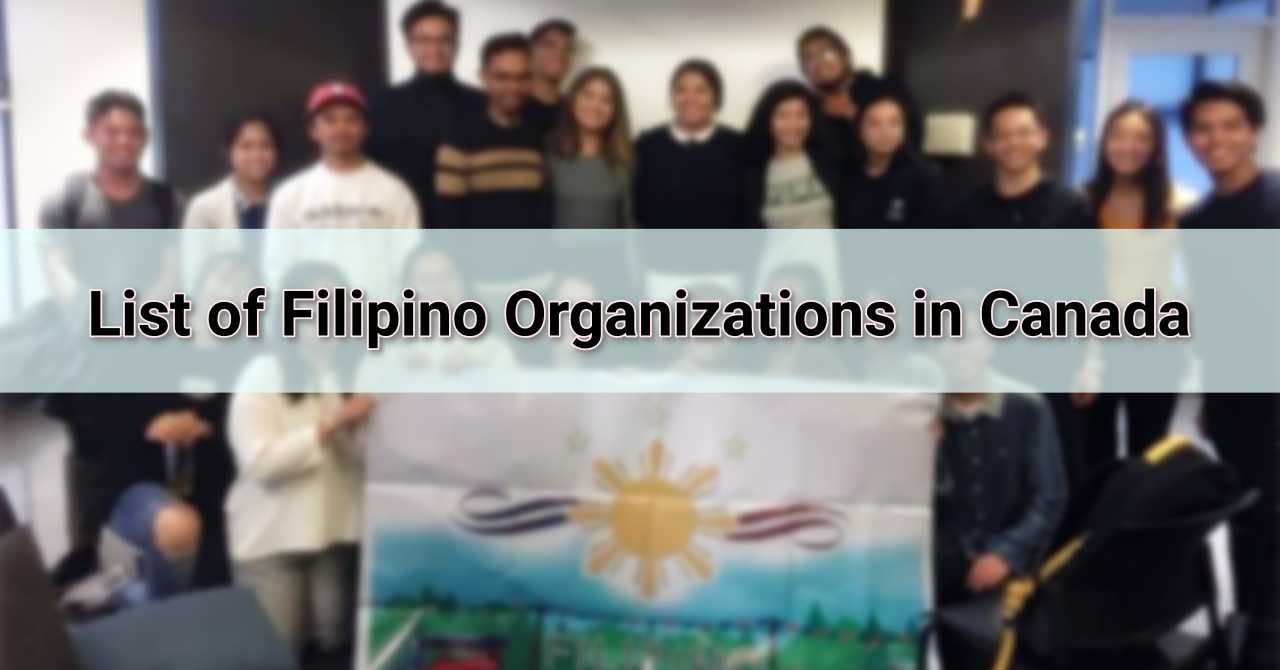 1. The Filipino Canadian National Congress (FCNC)
Type: Non-profit
The Filipino Canadian National Congress (FCNC) is a fully recognized national non-profit organization affiliated with the Canada-Philippines Parliamentary Friendship Group that is tasked with expressing the strong Filipino presence in Canada before the Canadian people and government. The FCNC coordinates and conveys the concerns and interests of over one million Filipino Canadians, and encourages our active engagement in impacting Canada's social, economic, environmental, and political perspectives.
The goal of the FCNC is to represent the interests of the Filipino community before the government and the people of Canada. It aims to strengthen the relationship between the various organizations in the country and promote the development and preservation of Filipino cultural heritage. It also aims to raise awareness about the various issues that affect Filipinos in Canada.
The FCNC is an independent and dynamic organization that envisions itself to to provide a high standard of leadership to the Filipino community in Canada. It also aims to promote and develop the identities and responsibilities of Filipinos in the country.
2. Kababayan Multicultural Centre
Type: Cultural, Non-profit
Headquarters: Toronto, ON
The Kababayan Multicultural Centre was established in 1977 by members of the community, the most notable of whom were Tessie Jew, Voltaire de Leon, Helen Mascardo, and Ruben Cusipag. Over the course of its existence, the group has been in a position to be of assistance to the Filipino community in Toronto. Additionally, it has been a stalwart advocate for the rights of the city's newest residents. As their organization expands, they are dedicated to ensuring that people from all racial groups in Canada have the opportunity to achieve social inclusion and equity.
The goal of the group is to provide assistance to Filipinos so that they can establish themselves in Canada. They are a non-profit organization that helps newcomers to Toronto acclimate to their new houses and surroundings as quickly and painlessly as possible.
They provide a wide range of services, some of which include information on education, employment, the development of life skills, and participation in community activities. These services can be obtained in a number of different tongues, such as English, Hindi, Farsi, Nepali, Spanish, and Tagalog.
Their goal is to make it possible for Filipinos to achieve equality in Canadian society and get complete access to all of the country's economic, political, and sociocultural prospects.
In addition to this, the KMC hopes to contribute to the growth of a thriving immigrant community in the city of Toronto. It is committed to promoting the cultural history of the Filipino people and working toward social inclusion and equity by:
– Providing settlement aid to newcomers in order to facilitate their assimilation; and
– Promoting social inclusion and equity.
These goals are being worked toward through the following:
– Providing services with a focus on the needs of the individuals receiving them
– Acknowledging the skills, experiences, and levels of education that newcomers bring to the table
– Working in partnership with other organizations and groups to construct a more equitable and caring society

3. Babae – Council of Filipina Canadian Women
Type: Non-Profit
Headquarters: Calgary, AB
BABAE, also known as the Council of Filipino Canadian Women, was established in the year 2003. Women who are enthusiastic in the process of community development in their immediate surroundings make up its membership. Several of them were involved in a variety of social service initiatives when they were in the Philippines. As soon as they moved to Calgary, in the province of Alberta, they became aware that there was an immediate requirement to improve the community.
On September 17, 2003, the founding members of the organization signed the Articles of Association and bylaws that established the Society. After then, BABAE was given their namesake.
BABAE is a unique organization because the majority of its members are foreign-born women who are enthusiastic about the formation of communities in their neighborhoods. Furthermore, they encourage the usage of the Filipino language in everyday life. The principal purpose of the organization is to work toward the advancement of Filipino-Canadian women's status throughout the nation.
This group consists of immigrant women who have found work in fields that cater to the needs of other immigrants. The Ethno-Cultural Council of Calgary (ECCC), the Centre for Newcomers (CFN), and the Calgary Catholic Immigration Society are just three of the organizations that some of its members belong to (CCIS). Others have considerable expertise in facilitating workshops on human rights and working as immigration counselors.
Immigrants now have access to a variety of social services that were previously inaccessible to them because these services are now available in the Filipino language. Students are able to face the challenges of life in Canada with a greater sense of readiness as a result of this.
The goal of the non-profit organization known as BABAE is to provide assistance to Filipina-Canadian women and the families of those women. In doing so, they will be able to:
Foster a leadership and collaborative position with other groups to promote and enhance the capabilities of Filipina-Canadian women;

Assist Filipina-Canadian women in addressing challenges such as settlement, health, family conflict, parenting, mental health, and other related issues; and

Provide ways for disseminating information through the use of contemporary technologies.

Form strategic alliances and collaborate with public and non-profit groups on issues that affect Filipina-Canadian women and their families.
4. Philippine Artists Group of Canada
Organization: Cultural
Headquarters: Toronto, ON
The Philippine Artists Group is a non-profit organization that displays Philippine art. It has also taken part in a number of fund-raising activities and community service programs. They delivered a framed portrait of Jose Rizal to the Philippine consulate general in Toronto in 1996. The organization and the Knights of Rizal collaborated on this project.
The PAG collaborated with artists from France, the United States, and the Philippines to stage its first international art exhibition, "Convergence Internationale," in 2004. The group's largest event to date was held in Manila. In April 2008, the ensemble will perform again in Toronto. This year marks the 20th anniversary of the company.
This organization is currently known as the Philippine Artists Group Canada. It now features prominent Filipino artists from Ontario. Despite its selective membership, the group's stature continues to rise.
The group has been critical to the community's efforts to promote Philippine culture and the arts. It is an appropriate organization for the many Filipinos who migrate to Canada in search of a new beginning in their new country. The PAG is also a sign of the country's cultural heritage. It is the Filipino people's voice and the keeper of their unique visual arts.
5. Filipino-Canadian Association of Saskatchewan, Inc.
Type: Cultural, Non-Profit
Headquarters: Saskatoon, SK
The organization has been around for about 40 years, and its longevity can be attributed to the dedication of its volunteers. As the number of Filipinos living in Saskatoon and throughout Canada continues to grow, more and more of them recognize the significance of multicultural leadership and collaboration in the process of building a more robust community. They recognize the dedication of each member as well as the leadership provided by the Board in order to ensure that FILCAS is representative of the many different aspects of our society. They see the preservation and dissemination of Filipino culture as their major mission. Building ties with other community organizations that encourage collaboration, peace, and harmony is one of the goals of the organization.
Their goals include the protection and dissemination of Filipino culture, the development of younger generations, and the consolidation of the local community. They are able to achieve this goal by providing the Filipino community in Saskatoon with great leadership, assistance, and support.
In addition to this, one of their goals is to foster in the community a healthy and long-lasting appreciation for the Filipino culture.
You will be able to receive discounts from our partners if you are a member of the Association.
Hillcrest Memorial is offering a discount of 10% on all things they offer there.

$10 discount from Umac Express Cargo

Get a discount of $10 when you ship with Sunfreight Express Cargo.
Those interested in joining FILCAS will discover that the application process is not overly complicated.
You only need to go to filcas.ca in order to get the membership application. At their office, which is located at 18-115 3rd Avenue South in Saskatoon, Saskatchewan, you have the option of paying with either cash or an e-transfer.
6. United Filipino Canadian Seniors Association of Hamilton
Organization Type: Cultural, Non-Profit
Headquarters: Hamilton, ON
The United Filipino-Canadian Seniors Association of Hamilton (UFCSAH) is a non-profit organization dedicated to empowering Filipino-Canadian seniors in Hamilton and the surrounding suburbs. It was created as a provincial corporation on August 19, 1995. Members come from Lincoln County, the Greater Toronto Area, Hamilton, and the surrounding areas.
The UFCSAH is a non-profit organization dedicated to assisting Filipino-Canadian seniors in enjoying their retirement, leading productive and social lives, and aging with dignity and grace. To improve the quality of life for Filipino-Canadian elders, the organization offers educational programs, community activities, and special initiatives.
These are the three UFCSAH principles.
The first premise is "compassionate spirit." This means that we believe in the worth of human life and that everyone deserves to be treated with decency and respect.
"Educate to empower" is the second premise. We believe that education is essential for individuals to grow and thrive, as well as for society to advance.
"Dignity for all" is the third principle. We think that everyone is entitled to adequate healthcare, education, justice, freedom from abuse and exploitation, food security, and adequate shelter.
The UFCSAH envisions a society in which every senior citizen can live a socially productive, engaging, and positive existence.
It is critical for older people to maintain connections to their communities and meaningful relationships with others. Seniors can easily achieve this with UFCSAH by connecting with friends, family members, and neighbors in their area of Canada.
UFCSAH also raises funds for charity donations and makes donations to disaster victims. They help senior Filipino-Canadians in need. Finally, through community collaboration efforts that promote Filipino-Canadian elders and their culture, UFCSAH deepens the bond between UFCSAH members and the general public.
There are numerous ways to get involved with this group if you reside in or near Hamilton. They are continuously searching for volunteers of all ability levels. You might assist them in organizing events, running educational programs for children and adults, or even unique projects such as fundraisers and community service projects.
If you have any queries regarding how you can get involved in their campaigns, please visit their website.
7. United Filipino Canadian Associations in British Columbia
Type: Cultural:
Headquarters: Vancouver, BC
More than 40 different Canadian-Filipino organizations that were already established in British Columbia came together in 2015 to form the United Filipino Canadian Associations in British Columbia.
It was the offspring of the earlier Pista ng Bayan Society, which had conducted Philippine Independence Day celebrations in Vancouver for many years under the auspices of the Philippine Consulate General in Vancouver, including the "Pista ng Bayan" outdoor event and the Annual Independence Day Gala. These celebrations included the "Pista ng Bayan" outdoor event.
The establishment of the UFCABC demonstrated that the Filipino community in Vancouver has reached an age of maturity where it is capable of standing on its own and organizing these events in a manner that is community-driven, which aims to:
Encourage a sense of connection, the importance of remembering the past, and working together among all Canadians of Filipino ancestry.

Play the role of a unifying and coordinating force in the preservation and development of the rich culture, legacy, customs, and way of life of the Filipino people; and to promote a distinct Filipino-Canadian identity within the multicultural fabric of the province of British Columbia. This mission statement was created by the Filipino Canadian Association of British Columbia (FCABC) in 2002.

Recognize the unique qualities of each of the established Filipino-Canadian groups in British Columbia, and work together to advance the common goals and interests of the community.

Make a contribution to the organization of cultural and recreational events in British Columbia for Filipino-Canadians so that they can continue to have peaceful relationships with one another.

Direct and organize the joint socio-cultural activities of all groups serving the Filipino-Canadian community, including attempts to raise money for charitable causes.

Conduct community forums, discussions, and debates on critical local, national, and worldwide issues facing Filipinos in British Columbia, our mission is to accomplish the following:

Make every effort to provide a forum in which Filipinos can meet, communicate with one another, discuss topics that will be of use in the future, and share their views.

Provide assistance to Filipinos through charitable organizations that have been granted permission to do so in times of need and necessity.

Work together with international and multi-cultural communities in order to cultivate multiculturalism.
8. Kapit-Bisig Canada
Type: Non-Profit
Headquarters: Toronto, ON
In Tagalog, Kapit-Bisig means "connecting arms." They consider themselves to be Filipinos and consider themselves to be both supporters and concerned members of the local community. They include people who regularly attend church as well as young people, students, women, migrant workers, and professionals.
They are a coalition of progressive organizations in Canada working together toward the achievement of a common objective.
9. Migrante B.C.
Type: Human Rights
Headquarters: Vancouver, BC
The mission of the community-based organization known as Migrante BC, which is located in British Columbia, Canada, is to protect and advance the rights and welfare of Filipino immigrants and migrant workers.
They think that migrants from the Philippines should be classified into a separate category.
They never lose sight of how important it is to fight for one of the most fundamental rights that are shared by all Filipinos, and that right is the right to good work at home. They argue that migrant workers from the Philippines are entitled to the highest level of promotion and protection of their rights no matter where in the world they find themselves.
Migrante BC is of the opinion that extreme poverty and high unemployment rates in the Philippines are driving factors behind the emigration of Filipinos to other countries. They also believe that the Philippine government's labor export strategy program encourages the commercialization of Filipino labor.
10. Migrante Alberta
Type: Non-Profit, Human Rights
Headquarters: Edmonton, AB
Migrante Alberta was established in August 2013 and is affiliated with Migrante Canada, a network of 20 organizations that serve Filipino migrants from British Columbia to the Maritimes.
Migrante is a charitable self-help and advocacy organization. They meet the pressing requirements of Alberta's migrants and citizens. They advocate for migrants, launch campaigns on their behalf, and provide assistance through referrals. They work closely with community organizations and labor unions.
They increase public awareness of the plight of migrants and precarious workers through a variety of channels in an effort to develop widespread public support and a pro-migrant public consciousness with a vision for change.
They continue to build links and a vast network of activists in order to generate strong support for all migrant workers. Among their supporters are labor unions, grassroots migrant organizations, women's organizations, and workers' organizations. They also engage in discussions and seek audiences with appropriate government officials to examine immigration policy and legislation (in both Canada and the Philippines).
Their umbrella organization promotes international collaboration among migrant organizations. Migrante is a member of the International League of People's Struggles (ILPS) as well as the International Migrants Alliance (IMA).
11. Migrante Canada
Type: Non-Profit, Human Rights
Headquarters: Mississauga, ON
Migrante Canada is a member of Migrante International, a global alliance based in the Philippines with over 200 member organizations from 23 countries. Migrante Canada was founded in October 2010 and now has thirteen chapters and member organizations spread across the country. Their corporate headquarters can be found in Vancouver, Calgary, Red Deer, Edmonton, Fort McMurray, Winnipeg, Toronto, Barry, Ottawa, Montreal, Sherbrooke, and Quebec City.
Migrante-Canada is a national organization that advocates for the rights and well-being of Canadian migrants and fellow citizens.
They work together with their chapters and member groups to achieve these goals.
They receive complaints from distressed migrants, support members' and the community's settlement and immigration needs through direct services and referrals; they bring the issues facing migrants to the public's attention through fora, conferences, and various multi-media platforms to raise public awareness in Canada; they conduct research, case studies, and documentation on the complex situations of migrants, either independently or in collaboration with the academic community;
Their goals as members of Migrante International are to: advocate for migrants' rights and dignity in the face of all types of discrimination, exploitation, and abuse on the job and in the community, and to fight all anti-migrant legislation.
– Make use of their right to assemble.
– Strengthen Filipino diaspora solidarity by organizing their families and activists in support of migrants' rights to employment, decent wages, and proper recognition.
– Build a self-sufficient economy to prevent forced migration, increase social equity and justice, and collaborate with other sectors of society to advance national development and democracy. – Build solidarity with migrant organizations from other nations and peoples fighting economic plundering, environmental destruction, and deadly wars that cause widespread poverty and injustice.
12. Filipino Canadian Saranay Association Of Alberta
Type: Cultural, Non-profit
SARANAY is a Filipino adage that translates to "to help and serve others." Our community accepts people from all countries who share deeply entrenched values of care and concern for our fellow man, not just Filipinos.
Saranay has served Filipinos and their families, including the youth, adult, and senior populations, throughout the last four decades through programs and events.
In 2012, the association launched a fund-raising campaign through the Power of Dance event, which was sponsored by 3J Variety Store. The goal of the campaign is to raise $25,000 to send essential supplies to the families of indigenous people in La Union and in nearby areas such as Baguio City.
Saranay has partnered with K-soda Dance Crew to host a fundraising event for the flood victims in Sta. Rosa and Caingin, Laguna.
The goal of the fundraising campaign is to sustain the various activities of Saranay.
Through its various programs, such as adult and youth programs, the Saranay Association has been able to build sustainable communities. For over 40 years, the organization has been able to provide high-quality entertainment to both local and international audiences. It additionally aims to preserve Filipino culture.
The Saranay Association's mission is to help and serve the Filipino community in Edmonton and nearby areas. It aims to provide them with the necessary skills and opportunities to become better citizens of Canada.
Final Thoughts
If you're looking for a way to connect with your local Filipino community, then you should consider joining a Filipino organization in your area. These organizations are a great way to meet new people, get involved in the community, and learn more about Filipino culture.
And more than the activities and events, having that sense of belongingness among fellow Filipinos is what you will enjoy most when you join such organizations . They are also a good place to find people with similar interests, so you can make new friends. And if you're looking for a career opportunity, then these Filipino organizations are the right place for you.
We hope you've found this article useful, and we wish you all the best in your search for a Filipino organization in your area. If you have any questions about joining or starting one, then feel free to post them in our comment section below. And if you're looking for more information about Filipino organizations, then please visit our homepage—it's full of helpful resources such as articles, videos and more!
READ NEXT: Filipino Population in Canada: What You Need to Know