The Filipino population in Canada comprises a significant portion of the country's larger community. In fact, after Chinese Canadians and Indian Canadians, the Filipino population is among the largest Asian minority group in Canada.
Also Read: 16 High Demand Jobs in Canada for Filipinos
In this guide, we discuss Filipino Canadians' immigration and settlement patterns, as well as other fascinating facts about the Fil-Canadian community. Continue reading to find out more!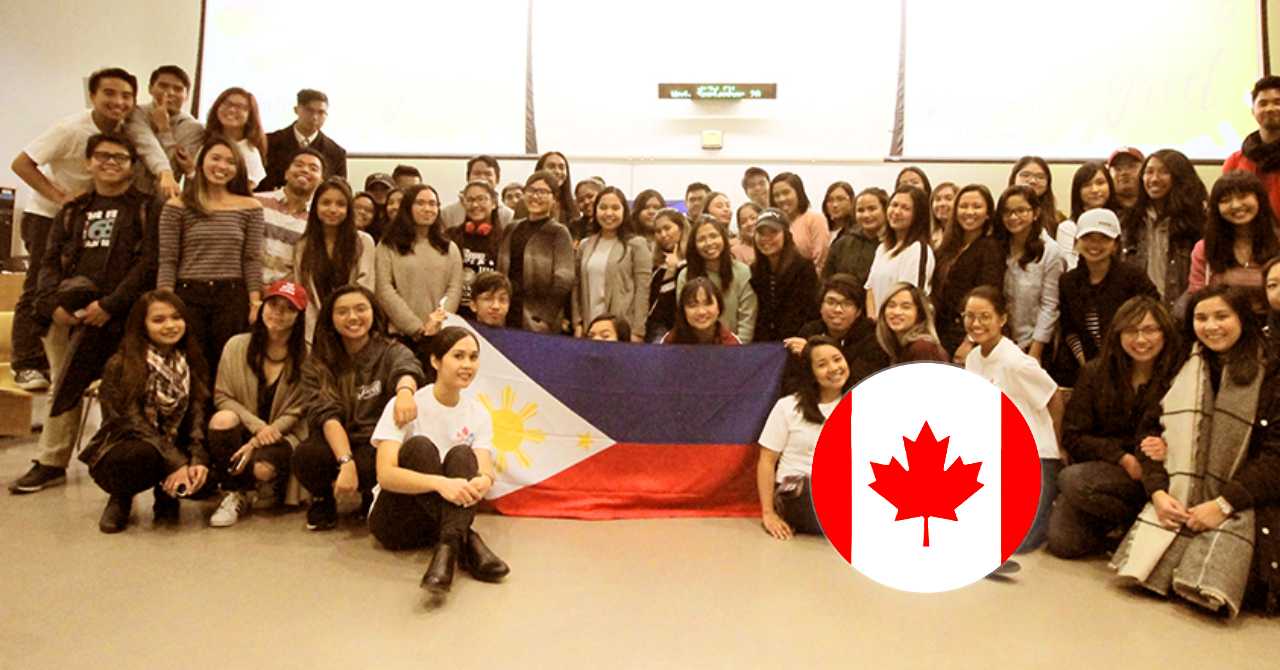 Filipinos in Canada
According to the census conducted in May 2016, there are 837,130 Canadians of Filipino heritage. Filipinos and Filipino-Canadians are the fourth largest visible minority in the country, after South Asians (1,924,635), Chinese (1,577,060), and blacks (1,198,543).
Between 2011 and 2016, 1,212,075 new immigrants made Canada their home. This is not surprising at all since Canada has created opportunities for people from all over the world to come and live there. 
The country has a very lenient immigration policy that welcomes anyone who wants to work hard, regardless of their nationality. Newcomers are given the opportunity to change their lives for the better by receiving permanent residency status in Canada within two years of entering the country.
In 2014, the Philippines remained the leading source of new immigrants to Canada, contributing 188,805 (or 15.58 percent of the total) (42,070).
History of 
Filipino Population in Canada
In 1930, a greater number of Filipinos immigrated to Canada. In 1950, ten Filipinos were registered in Manitoba. The majority of first-generation Filipino Canadians worked as nurses, educators, or in the health care industry. These initial Filipinos departed the United States to renew their expired visas so they might return. A few remained in Canada, but the overwhelming majority returned.
Between 1946 and 1964, 770 Filipinos resided in Canada. In the 1960s, Canada recruited more experts from the United States and the Philippines. Winnipeg, Manitoba, was home to the vast majority of physicians, nurses, technicians, and office professionals. A growing number of Filipinos arrived to Winnipeg in the late 1960s to work in the textile sector.
In the 1970s, the majority of Filipinos went directly from the Philippines to Winnipeg for administrative, sales, and manufacturing jobs. As part of the family reunification program, many Filipinos immigrated to Canada in the late 1970s to join relatives who worked there. A growing number of Filipinos decided to reside in Ontario, namely in Toronto, where employment prospects were abundant.
The great majority of Filipino contract workers in Canada during the 1980s were employed as live-in carers. Through the Live-In Caregiver Program, a significant number of contract employees become permanent residents.
Throughout the 1990s, more Filipinos immigrated to the United States as families and independents, as opposed to being sponsored by family or hired as contract employees.
Since 1990, between 10,000 and 20,000 Filipinos have immigrated annually to Canada. In December 2008, the Philippines surpassed China as Canada's top supplier of immigration.
2016 Filipino Population

in Canada by Geographic Distribution (Provinces)

Over ninety percent of the Filipino and Filipino-Canadian population resides and works in Ontario, Alberta, British Columbia, and Manitoba. The provinces chosen by new Filipino immigrants are based on the proportion of each province's total population to the proportion of new immigrants. However, it should be emphasized that between 2011 and 2016, Alberta, not Ontario, was the most popular destination for Filipino immigration.

Despite the reduced absolute size of the Filipino population in the territories, the Philippines supplied more than 40 percent of all new immigrants to the territories.
2016 Filipino Population

in Canada by Geographic Distribution (Cities)

Calgary had the highest population growth rate among Canada's major metropolitan areas over the past five years, at more than a third, followed by Winnipeg at 26.2%. The inability of new immigrants to achieve the province's fundamental French language requirements may account for the extremely low growth rate of Filipino immigrants in Montreal and throughout Quebec.

Over 76% of Filipinos, including those born outside Canada, identified themselves as first-generation Filipinos (598,960). The majority of second-generation Filipinos (168,045) are children of immigrants, Canadian-born individuals, or those with at least one immigrant parent. Few Filipinos in the country consider themselves to be third-generation descendants (13,125).

Other pertinent census data from 2016 are as follows:

National:

From 662,600 in 2011 to 837,130 in 2016, the number of Filipinos in Canada increased by 174,530, or 26.3%, according to the 2016 National Census of Filipinos in Canada.

Filipinos presently account up 2.4% (35,151,728) of Canada's population, up from 2% in 2011. (35,151,728).

There are more Filipino women than men in Canada (468,015). (369,105). In each of Canada's thirteen provinces and territory, Filipino women outnumber their male counterparts.

In 2016, 337,760 Filipinos resided in Ontario. This represented an increase of 14.2% over the previous year.

Provincial:

1: Ontario
2: Alberta
3: British Columbia
4: Manitoba

Ten provinces and three territories compose the thirteen administrative divisions of Canada. Therefore, when Filipinos immigrate to our country, they can choose to reside in whichever of these regions best suits them. However, they tend to settle in places already populated by Filipinos. This is especially true for people planning to work as domestic workers or caretakers in Canada.

Although Ontario has by far the greatest number of Filipinos, its proportion of the country's total Filipino population decreased the most between 2015 and 2016: from 44.6% to 40%.

Manitoba has the highest Filipino population in Canada per capita, at 7%. Alberta has surpassed British Columbia as the province with the second-largest Filipino population in Canada; now, 21% of all Filipinos reside in Alberta, while 19% are in British Columbia.

10% of Manitoba's population is composed of Filipinos, making it the province with the fourth-largest Filipino population in Canada behind Prince Edward Island and Newfoundland, and Labrador. Saskatchewan achieved an increase of 101%.

Metropolitan Areas:

There are urban areas in Canada where at least 100,000 people reside. This population size suggests that the region can support its own economy, government, and infrastructure.

Toronto (274,760), Vancouver (133,925), and Winnipeg are the metropolitan areas with the most Filipinos (77,305).

Winnipeg has the largest percentage of Filipinos per capita (9.9%), followed by Yellowknife (6%), Calgary, and Vancouver, which all share the same percentage (5.4%).

Charlottetown (689%), St. John's (311%), and Regina (100%) are the metropolitan regions with the greatest growth in Filipino population.

Consular Districts 

The proportion of Filipinos in each consular district increases as the number of Filipinos in Canada rises. Ottawa is where the Philippine Embassy in Canada is located. The two consulates general are located in Vancouver and Calgary. In Ontario, there is also a Philippine Overseas Labor Office (POLO). If you are a Canada-based Filipino, you must determine which of these offices serves your region. The map of consular districts will assist you in locating your jurisdiction.

Since 2011, Toronto PCG now serves 48.5% of Filipinos, or 405,945 individuals, an increase of 18.6%. In 2011, the number of Filipinos living in Calgary PCG increased by 60.7%, to 208,760. The number of Filipinos under the authority of Vancouver PCG has increased by 16.9%, from 129,910 to 160,960, representing 19.2% of the total Filipino population.

Ottawa presently has 61,460 Filipinos, or 7.3% of the total Filipino population in the Maritimes, Atlantic provinces, and Nunavut, an increase of 16.4%.

Languages:

There were 431,380 Tagalog (Pilipino, Filipino) speakers in Canada in 2016. This represents 87.5% of the total Filipino population in the nation.

Tagalog is the most widely spoken Philippine language in Canada. The census discovered seven additional Philippine languages in addition to Tagalog. Other Austronesian languages include Bikol, Cebuano, Hiligaynon, Ilocano, Pampango, Pangasinan, and Waray-Waray.

As the Philippine language with the most speakers in Canada, Tagalog was followed by Ilocano (26,345) and Cebuano (19,890)
What Has Changed Since the 2016 Census?
In April 2018, there were around 901,218 Filipinos in Canada, including permanent residents and temporary foreign workers. This number represents around 2.6% of the nation's overall population.
In 2017, Filipinos in Canada sent home around USD 644,754,000, a 12.6% rise from the previous year. However, the numbers are low compared to those of past years. This is due to adjustments made to the statistical methodologies used to calculate remittances. Remittances are reportedly dropping as a result of banks' use of double-counting measures.
Filipino Milestones in Canada
The efforts of Filipino Canadians in provincial and federal politics have had mixed results. Dr. Rey D. Pagtakhan served as a cabinet minister in the Liberal governments of Jean Chrétien and Paul Martin from 1988 until his defeat in the 2004 election.
In 2007, Florfina Marcelino, a member of the New Democratic Party, became the first woman of color to be elected to the Manitoba Legislature, where she served as Minister of Culture, Heritage, and Tourism. She continues to be a representative of the Logan electoral district in the Manitoba Legislative Assembly. Ted Marcelino, her brother-in-law and caucus partner, was elected to the Legislative Assembly in 2011 and currently represents the Tyndall Park district. In 2009, Vancouver-Kensington was represented in the British Columbia Legislative Assembly by Mable Elmore (NDP).
In recent decades, numerous generations of Filipinos have immigrated to Canada, each with its unique set of motivations and aspirations. According to a study by the Asia-Pacific Foundation, the socioeconomic and cultural contributions of Filipino-Canadians, and by extension of the Philippines, to Canada total approximately $255.5 million in human capital. This includes the economic value of Filipinos' personal, technical, and professional contributions to Canada, as well as an investment of approximately $1,825 per year in feeding, housing, clothing, educating, and training each Filipina.
Increased flows of Filipinos greatly contributed to the dispersion of new migrants in Canada, in part because their pre-existing groups were becoming more distributed around the country. Filipinos would rather reside in economically promising areas than in major cities.
Frequently Asked Questions
1. What is the Canadian GTA?
The Greater Toronto Area, which consists of Toronto, York, Durham, and other surrounding municipalities, is home to Canada's largest Filipino community. A third of the local Filipino population calls Toronto home.
2. How many Filipinos call Edmonton home?
More than 62,000 Filipinos reside and work in the Edmonton Capital Region, according to the 2016 Census. Numerous Filipino organizations host cultural celebrations in the neighborhood.
3. How many Filipinos reside in Canada?
Prior to the late 20th century, Canada was home to a tiny population of Filipinos. As of the 2016 census, there were 851,410 Filipinos of Filipino heritage living in the Philippines, with the majority living in urban areas. After the Chinese and Indian populations, they are the third-largest group of Asian immigrants in the country.
The number of Southeast Asian Filipinos residing in Canada has expanded dramatically during the past several years. From 2011 to 2016, the population of the Philippines grew by 5%, while the number of Filipinos in Canada increased by roughly 7%.
4. What is the Winnipeg Filipino community?
In terms of visible minority groups, the Filipino population in Canada's largest city is the biggest one in the country. It is also the nation's oldest, with Filipino immigration to the city beginning in 1950.
Before the 1980s, the city boasted the country's largest Filipino population. It's also home to a community center committed to offering services and social engagement to Filipinos.
There are also several Filipino-language newspapers, such as The Philippine Express and Ang Peryodiko. A radio station named CKEJS concentrates on music, lifestyle, and Filipino-related news.
5. What is the non-English language spoken most frequently in Toronto?
Due to the numerous attractions in Scarborough and North York, numerous Filipinos relocate to Toronto. According to the 2016 census, Filipino is widely spoken in these regions.
6. What took place in Canada during the 1980s?
In Canada, the number of Filipinos working as live-in caretakers increased during the 1980s. Many of these people ultimately became immigrants.
7. Where can Filipinos be found in Montreal?
Canadian Filipinos are represented by the Montreal and Suburbs Filipino Association.
8. How does the Canadian population increase?
Immigration is Canada's primary source of growth. Canada is the largest importer of human capital within the Group of Seven, attracting more immigrants per capita than the United States.
However, natural population growth accounts for less than one-tenth of Canada's annual population growth. In terms of crude net migration, Canada ranks tenth in the world, with roughly 22 percent of its population identifying as immigrants.
9. How dense is Canada?
In terms of population density, Canada is ranked 228th, with a population density of 4 persons per square kilometer. Population density is among the lowest in the world since a vast portion of the country's northern region is completely desolate.
And while the country is vast physically, it is largely covered in forests and tundra, resulting in a naturally low population density. Moreover, climate conditions make living in specific regions of Canada very difficult. During the winter, the average temperature in Nunavut typically falls below 0 degrees Fahrenheit.
10. What is the non-English language spoken most frequently in Toronto?
Due to the attractiveness of Scarborough and North York as destinations for new immigrants, a significant number of Filipinos relocated to Toronto. Tagalog is the preferred language of non-native speakers, per the 2016 census.
WATCH: Long-awaited Filipino community center to be constructed in Vancouver
Vancouver's long-awaited Filipino community center is set to finally become a reality, despite repeated setbacks and delays.
In this video report, Mable Elmore, a Filipino-Canadian politician, stated that the announcement of the construction of a Filipino cultural center will be made on June 12, the 124th anniversary of Philippine Independence Day in 2022.
At the flag-raising ceremony that inaugurated Filipino Heritage Month in Vancouver, Elmore stated that the city is collaborating with the property development firm PortLiving, owned by Filipino-Canadian Macario Tobi Reyes.
Maria Andrelita Austria, consul general of the Philippines in Vancouver, stated that Filipinos had long desired the creation of a community center in the city.
According to Austria, the facility will serve as a reminder of the Filipino community's significance in Vancouver.
While there is a bayanihan center for kababayans in Victoria, British Columbia, there is currently no gathering place for Filipinos in Greater Vancouver.
According to Colleen Hardwick, a councilor in Vancouver, it's crucial that a center for Filipinos is developed in the city. It's also a representation of the community's strong presence.
Community leaders in Vancouver are quite thrilled about the creation of a community center in the city.
Summary
Given that Canada has been one of the most popular immigration destinations for Filipinos, it is not surprising to see a large Filipino population in the country. Canada is an attractive destination for Filipino immigrants due to the opportunities it provides, such as the possibility to work, study, and live in a country regarded among the greatest places to live. There is a need for more services and resources to meet the requirements of the rapidly expanding Filipino population in Canada, particularly community centers where they can congregate.
With the country's intention to expand immigration, it is expected that this number will continue to increase. The Filipino community in Canada is quite active, with numerous organizations and events hosted throughout the nation.
READ NEXT: How to Apply Student Direct Stream (SDS) Canada Online