Who doesn't know about Hidilyn Diaz? She's currently one of the most beloved athletes of the Philippines similar to the boxing champion Manny Pacquiao. A quick review: She is the first Filipina to bring home an Olympic gold medal for her country, and she did it as a weightlifter and airwoman. She won the women's 55-kilogram weight class at the 2020 Summer Olympics, setting a new world record in the process. 
For OFWs around the world, we can learn a lot from Hidilyn Diaz since being an OFW is never easy. We can always learn new things from inspiring Filipinos continuously make groundbreaking changes and break stigmas. There's more to Hidilyn Diaz than her winning gold medals; we can unpack more in this article!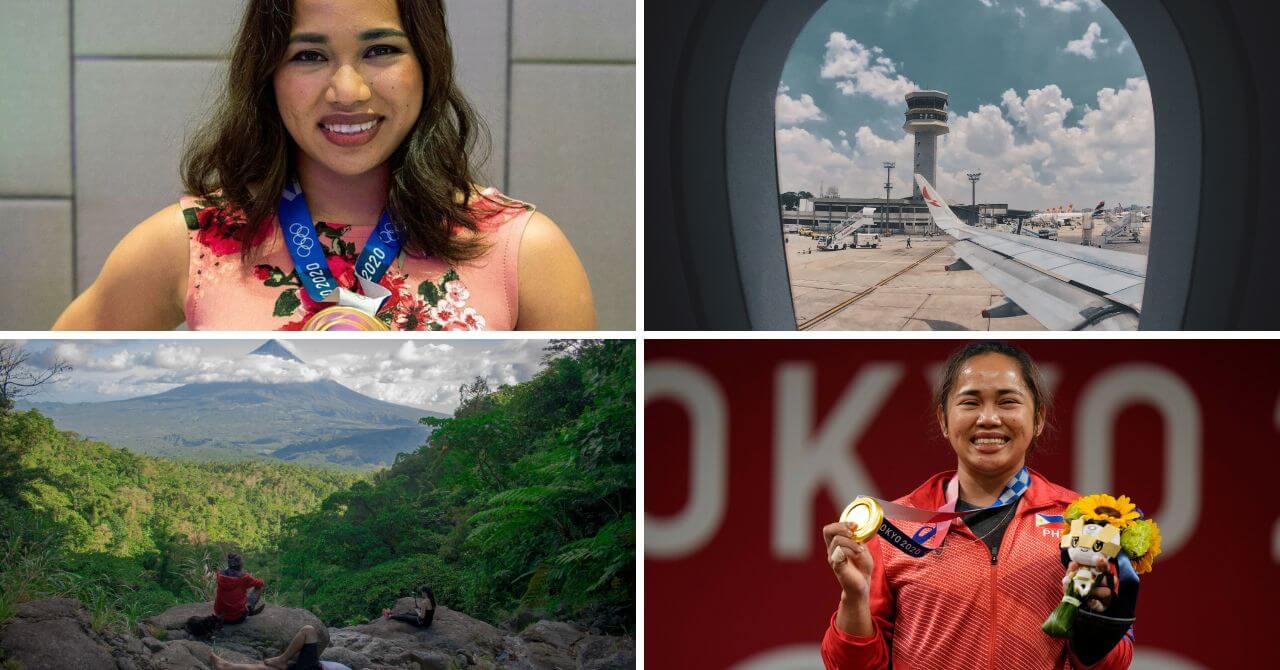 1. Having faith
Hidilyn Diaz is known for her faith who says her religion motivates her to excel in sports. The Miraculous Medal she wore to the 2020 Olympic medal presentation was "a sign of our prayers and confidence in Mama Mary and Jesus Christ," she remarked. You don't have to be a Catholic or religious to succeed in life but having faith helps strengthen your abilities. Just like the adage, "Nasa Diyos and awa nasa tao ang gawa", "You must do your thing and let God do his." Hidilyn Diaz is inspiring since her faith has made her stronger and more motivated as an athlete. 
For OFWs around the world, life can be challenging either you're having a hard time at work or homesickness is hard to battle; having faith can help you weather the storms that are happening in your life. It's always challenging to stay motivated and not be off track, but with faith, all things are possible for those who persevere and believe.
2. Determination and resilience
Hidilyn Diaz's determination and resilience helped her journey as a weightlifter. In the beginning she wasn't able to bag the elusive gold medal, but her performance was lauded and regarded as promising for her age, even though she came in second to last in a field of 12 weightlifters and won a couple of gold and silver medals throughout numerous competitions.
During the pandemic, she persevered in training with her team, which required some creativity. She spared no effort in her preparation for the Olympics. "She stated in an Instagram post", Yes, I do this. I carry a bottle of water for my weightlifting training. Its hard but we survive, still living the dream in my heart." She used her experiences as a learning curve to succeed and eventually get the coveted gold medal in the Olympics.
OFWs or Filipinos are known for its resilience, and working abroad needs stamina since it can be a long and hard journey. It's especially hard if you're not with your family and you need to work in a one-person team. However, we can always learn from Hidilyn that pushing through the challenges, crying when life gets tough and getting ourselves back in the game will help us succeed. If you ever think about your dreams, from seeing your children graduate college to immigrating to Spain. Don't give up, and remember what you already started; you still have a long way to go. Like in the animated movie, Encanto, Luisa Madrigal, the oldest and strongest among the Madrigal family, also falters from pressure and expectations, and it's okay. Just know that you don't have to be hard on yourself since you're doing your best!
3. Hard work and dedication to sport
OFWs are known to be hardworking people, ready to take more side hustles to make ends meet, add extra income for their expenses, or support their families back home. Hidilyn Diaz can help us value the importance of hard work and being dedicated to our jobs.
Its easy to quit at the beginning since it's the hardest, especially if homesickness and many problems come your way. Remember why you are an OFW in the first place, and use your pain as a motivation to push through but know that it's okay not to be okay; progress is still progress.
4. Overcoming challenges and setbacks
If Hidilyn Diaz had allowed her failures or challenges to stop her from pursuing her dreams, she would've never achieved the greatness she has now. If you're an OFW juggling studying short courses on the side and a full-time job, don't give up since upskilling will be helpful for your career.
If you're an OFW struggling during your probationary period at work, don't give up since you're still adjusting, and the company hired you for your skills. It's not easy to overcome challenges when nobody is supporting you or believing in you, but using setbacks as a stepping stone will help you be the person you're supposed to be. Hidilyn Diaz used challenges and setbacks to fuel her desire to succeed.
5. Representing one's country with pride and honor
Being an OFW is always compared to being a modern-day hero since its never easy, but being an OFW is something to be proud of since we're uplifting the Filipino flag and what Filipinos are capable of; Hidilyn Diaz also shown the world that we can succeed even in the Olympics. Filipinos are known worldwide for being the best, from the Miss Universe pageants to singing competitions. Being an OFW is nothing to be ashamed of, but we should not let it become a label of who we are; we can be more than just an OFW too!
6. Staying humble
Hidilyn Diaz, after all of her success, still remains humble and does not let the success and fame consume her. As an OFW it's crucial for us to be humble since it will help us stay grounded and succeed more in life. Knowing our purpose and goals help us stay rooted even if you've already have a modern house and lot or a Tesla as a car. Staying humble is a character value that we should always have as an OFW. After all many OFWs have a crab mentality mindset especially if they are abroad. Its important to keep your head down and focus on your goals and what really matter.