Hidilyn Diaz of the Philippines proved she was worth every ounce of gold in the suspense-filled frenzied finish, with everything on the line and a whole nation on the verge of collapse as the XXXII Olympiad weightlifting crown came down to a single heave.
READ ALSO: Pinoy Pole Vaulter Barges in World's Top 10 Rankings
Diaz, a silver medallist at the 2016 Rio Olympics, went to a heavier category on her third and last lift in the 55kg category after Chinese world record holder Quiyun Liao lifted 126 kilograms on their third try in the clean & jerk to increase their overall weight by one kilogram.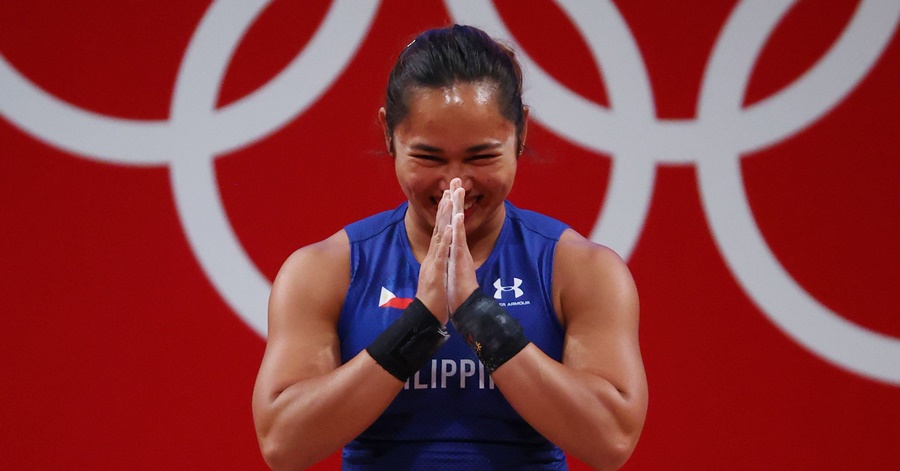 Hidilyn Diaz Makes Filipinos Proud Once Again by Becoming First Filipino to Win in the Olympics
Diaz loaded all her talent, experience, and hard work to end the nation's 97-year fruitless campaign for a first-ever gold medal in the Games into one final lift and made history as fans of Team Philippines — from coaches, sports officials, and even the media — erupted in joyous celebration late Monday at the Tokyo International Forum, the Manila Bulletin reported.
"Hindi ako makapaniwala, lalo na Olympic record pa (I couldn't believe what just happened, especially since it's the Olympics)," said Diaz in a trembling voice before she was whisked off to the mixed zone interview.
"Nasorpresa ako na nagawa ko yon. Mga kababayan ko dyan sa Pilipinas, at mga prayer warriors ko, maraming salamat. Sa lahat ng sumoporta, nakayanan natin sa kabila ng maraming pagsubok (I didn't know I could pull that off. To my fellow Filipinos, my prayer warriors – thank you so much. And to everyone who supported me in this journey – we made it despite all the challenges," she excitedly shared.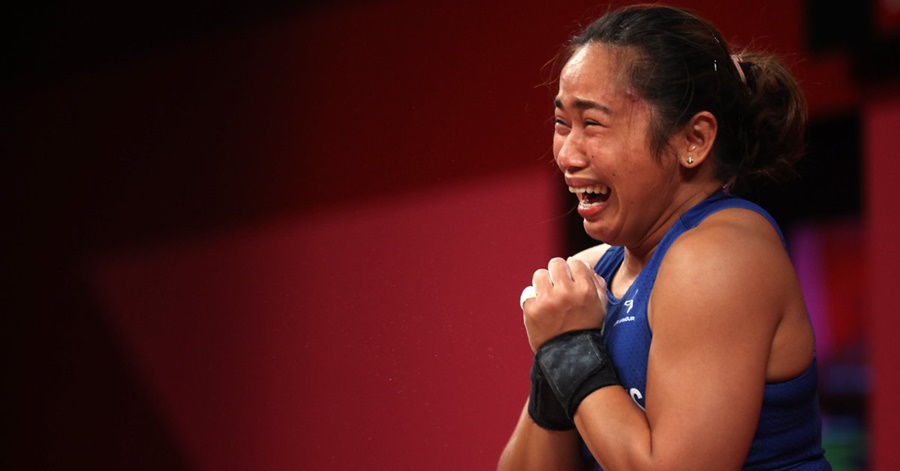 Even before the 'good lift' was reported, she pumped her fists into the air and cried triumphantly.
Diaz and Liao were equal at 97 kgs after the snatch, one kilogram behind Uzbekistan's Muattar Nabieva, who lifted 98 kgs but imploded in the clean & jerk after failing at 114 kgs and 117 kgs.
After completing 123 kgs on her second effort, Kazakhstan's Zulfiya Chinshanlo offered a brief challenge but withered in the heat of the fight between Diaz and Liao, both of whom raised the bar in a frenetic sequence.
In the clean and jerk, the Chinese lifted 118, 123, and 126 kgs, but Diaz responded with 119, 124, and that mind-boggling 127 kgs.
Finally, after 100 years of solitude, the Philippine national anthem was performed and the flag was hoisted for gold medal reasons, with Diaz, an Air Force officer, saluting the flag and singing onstage, tears flowing down her cheeks.
She weighed 224 kgs, compared to Liao's 223 kgs.
The silver medals won by boxers Anthony Villanueva in 1964 in Tokyo and Mansueto 'Onyok' Velasco in 1996 in Atlanta, as well as Diaz's own from Rio, now join seven bronze medals in the country's Olympic treasure chest.
Surprisingly, Tokyo, where the pandemic prompted a one-year delay from 2020, was also the site of the Philippines' first silver medal, Diaz becoming the country's first multi-medal winner since the famous Teofilo Yldefonso in 1928 in Amsterdam and 1932 in Los Angeles.
Diaz's national team teammates, including weightlifting colleague Elreen Ando, who competes Tuesday, judoka Kiyomi Watanabe, the four boxers led by quarterfinalist Nesthy Petecio, gymnastics hopeful Carlos Yulo, track and field's Kristina Knott and EJ Obiena, and the golfing trio, including US Women's Open champion Yuka Saso, could all buckle down in their bids for gold.
Hidilyn Diaz won #gold, set a new #Olympics record and made her country proud 🇵🇭#UnitedByEmotion | #StrongerTogether | @iwfnet

— #Tokyo2020 (@Tokyo2020) July 26, 2021
Through an interpreter, Liao's coach stated that his ward had no regrets about losing because "she did her best" and lost to a very talented opponent "who remained stable throughout the competition."
READ NEXT: WATCH: Teen Makes History as First Pinoy to Win Gold in World Gymnastics