The 2022 Philippine National Elections will be held between April 10th and May 9th. Filipinos residing in Bahrain can vote in the next elections in a timely and secure way by authenticating their voter information at the Philippine Embassy against the list of certified overseas voters. With this in mind, registered abroad Filipinos must be aware of the processes and conditions for participating in overseas elections in their host country.
Keep in mind, however, that this may vary by location, so make sure you follow each mission's established protocols. Overseas voters in Bahrain are asked to double-check their details on the Philippine Embassy's website before commencing the overseas voting procedure. To begin, go through this guide to discover the step-by-step procedure for a safe and trouble-free overseas voting experience from Bahrain.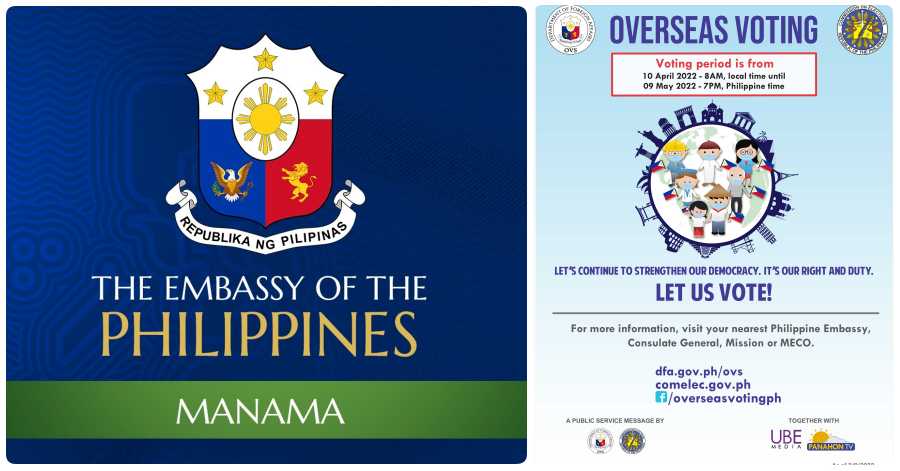 Voting Guidelines in Bahrain for the 2022 Philippine Elections
Filipinos who have registered to vote in Bahrain may now vote easily and safely. After confirming their name on the country's list of certified overseas voters (CLOV), the next step is to participate in the overseas voting procedure at the Philippine foreign post between April 10 and May 9 (1 month).
Of course, no one enjoys standing in line or having their plans disrupted daily. It is, nevertheless, recommended that overseas Filipino workers and residents of Bahrain prepare for the overseas voting session. Here's everything you need to know to get started.
Step by Step Procedure of Voting as a Filipino in Bahrain
Step 1 – Check if your name is on the list of registered voters in Bahrain here.
Step 2 – Vote wisely.
You should know who to vote for at this point, including the candidates' work history and political backgrounds, as well as their ideas on employment, health, overseas workers and immigration, to name a few.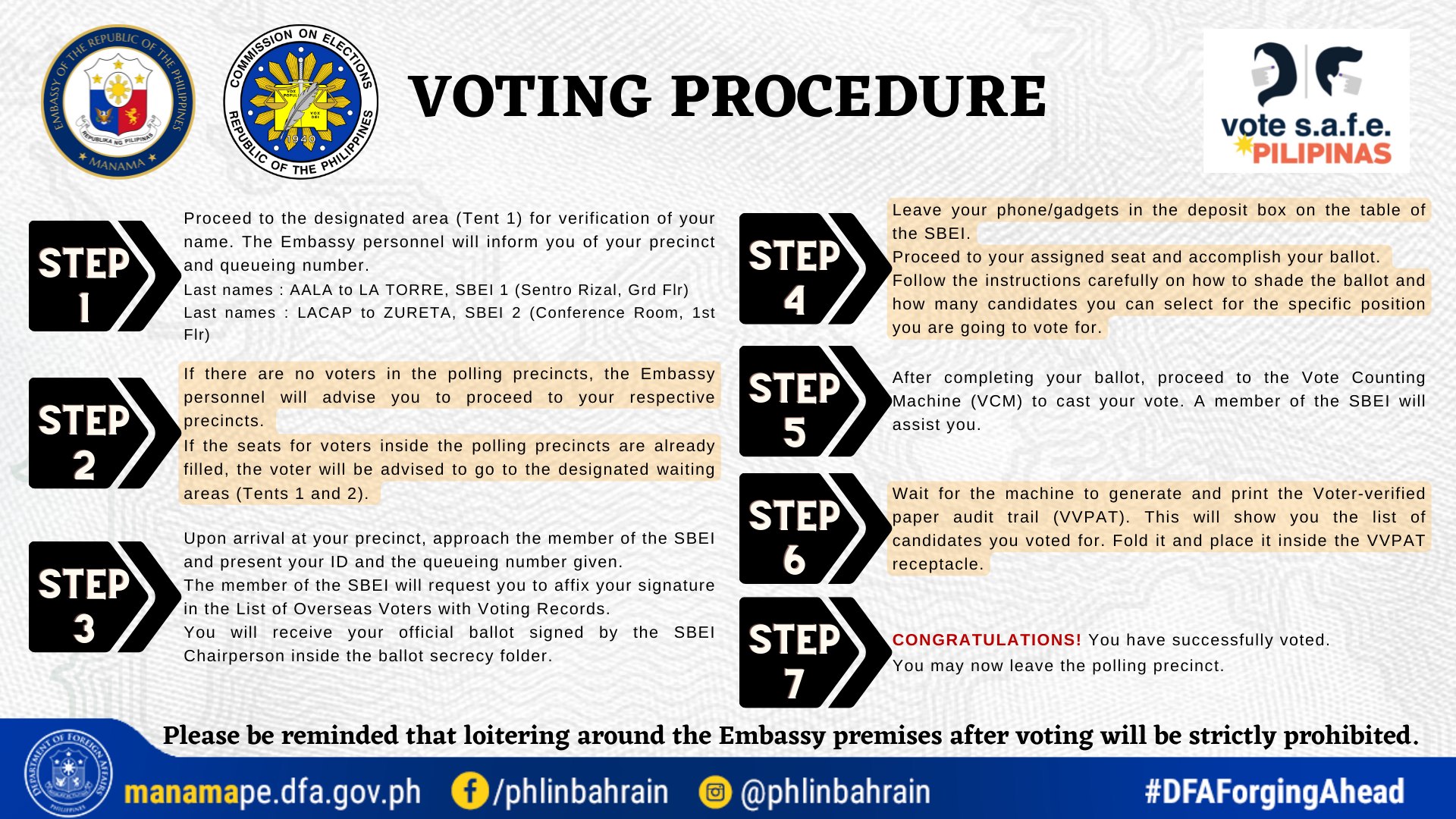 * After submitting your name, proceed to the designated area for verification (Tent 1). The Embassy personnel will then inform you about your queueing number.
* The seats inside the voting booths have already been filled, the voter should then go to the designated waiting areas (Tents 1 and 2).
* Upon reaching the designated booth, approach the SBEI member and show your ID. He or she will ask for your signature to be included in the List of Overseas voters. You will then receive your official ballot, which will be signed by the chairperson of the SBEI.
* Your phone or gadgets can be placed in the deposit box of the SBEI. Follow the instructions to complete your ballot. You can also customize the number of candidates that you will vote for.
* After completing your ballot, proceed to the Vote Count Machine (VCM) to cast your vote.
Step 3 – Cast your ballot in the vote-counting machine or VCM (formerly known as the PCOS machine).
This will make ballot assessment and counting more efficient. Also, double-check that you've completed all relevant areas of the ballot to ensure you haven't overlooked any people for whom you wish to vote.
Step 4 – Get the indelible ink marked on your index finger.
This will act as proof that you voted earlier when you exit the Embassy. That's it! You may now exit the poll to return home, work, spend the day with friends, or take the rest of the day off.
Overseas Filipino Voting Schedule in Bahrain
Voting for the overseas elections begins at 8 a.m. local time to 7 p.m. Philippine time from April 10, 2022 through May 9, 2022,
During this time, walk-ins are welcome at the Embassy. However, in order to vote in the continuing overseas absentee voting, you must authenticate your details on-site.
Video: HALINA'T BUMOTO!
The Department of Foreign Affairs has released a public advisory video on the overseas elections. Here's where you can learn more about voting from abroad.  To exercise their right and patriotism to the nation as Filipino citizens, every OFW and Filipino immigrant in Bahrain must vote overseas.
All Filipinos, regardless of where they are in the world, must educate themselves on what to do and anticipate on election day.
Filipinos living in other countries have an entire month to vote. This should provide ample time for people to consider and examine who they should vote for as the country's future leader. Staff from the Philippine Embassy in Bahrain will assist them in voting accurately and consistently once they've made their decision.
Frequently Asked Questions
What do I need to be able to vote in the 2022 National Elections?
During the election period, Filipino citizens are required to bring their original passports or mariners' books to the polls.
How do I know if I am a registered voter in Bahrain?
The list of Filipino voters in Bahrain, as well as Filipino seafarers, is available on the Commission of Elections (COMELEC) website or at the Philippine Embassy in Bahrain. In the Philippines, only registered voters will be eligible to vote in the 2022 elections.
How does COMELEC decide on which voter records to deactivate?
The Commission on Elections (COMELEC) will only deactivate the records of voters who did not vote in at least two elections.
When can applicants collect their Voter ID?
The Commission on Elections has paused the distribution and production of voter identity cards across the country due to the implementation of Republic Act 11055, or the National ID System.
The Philippine Statistics Authority is working tirelessly to implement the country's National ID system. It is intended to be adopted in all foreign service posts by 2022.
Where can I find important information and updates on overseas voting?
Filipinos in Bahrain are invited to remain up to date on election news by following the Philippine Embassy's various social media platforms.
Summary
The Philippine Embassy in Bahrain wants to make overseas voting as straightforward and convenient as possible for all Filipinos in Bahrain. As a result, they encourage Filipinos in the country to double-check the list of certified overseas voters (CLOV) before going to the Embassy on April 10 to vote.
Will you be allowed to vote in the upcoming elections by following the instructions in this guide? If not, what has been the most difficult aspect of this procedure for you? Leave a comment in the space below to let us know. Also, if you have friends or relatives in Bahrain who may benefit from this information, please share it with them!
READ NEXT:  Updated List of Philippine Overseas Labor Offices (POLO) Branches Abroad
Contact Information
Embassy of the Philippines in Manama, Bahrain
Villa No. 939, Road 3220, Block 332, Mahooz, Manama, Kingdom of Bahrain.
Telephone – 1772-1234
Fax- 1772-0827
Email- manama.pe@dfa.gov.ph
Office Hours: The working hours of the Embassy's consular section are from 8 a.m. to 3 p.m. every day, from  Sundays to Thursdays. ATN Services are provided on a 24/7 basis, even on weekends and legal and religious holidays.
Google Map Location