Pinoys who are working and living in Bahrain, you can go to the Philippine embassy in Bahrain to avail of services such as passport renewal, a record of birth certificate, a record of your marriage, a record of death, and NBI clearance. POLO is also located within the embassy in case you are facing legal matters right now or under an emergency situation.
Also Read: Cost of Living in Bahrain | Monthly Salary Needed as an Expat Filipino
In Bahrain, it helps a lot if you know where to find the embassy. The government is ready to rescue you in case of emergencies and crises. What you need to do on your part is contact them whenever you need help.
Below are the important details about the embassy based in Bahrain. We have listed down the things you will need: the exact location through a map guide, opening hours, list of services, tips when going there, and so on. We hope that this blog will contribute a lot to your OFW experience in the country.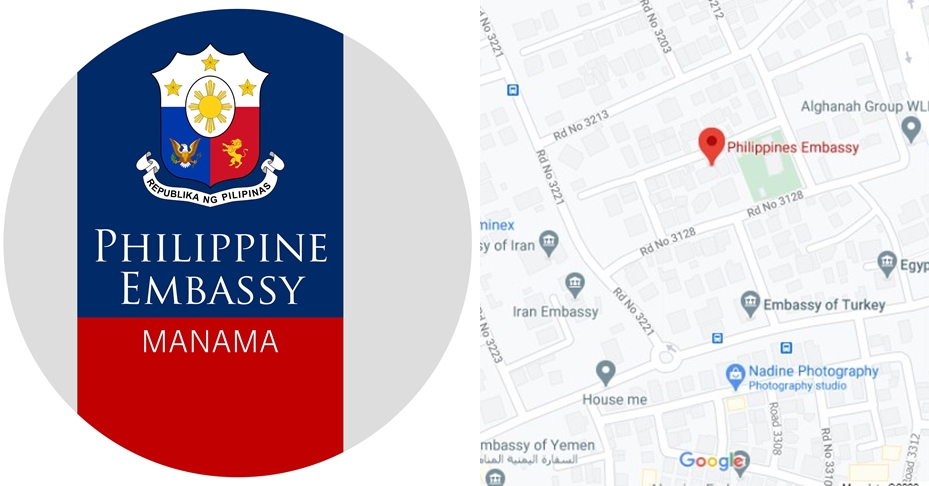 History – PH Embassy Manama
The embassy of the Philippines in Bahrain is located at Villa 939, Road 3220, 332 Mahooz Area. This is behind the embassy of Brunei and in front of the embassy of Iran. You can its P.O. Box 26681 to drop your mails. As part of the embassy's history, the diplomatic relations between the Philippines and the State of Bahrain started in the early 1980s. During that time, the Philippine Ambassador to Riyadh, Saudi Arabia was still accredited to be a non-resident Ambassador to Bahrain. The number of overseas Filipino workers in Bahrain increased until the embassy was formally built and its first resident ambassador was Ambassador Leonides T. Caday.
Ambassador Caday, together with the other 10 officers from DFA, Manila successfully opened the embassy in Bahrain, which provides consular services and help to Filipinos who are in the country. The diplomatic functions of Ambassador Caday then started. However, on June 3, 1994, he needed to leave for the Republic of Korea to open an embassy there. H.E. Ambassador Akmad A. Sakkam took over the position as the Philippine Ambassador on July 13, 1994. After almost 5 years, he left to become the Ambassador to Oman. The current Ambassador now is Alfonso Ferdinand A. Ver.
Staff & Activities
On May 24, 2015, Ambassador Alfonso Ferdinand A. Ver assumed the post as an ambassador to Bahrain. He submitted his Letter of Credence to His Highness King Hamad Bin Isa Al Khalifa on June 29, 2015. From then, he became the official Ambassador Extraordinary to the Kingdom of Bahrain until now.
Some of the officials who served their time in managing the embassy in Bahrain are the following:
Ambassador Leonides T. Caday
E. Ambassador Akmad A. SAkkam
E. Rodolfo I. Dumapias
First Secretary and Consul Maria Leticia C. Ramos
E. Eduardo Pablo M. Maglaya
Ambassador-Designate Ma. Corazon Yap-Bahjin
Ambassador Sahid S. Glang
On March 13, 2020, the Philippine Embassy in Bahrain created a Children's Learning Center, which is aimed to addressing the needs of the kids of distressed Filipinos and undocumented children. The event conducted by the embassy was the first-ever learning session by the Children's Learning Center. It was envisioned and made in partnership with Overseas Filipino professionals and organizations that provided the learning materials, logistics, and interactive equipment used in the center.
Services Offered
Consular Outreach Program
Passport

Adult New Applicant
Adult Renewal Applicant
Minor New/Renewal Applicant

Travel Document
Authenticating Documents Made Simpler by the Apostille
Civil Registry
Solemnization of Marriage
Report of Marriage
Report of Birth
Report of Death and/or Consular Mortuary Certificate
Dual Citizenship
Visa
Waiver of Exclusion Ground
Certificate of Not the Same Person
Balikbayan Program
Schedule of Consular Services and Fees

Consular Service Fees and Turnaround Time

List of Other Services

Transport of Pets
NBI Clearance
Renewal of Philippine Driver's License
Securing a J1-Waiver
PH Requirements for Medical Missions
Departure Formalities
Philippine Overseas Labor Office
Issuance of Overseas Employment Certificate
OWWA Membership Program
Employment Contract Verification and Authentication
Implementation of POEA Rules on Direct Hiring
Tips When Visiting the Embassy
1. Collect the documents required.
The number one tip we would like to give to you is securing all the documents needed first before you go to the embassy. If you follow this, you will surely save time, money, and effort. Once you got all the papers you need. Don't forget them to put them in your bag the night before your appointment so that you won't forget anything in the morning.
Remember to make photocopies too. You won't be submitting the original documents, only the photocopies. If you have multiple services to avail of, you need to make more than one photocopy so that you can comply with the requirements.
2. Be on time.
Being late and rushing is not a good practice, especially if you are in other countries. You need to be on time when you visit the embassy so that you can avoid getting your appointment canceled. Some personnel is strict, which is why there are Filipinos who go there one hour earlier than their appointments. If you can do that, the better.
3. Do your own research.
Doing your own research is also a must. You might want to visit the official website of the Philippine Embassy of Bahrain to learn more about the things you need to know beforehand, such as the latest news, updates, and announcements.
4. Check if you can avail of multiple services.
Going to the embassy to get multiple services at once is worth your time. Check if you need more than just renewing your passports or visas. Check the applicable services as well. You can find more information about the embassy's services on its official website. If there are appointments needed, don't forget to call the office first before you go to the embassy.
5. Know where to park.
For those who are going to bring their car when you visit the embassy, ensure that you know where the parking is. You can't just park anywhere, especially in front of the embassy. Ask someone from the office where you can park properly.
6. Dress properly.
Finally, you should know the proper attire to wear when you visit the embassy. Be reminded that you are visiting a government office, not a mall, a park, or a beach. You need to dress casually or smartly so the personnel can allow you to enter the premises.
Opening Hours
8:00 AM – 3:00 PM
Contact Information
Embassy of the Philippines Bahrain
Contact Person: H.E. (Mr.) Alfonso A. Ver – Ambassador Extraordinary and Plenipotentiary
Address: Villa No. 939, Road No. 3220, Block 332, Mahooz, Manama, Kingdom of Bahrain, P.O. Box 26681, Manama, Kingdom of Bahrain
Telephone Number: (+973) 1772-1234 (4 lines)
Fax Number: (+973) 1772-0827
Duty Office Number: (+973) 3995-3235
Email: manama.pe@dfa.gov.ph
Website: www.manamape.dfa.gov.ph
Facebook Page: https://www.facebook.com/PHLinBahrain/
Google Map Location
In case you are wondering where the Philippine Embassy in Manama is located, below is a map guide for you: