Filipinos working and living in China, you can go to the Philippine embassy located in Beijing to get the help you need from the government. A lot of services are offered by the embassy, including passport application, passport renewal, labor complaints, visa-related matters, registering birth certificate, marriage solemnization, registering death certificate, and so on. The embassy also holds the office of POLO and OWWA. These two agencies are specifically catering to OFWs who have legal and emergency issues. Whenever you need someone to help you with legal matters and emergencies in China, the Philippine embassy is there so support you.
Also Read: How to Become a Teacher in China
Filipinos should be aware that keeping the information of the Philippine embassy is so important, especially when you come across an emergency situation wherein you need the help of the government. You should be able to keep the contact details so that wherever and whenever you are, you can easily contact the embassy.
The goal of this blog is to help you find the most important details about the Philippine embassy in China. Here we indicated the services offered by the embassy, its history, contact information, frequently asked questions, and a map guide. You can use this as your guide to be informed of the embassy and how it works in helping you.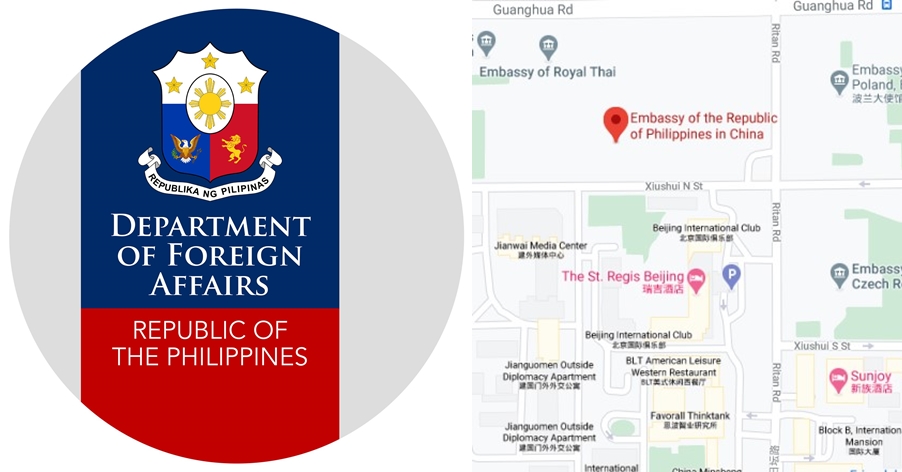 History – PH Embassy Beijing
The Philippines and China started a diplomatic relation on June 9, 1975. From that moment, the bilateral relationship between the two countries has reached different levels, especially in political/security, trade, agriculture, tourism, and regional cooperation. The two countries have also entered into cultural relations and people-to-people exchanges. For the past 40 years, the Philippines and China have been working together to strengthen its relationship. Since 1975, these two have entered into almost 100 bilateral agreements already.
One of the notable events of the Philippine-China relationship is the visitation of President Hu Jintao of China to the Philippines in April 2005. President Hu Jintao and former President Gloria Macapagal-Arroyo came into an agreement to build a strategic and cooperative relationship for peace and development between the Philippines and China. The development can be seen through the presence the Philippines has in China. Today, there are seven Philippine foreign service posts in China, specifically in Beijing, Xiamen, Shanghai, Guangzhou, and Chongqing. There are also service posts in Macau SR and Hong Kong SR. In 2009, the Philippines and China signed a Joint Action Plan for Strategic Cooperation.
Philippine Consulate Offices in China
Check out information on the PH consulates of China in case you need assistance in an area near you:
Service Offered
If you want to know the services offered by the Embassy of Canada, here's the list:
Consular Outreach Program
Passport

Adult New Applicant
Adult Renewal Applicant
Minor New/Renewal Applicant

Travel Document
Authenticating Documents Made Simpler by the Apostille
Civil Registry
Solemnization of Marriage
Report of Marriage
Report of Birth
Report of Death and/or Consular Mortuary Certificate
Dual Citizenship
Visa
Waiver of Exclusion Ground
Certificate of Not the Same Person
Balikbayan Program
Schedule of Consular Services and Fees
Consular Service Fees and Turnaround Time
List of Other Services

Transport of Pets
NBI Clearance
Renewal of Philippine Driver's License
Securing a J1-Waiver
PH Requirements for Medical Missions
Departure Formalities
Philippine Overseas Labor Office
Issuance of Overseas Employment Certificate
OWWA Membership Program
Employment Contract Verification and Authentication
Implementation of POEA Rules on Direct Hiring
Frequently Asked Questions Regarding the Services
What are the documents I should bring during my passport renewal?
If you are going to apply for a passport renewal services, you need to bring the following papers:
Original old or expired passport.
Complete passport application form.
Photocopy of your passport's data page
Photocopy of your permanent resident card, a record of landing, and work permit.
Passport processing fee
What happens if I lost my Philippine passport?
If your passport got lost, don't worry. You can apply for a new one provided that you bring the following documents:
Police report or case certificate
Affidavit of Loss of Passport (this can be completed in the Philippine embassy but with a separate processing fee).
Birth Certificate
Marriage Certificate if applicable
A legal document showing your name, date of birth, and place of birth.
Photocopy of your lost or destroyed passport, if applicable.
Death certificate of spouse, if applicable.
Annulment/divorce, if applicable.
What are the documents needed when a minor wants to obtain a passport?
In case you have a minor child who needs a passport, you can accompany him to the embassy and apply for a passport. Here's what you need to bring:
Birth certificate
Report of birth form
Letter from the doctor who delivered the child attesting to the birth.
Medical record of the child from the hospital where the child was delivered, in case the doctor can't be located anymore.
Original and photocopies of the passports of the parents.
Letter of consent with the signature of both parents
Tips When Visiting the Embassy
When visiting the embassy, here's what you need to consider:
1. Wear proper attire.
Wearing sando and short pants are not allowed. You have to adhere to the dress policy in the embassy. You can wear a decent t-shirt, long pants, or jeans when visiting the embassy.
2. Bring all your documents.
Secure first the documents you need before you visit the embassy. Make sure that you don't forget even a single paper.
3. Be on time.
Adhere to your schedule if you have an appointment. Remember that your schedule will be disregarded if you won't follow it.
Opening Hours
9:00 AM – 12:00 PM, 2:00 PM – 5:00 PM
Contact Information
Embassy of the Philippines in Beijing, China
Contact Person: Jose Santiago L. Sta Romana – Ambassador
Address: Chargé d' Affaires, a.i., 23 Xiu Shui Bei Jie, Jianguomenwai, Beijing, 100600, People's Republic of China
Telephone Number: (+86-10) 6532-2518; 6532-2451; 6532-1872
Fax Number: (+86-10) 6532-3761; 6532-1921 (Consular Section)
Hotline Nos.: (+86) 1391-1180-495 (ATN); (+86) 1381-1120-334 (Duty Officer)
Email: beijing.pe@dfa.gov.ph
Website: beijingpe.dfa.gov.ph / http://www.philembassychina.org/
Facebook Page: NA
Google Map Location
In case you are wondering where the Philippine Embassy in China is located, below is a map guide for you: