OFWs who need to renew their Philippine passports in Manama, Bahrain, please check out this guide to assist you in applying. We have compiled the procedure in the application of a new passport for your reference when visiting the Philippine embassy in Manama. Please be guided accordingly.
Related Post: Bahrain Do's and Dont's
Overseas Filipino Workers and other Filipinos abroad know the significance of holding valid passports. Renewing your passport before it expires and loses its validity is important. Not only does it help you stay legally in the country but more importantly validates your citizenship and nationality as a Filipino alongside all privileges that go along with it. Here's a guide to renewing your passport in Bahrain.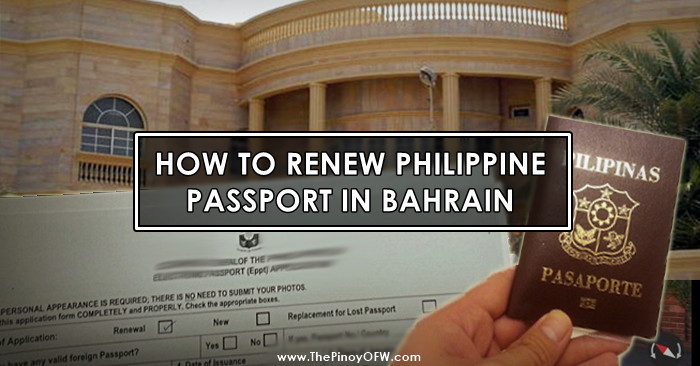 Step by Step Guide: Philippine Passport Renewal Process in Manama, Bahrain
Here are the steps and the documentary requirements you need to renew your passport in Bahrain.
General Instructions:
The applicant should be the one to personally file the application – no proxy filing is allowed.
Always bring your original passport with you for verification purposes.
Additional Guidelines:
For married women who want to change their names to follow that of their spouses:
Present the marriage certificate issued by the Philippine Statistics Authority (PSA) or the National Statistics Office (NSO) which should also be authenticated by the Department of Foreign Affairs (DFA) if the marriage happened in the Philippines.
Present the Report of Marriage if the marriage happened in the Philippine Embassy or Consulate.
For married women who would like to revert to use their maiden names due to the following causes, they would have to present the following additional requirements:
> Widowed: Death Certificate of the husband issued by the hospital, further authenticated by the DFA.
> Annulled: PSA or NSO Marriage Certificate or the Report of Marriage with the annotation of the dissolution of marriage duly authenticated by the DFA.
> Divorced: Certified true copy and a photocopy of the first page and the dispositive portion of the divorce judgment secured by the foreign national spouse further authenticated by the Philippine Embassy or consulate where the divorce judgment was obtained.
For New Passport of Children Born in Bahrain
Parents must provide the following requirements for children born in Bahrain:
Duly accomplished passport application form
Original birth certificate authenticated by Bahrain's Ministry of Foreign Affairs. Provide five copies for the Embassy or Consul's records.
A Report of birth form obtainable from the Embassy's Consular Section. Provide four copies of this document.
If the child's birth is not reported within 30 days, provide an Affidavit of Delayed Registration of Birth and BD 10.340
Five copies of the first page of the parents' passports. Include the pages where their residence visas are stamped.
Five copies of the Original PSA-Marriage Certificate or Marriage Contract of the Parents (if married in the Philippines) or if married in Bahrain, should be authenticated by the Bahraini Ministry of Foreign Affairs
Personal appearance of parents and of the minor children
Payment of Passport Fees amounting to BD 25.000
Report of Birth amounting to BD 10.340
For Philippine E-Passport renewal (with CHIP)
Prepare the following documents for submission:
Duly accomplished passport application form
Personal appearance in the consulate or embassy for photo capturing, signature capture, biometrics and fingerprinting
Original passport
Photocopy of the data page of the old passport
Payment of Passport fee of BD 25.000
As much as possible, come in a collared shirt or dress
For Replacement of Lost and Valid Philippine Passports
For passport holders who have lost their document, prepare the following documents for submission:
A duly filled-up application form
An affidavit of loss from a reputable notary public or attorney
Photocopy of lost and valid passport (allow for 15 working days for verification)
PSA-authenticated Birth Certificate
PSA-Authenticated-Marriage Contract (if married woman and using spouse's surname)
Police report (especially, if lost through theft or robbery) CID report, Immigration report
Personal appearance in the embassy
Payment of passport fees:
> For ePassport, fee of BD 72.380 broken down as follows:
Passport: BD 25.000
Affidavit of Loss: BD 10.340
Penalty: BD 37.040
Passport renewal should be done several months prior to its expiry – recommended time frame is around 9 months before expiry to facilitate the process. There is no expediting the process of passport renewal so be reminded of that at all times.
Maroon and green passports are no longer extendable since the country is now using the ePassport for all interested Filipino applicants.
For a downloadable form and the list of requirements from the Philippine Department of Foreign Affairs, click here: http://manamape.dfa.gov.ph/images/Forms/Passport-Application-Form-AS-OF-JULY-2017.pdf
Contact Info
Philippines Embassy in Bahrain
Address: Manama, Bahrain
Phone Number: +973 1772 1234
Website: http://manamape.dfa.gov.ph
Google Map Location: Phil Embassy Manama, Bahrain
Below you can find a map guide to direct you to the Philippine embassy in Manama, Bahrain.