Filipinos who are in Canada but can't make it to the PH embassy in Ottawa, you have the alternative to go to the Philippine Consulate in Vancouver instead. This consulate has the same function as the Philippine consulate. If you are looking to apply for a new Philippine passport, renew your expiring passport, record the birth of your child, record a death, register a marriage, and any other similar services, you can rely on what the Philippine Consulate can offer. Also, for legal matters and emergencies, you can also contact them whenever you need them. The Philippine consulate and embassy are working together to serve all Filipinos who are in Canada.
Also Read:
The Philippine consulate is one of your helping hands in Canada. Should you wish to contact them at any time, you should have a list of their contact details. It's essential that you are aware of their phone number, email, fax, and location so you won't be stressed about finding them later on.
In this article, we write about the consulate's important details, including its location, opening hours, contact details, services offered, frequently asked questions, and a map guide. We hope that this blog will help you in finding the right answers to your questions.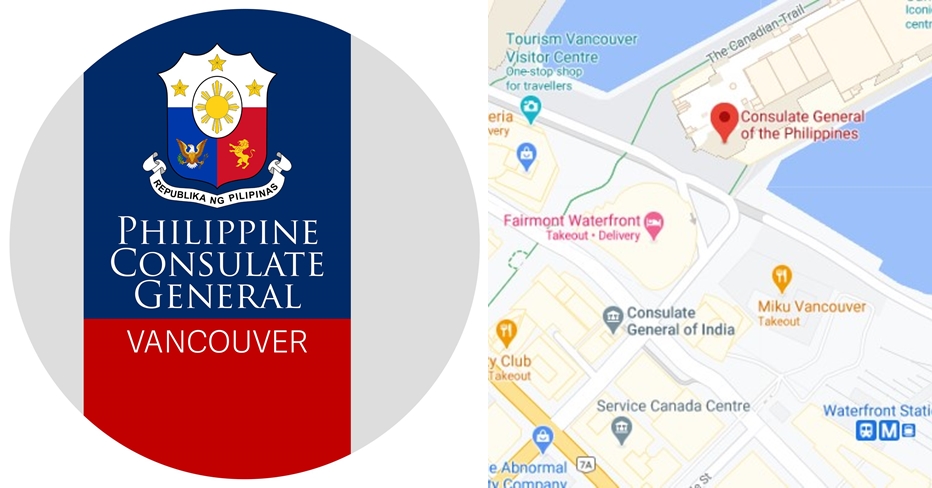 History – PCG Vancouver
The Philippine Consulate General in Vancouver, Canada has consular jurisdiction over Yukon, British Columbia, and the Northwest Territories. Opening from 9:00 AM to 5:00 PM from Mondays to Fridays, the consular is helping a lot of Filipinos since it was first established. The consulate was built in May 1956. It was then the very first Philippine foreign service post in the country. The consulate was headed by Consul Gautier F. Bisnar at that time. The Philippine consulate in Vancouver has a great history as it remained to be the only government office catering to Filipino needs in the whole of Canada until the Philippine Embassy located in Ottawa was constructed in 1971.
In 1962, the consulate in Vancouver upgraded to a consulate general and the first-ever Consul General was Hon. Francisco O. Oira, who served the consulate from 1962 to 1968. In May 2016, the consulate celebrated its 60th anniversary. As of today, this consulate has jurisdiction over Yukon, British Columbia, and Northwest Territories. Its office is now located in Canada Place, Vancouver. Before, its office is in Pacific Center in West Pacific Street, Vancouver.
Other Philippine Offices in Canada
In case you need to find information on other PH Consulate and embassy office locations, below are details:
Service Offered
Here's the list of services offered by the PCG Vancouver
Issuance of Passport
Travel Document
Issuance of Visa
Requirements for the Retention and Re-Acquisition of Philippine Citizenship
Notarial and other Legal Services
Registration of Nationals
Report of Marriage, Birth, and Death
Collection of Income Tax
Balikbayan Stamp
Philippine Embassy and Consulates General in Canada
Philippine Honorary Consuls General and Consul in Canada
Frequently Asked Questions Regarding the Services
What are the documents I should bring during my passport renewal?
The documents you need to bring during your passport renewal are the following:
Original old or expired passport.
Complete passport application form.
Photocopy of your passport's data page
Photocopy of your permanent resident card, a record of landing, and work permit.
Passport processing fee
What happens if I lost my Philippine passport?
If you lost your Philippine passport, there is no need to panic. You can just apply for a new one but make sure that you have the following documents with you:
Police report or case certificate
Affidavit of Loss of Passport (this can be completed in the Philippine embassy but with a separate processing fee).
Birth Certificate
Marriage Certificate if applicable
A legal document showing your name, date of birth, and place of birth.
Photocopy of your lost or destroyed passport, if applicable.
Death certificate of spouse, if applicable.
Annulment/divorce, if applicable.
What are the documents needed when a minor wants to obtain a passport?
Minors who haven't reached the age of 18 years old can apply for their Philippine passport together with their parents. Here's the list of the documents you need to secure.
Birth certificate
Report of birth form
Letter from the doctor who delivered the child attesting to the birth.
Medical record of the child from the hospital where the child was delivered, in case the doctor can't be located anymore.
Original and photocopies of the passports of the parents.
Letter of consent with the signature of both parents
Tips When Visiting the Philippine Consulate
1. Complete all the required documents
You need to bring all the required documents when you are visiting the Philippine Consulate. There would be no exceptions whatever services you avail of. If you have incomplete papers, the tendency is that you will go home to get the paper you forgot, which is a hassle.
2. Don't be late.
Always be on time and adhere to your schedule. If you are late, there is a possibility that you won't get the slot you reserved at a specific time. You need to follow the schedule you asked the consulate to reserve for you since there are other clients requesting for help from the consulate.
3. Wear proper attire.
Don't wear sando and short pants. Those attires are not allowed outside the embassy. You will not be allowed to enter the embassy if you use those clothes. Wear proper attire, such as jeans, long pants, collared shirts, and so on.
4. Do your own research first.
Finally, always do your own research, whether it's your first time visiting the Philippine consulate in Vancouver or not. There are updates, news, and changes that could be posted on the official website of the consulate. You shouldn't miss those posts because there might be changes in the schedule and procedures.
Opening Hours: 9:00 AM to 5:00 PM
Contact Information
Consulate General of the Philippines in Vancouver, Canada
Contact Person: Hon. Maria Andrelita S. Austria – Ambassador Extraordinary and Plenipotentiary
Address: 999 Canada Place, Suite 660, Vancouver, BC V6C 3E1
Telephone Number: 604-685-1619
Fax Number: 604-685-9945
Email: vancouverpcg@telus.net
Website: https://vancouverpcg.dfa.gov.ph/ | https://www.vancouverpcg.org/
Facebook Page: https://www.facebook.com/PHinVancouver/
Google Map Location
In case you are wondering where the Philippine Consulate in Vancouver is located, below is a map guide for you: