Filipinos who are currently working and living in Canada, you can go to the Philippine Embassy and get help from the government. The Philippine embassy offers different services for Filipinos such as passport renewal, passport applications, a record of birth, a record of death, civil marriages, and other similar transactions. The Philippine Embassy also caters to those who need legal assistance and those who are dealing with emergency issues. If you need to talk to government agencies such as POLO and OWWA, you can head to the Philippine embassy and find them.
Also Read: Basic Monthly Expenses in Canada
It's important that you know the contact details of the embassy so that whenever you need the assistant of the government or when you are in a state of emergency, you have someone to call. If you can list down the contact information and keep it to your phone or wallet.
Below are the following details you need about the Philippine Embassy in Canada. In this blog, we share the embassy's opening hours, services offered, frequently asked questions, location, contact number, and tips when visiting the embassy. We hope this article will help you in finding the right information you need.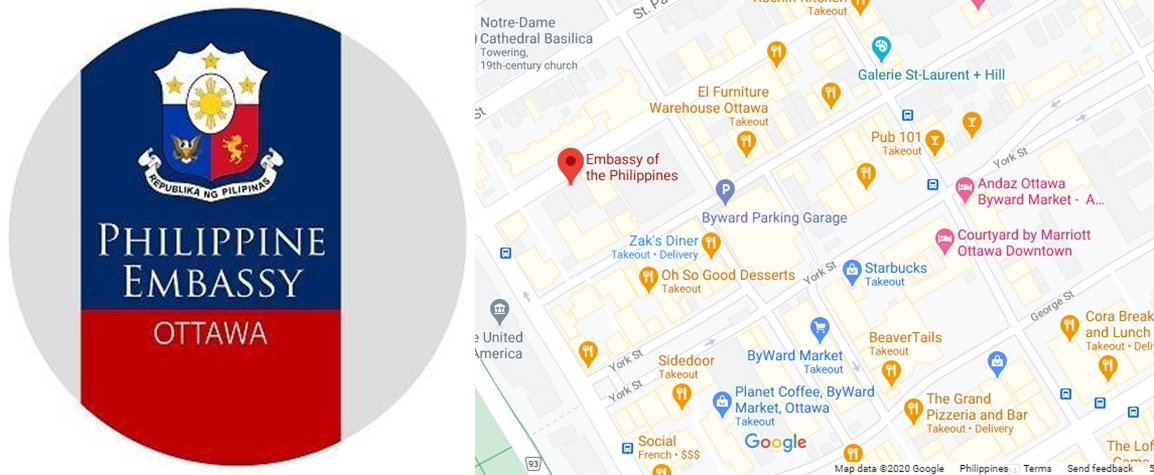 History – PH Embassy Canada
The Philippine Embassy has been helpful to a lot of Filipinos in Canada. Considering that there are 837,130 Filipino ethnic groups in the country as of May 2016, it is not a surprise that the embassy is a great help to all. In Canada, Filipinos and Filipino-Canadians are the 4th largest visible minority, following South Asian, Chinese, and Black. From 2011 to 2016, there were about 1.2 million new immigrants who entered Canada and settled there. Filipinos are among the most immigrants in Canada. There are people settling in Prince Edward Island, Nova Scotia, Ontario, Quebec, and other provinces. There are also those who are in Toronto, Vancouver, and other Canadian cities.
The Philippine Embassy in Ottawa, Canada is the main Filipino government office. There are also consular located in Toronto, Vancouver, and Calgary. The government needed to disperse its presence in different parts of the country because of the growing population. So, those who are near Ottawa can head to the main embassy while those who can't go there can resort to other consular to get the same services. The increased flows of Filipinos contributed a lot to the spread out of new migrants in Canada. The pre-existing community of Filipinos there is an indication that the relation between the Philippines and Canada is going well.
Philippine Consulates in Canada
Check out the list of Philippine Consulate General offices in Canada in case you are a Pinoy and you are far from our Philippine embassy in Ottawa. You may transact document services and seek assistance in our Consulates in the following places:
Services Offered
If you want to know the services offered by the Embassy of Canada, here's the list:
Consular Outreach Program
Passport

Adult New Applicant
Adult Renewal Applicant
Minor New/Renewal Applicant

Travel Document
Authenticating Documents Made Simpler by the Apostille
Civil Registry
Solemnization of Marriage
Report of Marriage
Report of Birth
Report of Death and/or Consular Mortuary Certificate
Dual Citizenship
Visa
Waiver of Exclusion Ground
Certificate of Not the Same Person
Balikbayan Program
Schedule of Consular Services and Fees
Consular Service Fees and Turnaround Time
List of Other Services

Transport of Pets
NBI Clearance
Renewal of Philippine Driver's License
Securing a J1-Waiver
PH Requirements for Medical Missions
Departure Formalities
Philippine Overseas Labor Office
Issuance of Overseas Employment Certificate
OWWA Membership Program
Employment Contract Verification and Authentication
Implementation of POEA Rules on Direct Hiring
Frequently Asked Questions Regarding the Services
What are the documents I should bring during my passport renewal?
When renewing your passport, it's important that you bring the following documents with you:
Original old or expired passport.
Complete passport application form.
Photocopy of your passport's data page
Photocopy of your permanent resident card, a record of landing, and work permit.
Passport processing fee
What happens if I lose my Philippine passport?
If you lost your Philippine passport, you can apply for a new one with the following requirements:
Police report or case certificate
Affidavit of Loss of Passport (this can be completed in the Philippine embassy but with a separate processing fee).
Birth Certificate
Marriage Certificate if applicable
A legal document showing your name, date of birth, and place of birth.
Photocopy of your lost or destroyed passport, if applicable.
Death certificate of spouse, if applicable.
Annulment/divorce, if applicable.
What are the documents needed when a minor wants to obtain a passport?
Minors can apply for a passport in the embassy together with their parents. The following documents are needed for minors:
Birth certificate
Report of birth form
Letter from the doctor who delivered the child attesting to the birth.
Medical record of the child from the hospital where the child was delivered, in case the doctor can't be located anymore.
Original and photocopies of the passports of the parents.
Letter of consent with the signature of both parents
Tips When Visiting the Embassy
When visiting the embassy, here are some of the tips we have for you.
1. Wear proper attire.
Wear your proper attire when visiting the embassy. You won't be allowed to enter the embassy if you are wearing short pants or sando. You can at least wear pants, jeans, or dresses.
2. Bring all your documents.
Put your documents inside your bag the night before your scheduled appointment in the embassy. This is helpful so that you won't forget what you most essentially need.
3. Be on time.
You need to be as punctual as possible. Remember that you are not the only client in the embassy. There are also times that the embassy is crowded. You need to be on time so that your appointment won't get canceled.
Opening Hours
9:00 AM – 12:00 PM, 2:00 PM – 5:00 PM
Contact Information
Embassy of the Philippines in Ottawa, Canada
Contact Person: Her Excellency PETRONILA P. GARCIA – Ambassador
Address: 30 Murray Street, Ottawa, ON K1N 5M4
Telephone Number: +1 613.233.1121 (Switchboard)
Fax Number: +1 613.233.4165
EMERGENCY NO: +1 613.614.2846
Email: embassyofphilippines@rogers.com
Website: http://ottawape.dfa.gov.ph/
Facebook Page: https://www.facebook.com/PHinCanada/
Google Map Location
In case you are wondering where the Philippine Embassy in Canada is located, below is a map guide for you: