An employer in Jeddah, Saudi Arabia has sent home a Pinay domestic helper after only several weeks because the domestic helper can not speak English.
In a report from GMA news online, Joan (not her real name) came to Saudi Arabia to work as a domestic helper January this year. Like many OFWs she wanted to get out of poverty which is why she tried her luck in another country.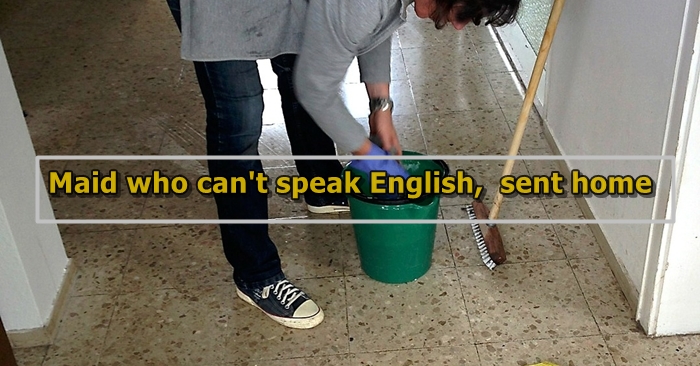 Domestic Helper Who Can't Speak English Was Sent Home by Arab Employers
Although nothing was mentioned if she was supporting a family, she admitted that she had a live-in partner back in the Philippines who is now in jail due to drug-related reasons.
Joan admitted that she in fact cannot understand nor speak English having only finished Grade 2 due to poverty.
"Hindi po ako marunong, ni isa po, pag sinasabihan ako ng how are you hindi ko rin po maisagot. Yuko na lang po ako," said Joan.
It would have been impossible for Joan to apply for work abroad with all the paperwork she needs to fill-out which are in English. When she was asked how she went pass this, Joan admitted that the recruiter filled-out all the paperwork for her. All that was left for her to do was sign the pre-filled documents.
This sent a strong message to all Recruitment agency to be mindful of who they endorse to work abroad as this does not only ruin the name of the Recruitment agency but also endangers the lives of OFWs.
Labor Attaché Nasser Mustafa urged all agencies to also scrutinize their recruits and to be mindful of those that were recommended by agents. Mustafa further added that in case something goes wrong, the recruitment agency will definitely be liable. He also cited incidents in the past where the workers who were hired as domestic helpers did know basic household chores and some were even minors.