In a very tragic video posted in Facebook, a Pinay domestic helper from Saudi Arabia is asking for help after she was allegedly pushed out of the 2nd floor window of a house by her employer. She remains in a hospital and is being treated for an injured spine and broken leg.
The victim was identified as Maria Jingee Antipuesto Elejeno. In the video posted by her sister in law, Neleh Asna Elegina, the victim is calling for help so justice can be served for the maltreatment she experienced in the hands of her employer. She was allegedly pushed from the 2nd floor window of her employer's house and sustained injuries in her spine and a fractured leg. She was already operated on but is still confined in the hospital for treatment of her injuries.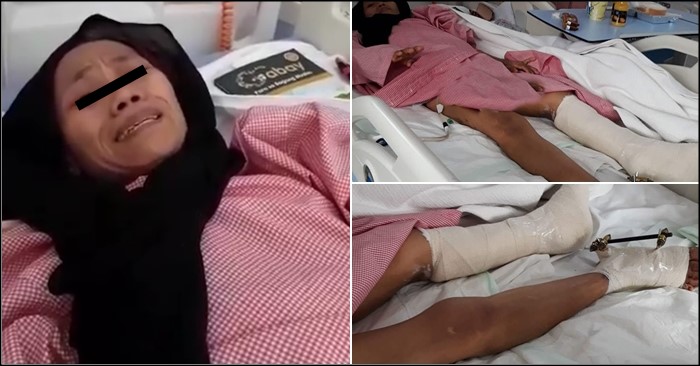 Saudi Arabia: Employer Allegedly Pushes Domestic Helper Out of Window
On top of the physical abuse she endured, she also narrated that her employer did not pay her nine months worth of salary. She is now confined at King Khalid Hospital in Hail, on the first floor, Room 5 of the female surgical ward.
There are no reports released yet as to what the underlying reason is behind her employer's actions. Regardless, no human being, no matter what the social standing is, should endure such abuse and ill-treatment. This one is particularly tragic as this is happening to one of our kababayans whose only intent is to earn a living and provide for her family back home.
The victim, with help of the video posted by her sister in law, has received an out pour of support online from fellow Filipinos in the country and abroad. A lot of them forwarded the Facebook post to Raffy Tulfo and other news networks so help can be provided.
Here's the video posted by the victim's sister in law.
If the above video does not work, you can also check the video below uploaded by THE ONE | YouTube
Neleh Asna Elegina hopes that by spreading her FB post, the Philippine Overseas Employment Agency will be notified of her plight and help her sister in law get back to her family in the Philippines. Her video and FB post now has 2,800 shares since it was posted yesterday.
It is in times like these when Filipinos, not just OFWs, need to show solidarity and support as we continue to call out any type of injustice and maltreatment we observe or experience.