Filipinos abroad are expected to vote in the overseas absentee voting (OAV) that will take place from April 10 to May 9, 2022. OFWs residing in Oman can vote promptly and securely in the next elections by confirming their identities against the list of certified overseas voters at the Philippine Embassy. Given this, it is vital that registered abroad Filipinos understand the processes and conditions for voting in their respective countries during the next elections.
Also Read: Official List of Registered Filipino Voters in Oman for 2022 National Elections
Keep in mind that this may vary from one place to the next, so make sure you follow the proper guidelines for each. Before starting with the overseas voting procedure, Filipino voters in Oman should double-check their information on the Philippine Embassy's website. To begin, consult this guide to learn about the step-by-step procedure for a trouble-free and flawless overseas voting experience from Oman.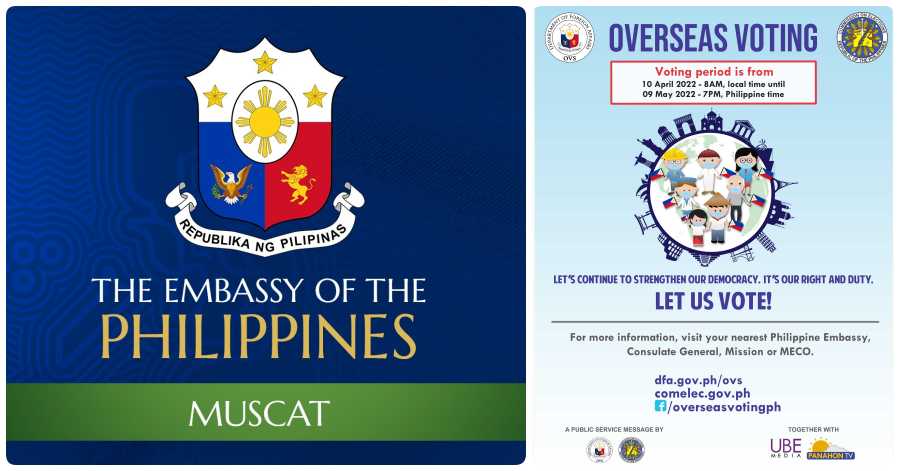 Voting Guidelines in Oman for the 2022 Philippine Elections
Filipino people in Oman may now vote in a secure and timely manner. The next stage is to schedule a visit to the Philippine diplomatic post for the abroad voting procedure, which will take place over the course of a month, from April 10 to May 9.
Of course, no one wants to wait in line for a long period or have their plans disrupted on any given day. However, it is advisable for overseas Filipino employees and residents in Oman to plan ahead for the offshore voting session. Here's everything you need to know to get started.
Step by Step Procedure of Voting as a Filipino in Oman
Step 1 – Check if your name is on the list of registered voters in Oman here.
The Philippine Embassy in Oman produced a list of certified overseas voters (CLOV) 120 days before the election period. The list should include the names of registered voters. Those who refuse to comply will be denied the right to vote in the upcoming elections.
Step 2 – Vote wisely.
Based on the candidates' job histories and political backgrounds, as well as their opinions on employment, health, foreign workers, and immigration, to name a few, you should know who to vote for at this point.
Step 3 – Cast your ballot in the vote-counting machine or VCM (formerly known as the PCOS machine).
Based on the candidates' job histories and political backgrounds, as well as their opinions on employment, health, foreign workers, and immigration, to name a few, you should be able to decide who to vote for at this point.
Step 4 – Get the indelible ink marked on your index finger.
This will act as evidence that you voted during the earlier voting session before leaving the Embassy. That's it! You may now leave the poll to return home, work, enjoy the day with friends, or rest quietly.
Overseas Filipino Voting Schedule in Oman
The voting period for the overseas elections is from 8 a.m. local time to 7 p.m. Philippine time on April 10, 2022 to May 9, 2022.
Throughout this time, walk-ins are welcome at the Embassy. You must, however, authenticate your details on-site to guarantee that you are qualified to vote in the ongoing overseas absentee voting.
Video: HALINA'T BUMOTO!
The DFA has released a video about the overseas voting period. Here's where you can learn more about this process.
Every OFW and Filipino immigrant in Oman is required to vote in order to fulfill their right and obligation as Filipino citizens in the nation.
No matter where they are in the globe, all Filipinos must educate themselves on what to do and expect on election day.
Filipinos living abroad have a month to vote. This should give people plenty of time to think about and research who they should vote for as the country's next leader. Personnel from the Philippine Embassy in Oman will help them in voting properly and consistently once they've made their selection.
Frequently Asked Questions
What do I need to be able to vote in the 2022 National Elections?
Filipino citizens must bring their original passports or seafarers' books to the polls during election season. In order to vote, residents having dual citizenship must additionally present their ID card or permission paperwork.
How do I know if I am a registered voter in Oman?
The list of Filipino voters in Oman, as well as the list of Filipino seafarers, may be accessed on the website of the Commission on Elections (COMELEC) or at the Philippine Embassy in Oman. Only registered Filipino voters will be able to vote in the 2022 elections.
How does COMELEC decide on which voter records to deactivate?
The records of voters who did not vote in at least two elections were deactivated by the Commission on Elections (COMELEC).
When can applicants collect their Voter ID?
Due to the implementation of Republic Act 11055, or the National ID System, the Commission on Elections has halted the distribution and production of voter identification cards across the country.
The Philippine Statistics Authority is actively putting the National ID system in place in the country. It is scheduled to be implemented in all foreign service jobs by 2022.
Where can I find important information and updates on overseas voting?
Filipinos in Oman are encouraged to follow the Philippine Consulate-various General's social media sites to stay up to current on the latest election news.
Summary
The Philippine Embassy in Oman attempts to make overseas voting as simple and convenient as possible for all Filipinos living in the country. As a result, they advise Filipinos in the nation to double-check the list of overseas voters (CLOV) before voting starting on April 10 at the Embassy.
READ NEXT: How to Contact Philippine Embassy in Muscat, Oman?
Contact Information
Embassy of the Philippines in Muscat, Sultanate of Oman
Address: Bldg. No. 1041 / 1043, Way No. 3015 Al Kharijiya Street, Shatti Al Qurum Muscat, Sultanate of Oman
Postal Address: P. O. Box 420, Madinat Qaboos, Postal Code 115 Muscat, Sultanate of Oman
Tel. Nos.: (+968) 2460-5335, 2460-5143
Fax No.: (+968) 2460-5176
Email: muscat.pe@dfa.gov.ph
EMBASSY WORKING HOURS: 9 AM to 1 PM
Google Map Location