The Philippine National Elections this 2022 will be held from April 10 to May 9, 2022. Through the Philippine Embassy's online pre-verification system, Filipinos residing in Singapore can easily and safely vote for the upcoming elections. With this in mind, it's important that registered overseas Filipinos know the steps and guidelines to vote in the coming elections in their respective countries.
Also Read: Official List of Certified Filipino Voters in Singapore for 2022 National Elections
However, keep in mind that this may differ from one location to the next, so be sure to follow the appropriate guidelines. Overseas voters in Singapore are required to PER-VERIFY their details online before proceeding with the overseas voting procedure. To get started, you may use this guide to learn the step-by-step approach for a seamless and hassle-free overseas voting experience from Singapore.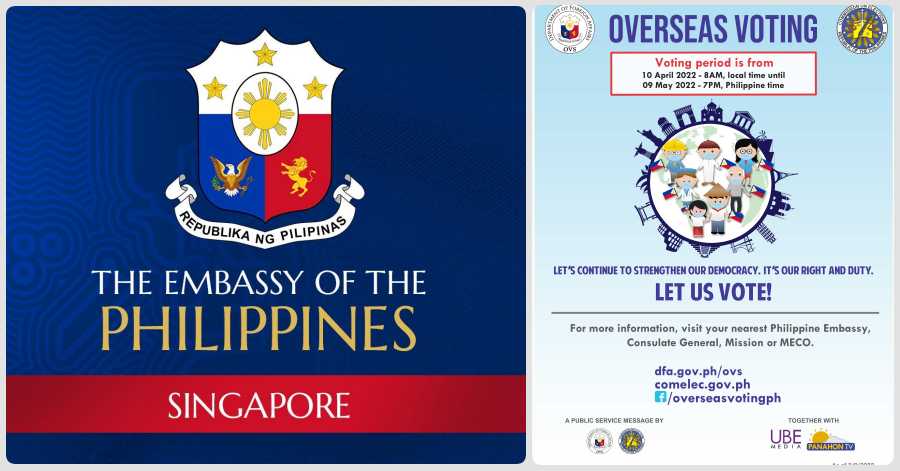 Voting Guidelines in Singapore for the 2022 Philippine Elections
Filipinos in Singapore who are registered voters may now vote conveniently and securely thanks to the establishment of an online verification system.
This system's purpose is to make voting easier and more secure for overseas voters. It will cut down on waiting time at the Embassy.
Because the online pre-verification mechanism is OPTIONAL, walk-in voters will still be accepted. You will, however, must wait a little longer to vote if you have not been pre-verified.
Of course, no one likes to spend a long time standing in line or to have their plans disrupted on any given day. However, it is best for foreign Filipino employees and Singapore residents to pre-verify their information online. Here's how:
Step by Step Procedure of Voting as a Filipino in Singapore
Step 1 – Check if your name is on the list of registered voters in Singapore here.
The Philippine Embassy in Singapore has made available the list of certified overseas voters (CLOV) 120 days before the election season begins. The names of registered voters should appear on the list. Those who do not comply will be unable to vote in the forthcoming elections.
Step 2 – To pre-verify your voter's information, access this link.
Click NEXT and select the time and date you wish to cast your ballot.
Fill out all the information required on the registration form.
You will receive an email one (1) to three (3) days after your registration, confirming your status as per the embassy's records of certified overseas voters.
Go to the embassy at your selected time and date to vote. Make sure to bring your valid Philippine passport and then present a copy of the email confirmation.
Step 3 – Vote wisely.
At this stage, you should know who to vote for, including the candidates' job history and political background, as well as their programs for labor, health, foreign workers and immigration, to mention a few.
Step 4 – Cast your ballot in the vote-counting machine or VCM (formerly known as the PCOS machine).
This will allow for a more efficient review and documentation of the votes. Also, be certain that you have shaded all of the relevant portions of the ballot so that you do not overlook any names for whom you wish to vote.
Step 5 – Get the indelible ink marked on your index finger.
When you leave the embassy, this will serve as evidence that you have actually voted. That's it!  You may now leave the poll to go home, work, spend the day with your friends, or unwind by yourself.
Overseas Filipino Voting Schedule in Singapore
The voting schedule for the overseas elections is as follows: From April 10, 2022 to May 9, 2022, the voting period is from 8 am local time to 7 pm Philippine time.
Walk-ins may head to the embassy anytime during this period. However, you'll need to verify your information on-site, as opposed to having it pre-verified online, reducing your wait time at the polls.
Video: HALINA'T BUMOTO!
The Philippine Embassy in Singapore recently released a video regarding the upcoming overseas elections. Details on the overseas voting process may be found here.
Voting overseas is crucial for every OFW and Filipino immigrant in Singapore to exercise their right and obligation to the country as Filipino citizens.
Educating oneself on what to do and anticipate on election day is essential for all Filipinos, wherever they may be around the globe.
Overseas Filipinos have the whole month to vote. This should give people ample time to prepare and conduct study on who they should vote for as the country's future leader. Once they've made their decision, staff from the Philippine Embassy in Abu Dhabi will help them in casting their ballots correctly and consistently.
Frequently Asked Questions
What do I need to be able to vote in the 2022 National Elections?
During the election season, residents of the Philippines must carry their original passports or seafarers' books to the polls. Residents with dual citizenship will also be needed to provide their ID certificate or order of permission in order to vote.
How do I know if I am a registered voter in Singapore?
The list of voters in Singapore and the list of mariners in the Philippines can be found on the Commission on Elections' website. Only registered voters in the Philippines will be allowed to participate in the 2022 elections.
How does COMELEC decide on which voter records to deactivate?
The Commission on Elections (COMELEC) deactivated the records of voters who didn't vote in at least two elections.
When can applicants collect their Voter ID?
The Commission on Elections has suspended the distribution and printing of the voter's ID in the country due to the implementation of Republic Act 11055, or the National ID System.
The Philippine Statistics Authority is currently implementing the National ID in the country. It is expected to be rolled out in all foreign service posts by 2022.
Where can I find important information and updates on overseas voting?
Filipinos in Singapore are urged to follow the Philippine Embassy's various social media platforms to keep up with the latest updates related to the upcoming elections.
Summary
The Philippine Embassy in Singapore continues to make the overseas voting procedure as easy and comfortable for all Filipinos living in the nation as feasible. As a result, beginning April 10, they will use an online pre-verification mechanism to aid our kababayans with the voting process.
With the details offered in this article, it is believed that overseas Filipinos would enjoy trouble-free elections this year, wherever they may be in the world. Remember that overseas absentee voting takes place earlier than the national elections in the home country, so please share this information with any friends, coworkers, or family members who may need it.
READ NEXT: How to Contact Philippine Embassy in Singapore
Contact Information
Embassy of the Philippines in Singapore
Address: 20 Nassim Road, Singapore 258395
Office Hours: Monday-Friday, 9:00 AM – 4:00 PM (Closed on public holidays of Singapore and the Philippines)
Trunkline: +65 6737-3977
Google Map Location