The Philippine Election is one of the anticipated events in the country as we get to choose our leaders in the next 6 years. Filipino residents as well as those based overseas, such as in Singapore, who are not certain whether they are registered to participate in the 2022 National Elections, can verify their details from the official voters' list released by the Philippine Embassy in Singapore.
If this is your first time participating in overseas voting for the national elections – don't worry! By checking your registration details via COMELEC's official voters' list, you're on your first step to ensuring a smooth and hassle-free overseas voting experience.
So if you are a Filipino overseas worker in Singapore who has registered before, you will be able to see your name from this list. You can download the PDF list from the link below – this comes from the official website of our embassy.
This post is mainly for Filipinos based in Singapore who have registered via COMELEC to participate in the national elections through overseas voting. You can simply download the PDF list by clicking the link below and accessing the Philippine embassy in Singapore's official website. To learn more, read until the end of this short guide.
Philippine Elections 2022: List of Registered Filipino OFW Voters in Singapore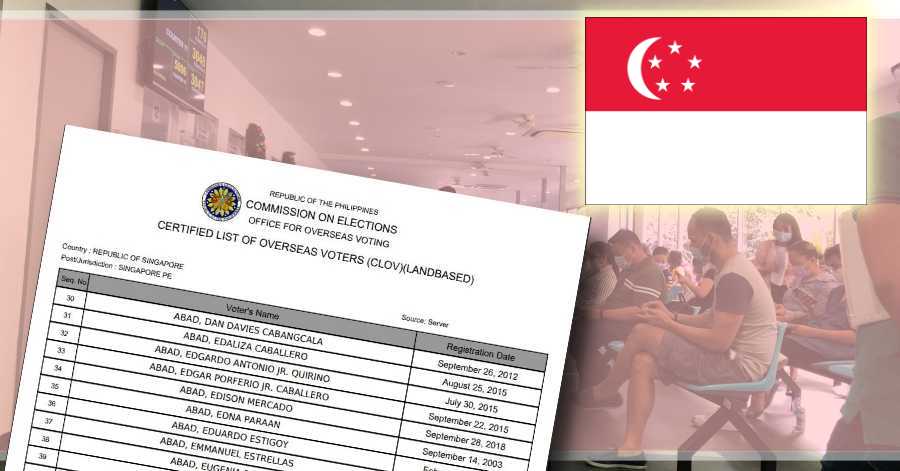 Expect the schedule of voting to be updated very soon as election day draws nearer, so make sure to cast your vote once it's available – it matters a lot!
There are a number of ways to find out if you're authorized to vote in Singapore as an overseas Filipino worker (OFW). Aside from verifying it in-person at the Philippine Embassy, which they would gladly assist you with, you can also refer to the lists they issued as guide for land- and sea-based OFWs in Singapore below:
Navigating the list is simple. You will see a long list of names, arranged alphabetically, beginning with registrants' surname, first, and middle name, as well as their date of registration. You might also find some notes on the list from COMELEC officers indicating some issues, instructions, or additional details provided on the list. You may either scroll thru the long list (which we do not recommend) OR you may use this simple shortcut to see whether your name is on the list.
Tip: To skip the long list of names, you may press CTRL + F, then a search bar will appear on the page where you can type in your last name to see if you are included. Make sure that you type your name correctly without any unnecessary spaces as the document may not show the information you are looking for.
Once you see your name (and probably some of your friends' too), you are now confirmed and registered to vote in the Philippine national elections. Do note that overseas voting starts on April 27 until May 9 – only two weeks.
This is to maximize the time of overseas Filipinos to cast their votes, either at the Philippine service post or by mail. So do take the time to take a short leave (maybe a few hours off) from work to cast your vote, informing your employer ahead for this important national event.
Question: What if I'm not on the list, can I still vote?
Answer: Those who are NOT on the voter's list will NOT be able to vote in the upcoming elections. This means that they will have to wait for the election to finish first, then register for the next one. Here is a short guide on how you can register to vote in Singapore. As a tip, make sure that you do this as early as possible – after election season, of course.
If you have further questions, it is best to contact the Philippine embassy so they can assist you accordingly. Click this link  for  details: http://www.philippine-embassy.org.sg/
How to Find your name in the list of overseas voters?
Answer: You can easily find out your name by clicking on the PDF file that comes from the Philippine Embassy's list. It's organized according to the last names of the voters.
You may or may not download the PDF list, but just make sure that you check it thoroughly so you would know whether or not you need to take some time off from work to participate in the overseas voting period.
What does it mean if my name is included in the list of Overseas Voters?
Answer: This means that you have completed the necessary steps to get registered. You can now vote overseas after successfully registering for the elections! Congratulations! Make sure to cast your vote – it definitely counts!
What if my name is not on the list of registered voters?
Unfortunately, you cannot vote in the Philippines' 2022 elections. This means that you will not be able to participate in the elections only for that year. Make sure to register properly and on time for the next one so you can exercise your right to vote, even as an OFW in Singapore!
When will the list of certified absentee voters in Singapore be released?
The Commission on Election (COMELEC) will prepare the list of voters who are overseas for the May elections within 120 days before the voting dates.
You may read the official statement here: "Preparation and Posting of Certified List of Overseas Absentee Voters. – The Commission shall prepare the Certified List of Overseas Absentee Voters within one hundred twenty (120) days before every election, and furnish within the same period copies thereof to the appropriate embassies, consulates, and other foreign service establishments, which shall post the same in their bulletin boards within ten (10) days from receipt thereof."
READ NEXT: How to Vote in Philippine Elections as an Overseas Voter Abroad
Contact Information
Embassy of the Philippines in Singapore
Address: 20 Nassim Road, Singapore 258395
Tel. No.: (+65) 6737-3977
Fax No.: (+65) 6733-9544
ATN No.: (+65) 6834-2938
Email: singapore.pe@dfa.gov.ph / php@philembassysg.org
Website: www.philippine-embassy.org.sg
Facebook account: https://www.facebook.com/PHinSingapore
Google Map Location
This map is also for those who are looking to know the location of the Philippine embassy in Singapore. While there are times when you may need to schedule an appointment, this is also for those who are planning on visiting the embassy in their free time.