With only a few months left before the end of the voter's registration period for the May 2022 elections, kabayan, have you already registered to be eligible to vote for the upcoming elections next year?
As you know, we cannot further emphasize the importance of exercising your right to vote as a Filipino citizen, regardless of where you may be in the world at this moment. And to ensure this, we have prepared an update on how to register via COMELEC this 2021 if you're currently based overseas. Keep on reading to learn more.

What You Need to Know About COMELEC Registration 2021 for Overseas Voters
Voter registration for Filipinos living and/or working abroad differs from that of those residing in the Philippines. If you are an OFW, immigrant, dual citizen, or living abroad during the overseas voting period from April 9 to May 9, 2022, here is how to register with the COMELEC.
The overseas voter registration period is similar to that of the Philippines (September 1, 2020 to September 30, 2021). However, applications for voter registration transfers are only allowed until August 31, 2021.
Steps for COMELEC Registration for Overseas Filipinos
Make an appointment using any of the following methods:
Office for Overseas Voting PH Facebook page (www.facebook.com/overseasvotingph): Click the Book Now button or send a private message.
Email: overseasvoting@comelec.gov.ph
Landline: (02) 8521-2952 / 8522-2251
Mobile: (0905) 034-5158 / (0951) 875-9882
The OVOF staff will work with you to coordinate your appointment request and will direct you to the appropriate COMELEC registration form.
Fill out the Overseas Voting Form 1 (OVF 1). Part III should be left blank because you will have to complete this portion in front of a COMELEC officer during your registration.
Send your completed form to the OVOF via email or private message on Facebook.
OFOV will send you a confirmation notice. You will be given an appointment confirmation slip (ACS) with the transaction details, checklist, and COMELEC registration instructions.
On the day of your appointment, arrive at the COMELEC main office 30 minutes early.
Show a printout or screenshot of your ACS to the building's security officer.
Complete the Health Declaration Form.
Show the COMELEC representative your original passport (or Seaman's Book for OFWs stationed at sea).
Capture biometric data. When you are finished, you will be sent an acknowledgement receipt.
NOTE: You will not be able to register if you do not have a confirmed appointment and are not wearing a face mask and face shield. Follow the COVID-19 protocols being adopted by the COMELEC for your protection.
FREQUENTLY ASKED QUESTIONS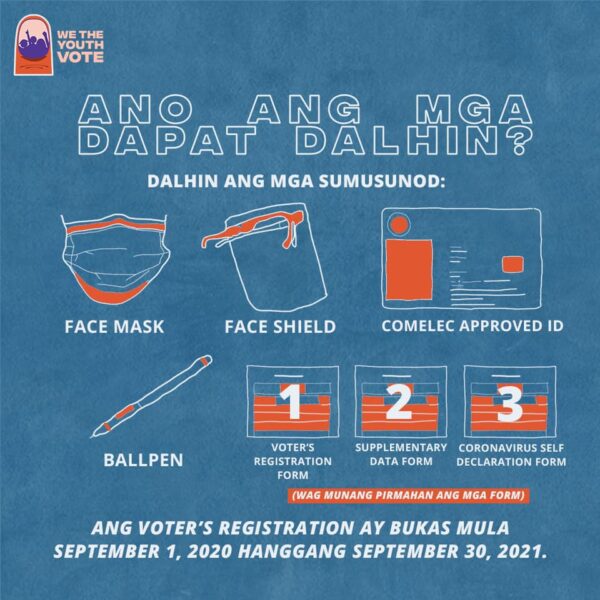 1. Is there an online COMELEC registration system?
The COMELEC has not yet implemented an internet registration system for the May 2022 elections as of this writing. You can, however, complete voter registration paperwork online at COMELEC iRehistro.
2. What is the purpose of the COMELEC iRehistro?
The COMELEC iRehistro system can shorten registration processing time in half. On the iRehistro website, you may discover many sorts of online application forms for both local and international applicants.
For applicants from other countries, the following online forms can be completed:
Voter's Registration
Voter's Certification
Transfer / Transfer with Reactivation
Reinstatement of Name Inadvertently Omitted in the National Registry of Overseas Voters
Change of Name due to Marriage or Court Order / Correction of Entries in the Voters' Registration Record
Request to Withdraw the Application for Registration / Certification Pending Approval
Reactivation
Change of Address (Within the Same Post and Country)
Updating of Photograph and/or Signature
However, completing and submitting these online forms does not imply that you have finished the registration process. A personal appearance is required for COMELEC registration, and you must still visit the registration centre to have your biometrics captured.
3. How frequently should I register to vote?
The voter registration application is permanent and must be completed just once. If you are already a registered voter, you do not need to register afresh each time an election is held.
However, if you have failed to vote in two consecutive regular elections (resulting in a deactivated voter's registration application status), you must petition for reactivation of your COMELEC registration record. Select "Application for Reactivation of Registration Record" on the COMELEC registration form.
4. What is satellite registration with COMELEC?
Satellite registration is a set of voter registration activities carried out at unique satellite registration offices in each barangay throughout the Philippines. A barangay hall, commercial institution, school, or public area within the city or town could serve as a special satellite office for COMELEC registration. As a result, COMELEC satellite registration assures that more Filipinos become voters.
However, for the time being, it is not occurring in the majority of the country. Due to the pandemic, the COMELEC has suspended satellite voter registration till further notice.
5. How do I change the address on my COMELEC registration?
When you relocate, you should apply for the transfer of your registration record at the local COMELEC office at your new location. As a result, you won't have to go far to your old city or town during election season.
The requirements for transferring voter registration records are the same as those for registering new voters. Just make sure the valid ID you offer shows your new address. Otherwise, a COMELEC employee would request additional documentation to confirm your current residence.
Do you need to file an online COMELEC registration for a transfer? If you are a local applicant, simply go to the COMELEC iRehistro website and select "Transfer of Registration Record." If you are an overseas registrant, choose "Transfer / Transfer with Reactivation."
6. How can I obtain a voter's ID in the Philippines in 2021?
Don't expect to be issued a voter's ID once you've completed your COMELEC registration, as was previously the case. The COMELEC has ceased issuing this ID in order to make room for the national ID system. But keep your voter's ID registration criteria handy because you'll need them on registration day.
Register as soon as possible so that you can vote in future elections. It's common that people frequently ignore COMELEC registration because they are too busy to make the time. However, it is an easy procedure. Just don't do it on the last day of registration, when local COMELEC offices are overrun with last-minute applicants.
READ NEXT: Online Registration for National ID System Now Available