The Philippine National elections is set to kick off hot in May. In case you are wondering if your name is on the list of certified overseas voters or overseas absentee voting (special voting process for OFWs since they are not present in the Philippines), please follow the guidelines on how you can pull up your name from the list.
Also Read: How to Vote in Philippine Elections as an Overseas Voter Abroad
As early as now, talks as to who could, would, and should win, are all over social media. If you haven't noticed yet, maybe you're not spending much time online. But for those who do, especially overseas Filipino workers, you need to make sure that your research and participation in these matters will ultimately make a difference come the time of the elections. And one of the first things you can do so is by verifying your registration to vote, which we will discuss in this guide.
In one of our previous posts, we've discussed the ways you can register to vote even when you're overseas for the upcoming elections. And once you've accomplished that, the next thing to do is to verify your record, which you can check with the embassy or consulate in your host country. Keep reading to learn more.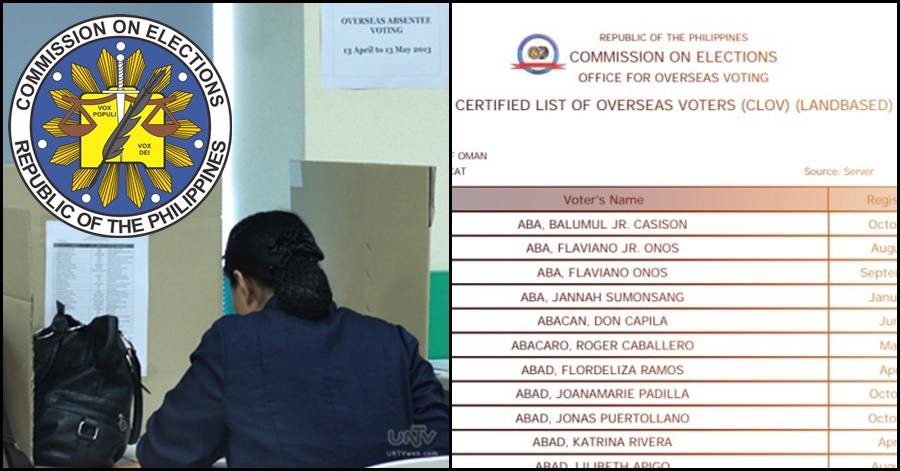 Registered Voter Abroad? Be Sure to Check Your Status Before the National Elections: Here's How
Checking the status of your record for the upcoming elections must be done as early as possible, similar to the principle of registering to vote. The purpose of this guide is to help you with just that.
As per Philippine law, the Commission on Elections (COMELEC) will post the list of registered voters at least 120 days before the start of the national elections.  That being said, make sure to check with your respective embassy or consulate in your host country for this list by early next year.
The information to be presented by these government missions overseas is subject to the Data Privacy Act of 2012 (R.A. No. 10173) and its Implementing Rules and Regulations, as well as the pertinent Circulars of the National Privacy Commission.
Filipino Overseas Voters Per Country
Are you an OFW for a particular country? Please check your name among this list of OFW voters in countries based on alphabetical order below:
Once the list is available, the registered voters will be categorized according to Landbased and Seafarer voters. The next thing you need to do is to search for your name on the list to verify your record, as well as check if the information in the database is accurate or not.
Here is the list of voters for both National Registry of Overseas Voters (NROV) and Certified List of Overseas Voters (CLOV)
NATIONAL REGISTRY OF OVERSEAS VOTERS (NROV)
CERTIFIED LIST OF OVERSEAS VOTERS (CLOV)
The list of certified Filipino OFW voters are categorized according to the following regions:
NORTH AND LATIN AMERICAN REGION
ASIA PACIFIC REGION
EUROPEAN REGION
MIDDLE EAST AND AFRICAN REGION
How to Search For Your Name in the List of Overseas Voters
If you're wondering how to look for your name on the list, simply open the PDF file based on your country where you are working as an OFW to view the list provided by your concerned embassy or consulate. The list is arranged in alphabetical order, with the registered voters' surnames coming up first.
Scroll down the list to your name to see if it is mentioned. You can also use a keyboard shortcut (Ctrl + F) for faster searching. Upon finding your name on the list, this confirms that your record has, indeed, been registered on the database. Thus, you are eligible to participate in overseas voting in your country.
I can't find my name on the official list. What does this mean?
The list that will be released by the embassy or consulate will be official and final. If you fail to find your name on the list, this means that you will not be able to vote in the upcoming 2022 elections, unfortunately.
I read in the news that I can vote in another country even if I'm a registered overseas voter in a different country. How do I qualify for this process?
Only registered overseas voters who intend to vote in countries/areas that are using the personal or in-person mode of voting are qualified. Submit your accomplished Manifestation of Intent to Vote in Another Post (MIVAP) form and email it together with your Philippine passport to ov.concerns@comelec.gov.ph.
I'm a registered overseas voter but did not receive my overseas voter's ID card. How do I get one?
The COMELEC has stopped the production of voter's identification (ID) cards since 2017, when Congress started the legislative process that led to the passage of Republic Act No. 11055 or the Philippine Identification System Act, which established the PhilSys national ID. But the COMELEC continues to issue voter certifications.
I have confirmed that I'm a registered overseas voter. How do I know if I'm supposed to vote by mail or in person?
The modes of voting may vary depending on the country or state where you reside. The Specific Modes of Overseas Voting are published on the COMELEC website. You can also visit the website of the Philippine Embassy or Consulate General in your area.
I was a registered overseas voter but I'm already in the Philippines. Can I vote in the city or municipality where I now live?
If you were able to apply for the transfer of your voter's record from overseas back to the Philippines on or before 30 October 2021, then you should be able to vote in the city or municipality where you transferred to. Check with your local COMELEC office (Office of the Election Officer) to see if your name is on the voter's list.
I registered as a voter back in my home town in the Philippines. Can I vote overseas for the 2022 elections?
Only registered overseas voters are allowed to vote outside the Philippines. Registration of overseas voters is governed by the Overseas Voting Act of 2013, which requires Filipinos abroad to register as overseas voters at the Philippine Embassy or Consulate General (or MECOs for those in Taiwan).
How do I know if I am eligible to vote as an overseas voter for the 2022 Philippine Elections?
You can look up your name in the Certified Lists of Overseas Voters (CLOVs) that are posted on the official websites of the COMELEC and the Philippine Embassy or Consulate serving your area.
Please see the posts and updates as shared by COMELEC office below: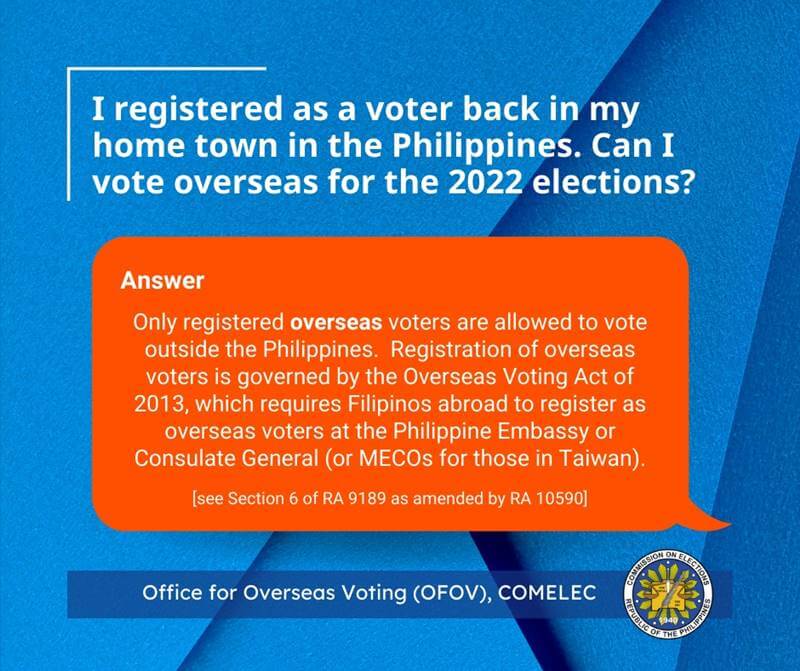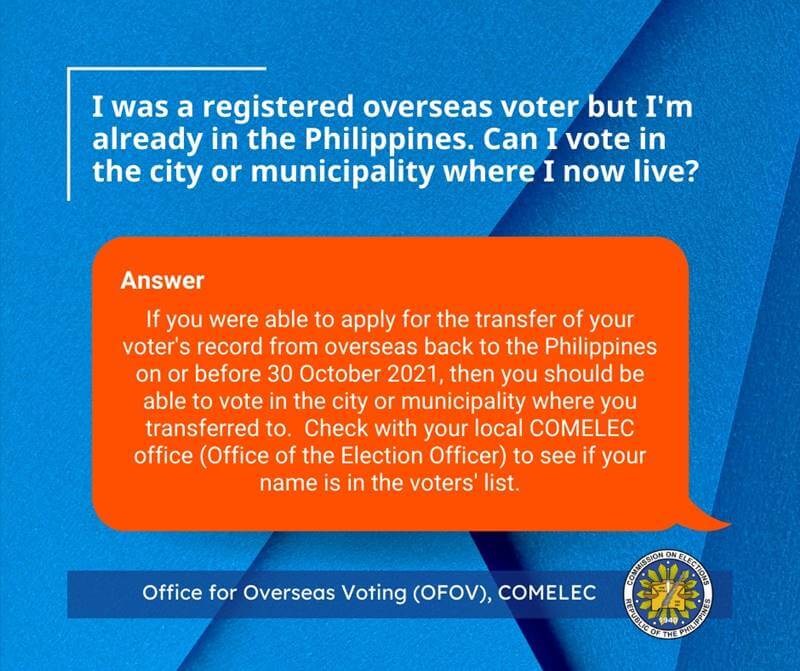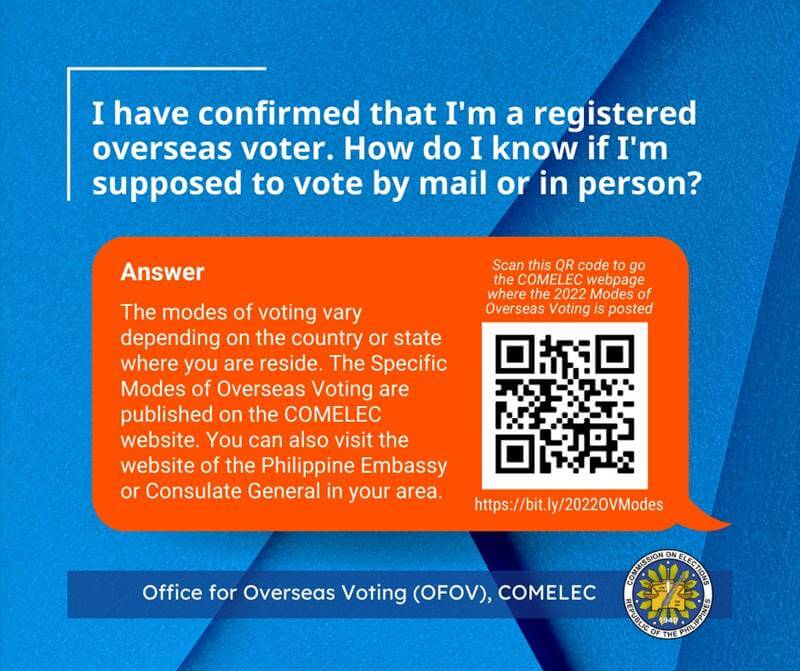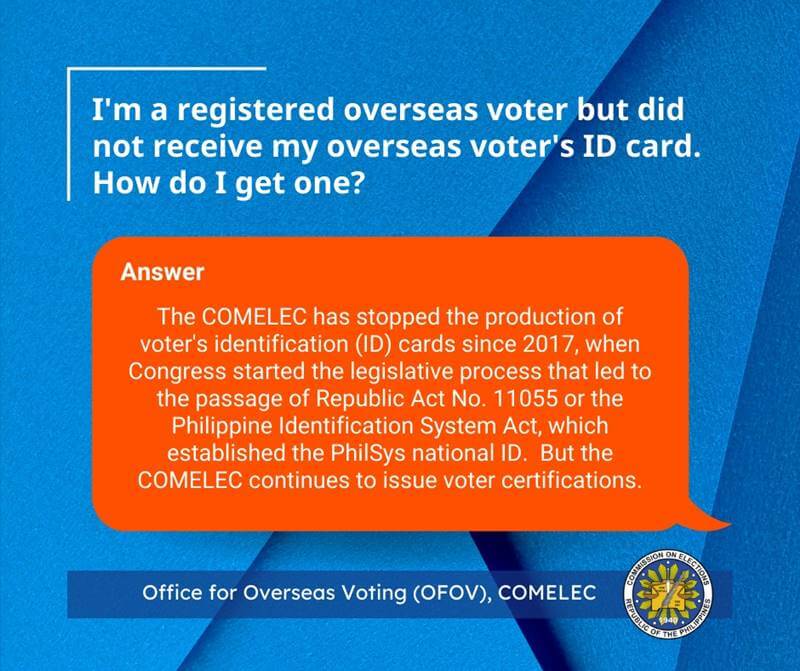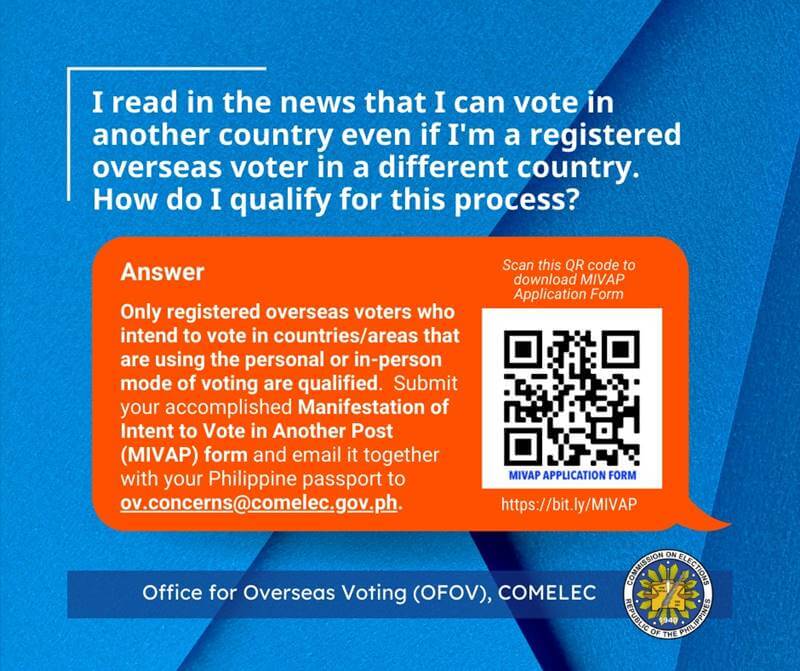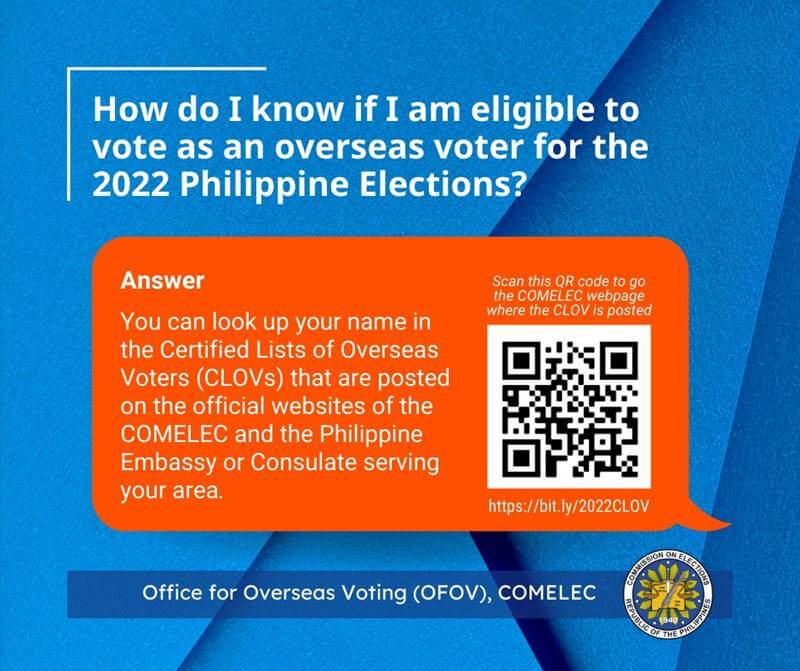 Frequently Asked Questions
There may be other instances that would pose an issue on your eligibility to participate in the national elections as an overseas voter. Though these would be rare, especially if you were able to follow all of the instructions on how to properly register online, it's still worth noting some of the frequently asked questions regarding verification of voters' records. Here are some of them.
1. What are the options for voting for an abroad voter?
An overseas voter has the option of voting in person or by mail.
2. What is the duration of the Overseas Voting?
The voting period is thirty (30) days long, including Philippine holidays as well as holidays of the host nations.
3. Where does Overseas Voting take place?
The voting takes place in embassies, consulates, and other Foreign Service locations that the Commission has approved to conduct the vote. Voting may also be held in field voting centres or mobile voting centres allowed by the Commission for a short period of time.
4. Can a previously granted application still be denied?
Any interested person may file a petition for exclusion no later than one hundred eighty (180) days prior to the onset of the overseas voting period.
5. What should an applicant do if their application is denied?
A motion to accept or reject a resolution must be determined within five (5) days of its submission, but no later than 120 days before the beginning of the overseas voting period.
6. What should a candidate do if his or her request for reconsideration is denied?
Within ten (10) days after the notice of rejection of the motion for reconsideration, the individual may file a petition with the proper court for inclusion.
7. What should you do if a record is no longer active?
If an overseas voter's registration has been deactivated, they may submit a sworn application to the Resident Election Registration Board (RERB) to have the registration reactivated.
8. How does one go about deactivating a registration record?
The Resident Election Registration Board (RERB) shall remove the registrations of the following individuals from the books of voters and place them in the appropriate inactive file:
Any person who has been sentenced to imprisonment for not less than one (1) year by a Philippine court or tribunal, and whose disability has not been removed by plenary pardon or amnesty: Provided, however, that any person disqualified to vote under this paragraph shall automatically regain the right to vote five (5) years after serving their sentence, as certified by the Clerks of Courts of the Municipal, Municipal Circuit, and Municipal District Courts.
Any individual who has been deemed mad or incompetent by a competent authority, unless the disqualification has been lifted by a suitable authority's statement that the person is no longer insane or incompetent;
Any individual who has not voted in two (2) national elections in a row, as evidenced by voting records; and
Anyone whose registration has been revoked by a court order.
9. Is it possible to transfer a registration record to another position?
In the event of a change of venue, a person residing in the country where the voting venue is located must file a transfer of registration record application with the OFOV.
Those who will eventually vote in the country should register in time to vote in their chosen municipality or district.
All persons who have been transferred to the Philippines prior to the next national election shall, at least once a hundred eighty (180 days) prior to the election, send a letter to the OFOV stating their intention to transfer back to the Philippines.
10. What to do if there is an error in one of the voter's personal details?
An overseas voter can apply to the RERB directly or through an authorised agent for a change of name or correction of records under oath.
Video: Internet Voting for Overseas Filipinos – Still in the Works
In relation to overseas voting, COMELEC has announced that it is now working on the possibility of internet voting for OFWs in the near future. Unfortunately, this won't be rolled out just yet for the 2022 national elections, as the agency is looking at 2025 for its earliest possible launch.
Check out this video below
If this does push through, however, it's going to be so much convenient for all Filipinos, especially those based overseas, since the process will be much easier and accessible – and even for those based in the Philippines, especially now that the pandemic has radically changed the landscape of everything we've known and been used to. That said, there is no doubt that this development will be much more beneficial than the manual system, we've been using for several decades now.
In the meantime, COMELEC has allocated a 3-day test run for the internet voting for overseas Filipinos (OFs) earlier this year. This is to determine whether the process can, indeed, be more convenient/accessible, secure, and budget-friendly for the agency and all of the stakeholders. When this has been approved and pushed through to Senate, there will be further deliberations before it will be adopted locally and internationally for the benefit of overseas voters.
Final Thoughts
Now that the national elections in 2022 are almost upon us, it's important for all Filipinos to determine whether or not their registration has been successfully entered into this system. And one way overseas Filipino workers and overseas Filipinos can do this is by checking the list of certified overseas voters, which will be posted by their respective embassies and consulates in their host countries. Through the help of this guide, we hope that you can be able to easily find your record once it has been posted by the Philippine mission in your country. In this way, you can benefit from the services offered by COMELEC, in your respective country and exercise your right to vote as a Filipino citizen, even if you are based abroad.
READ NEXT: COMELEC Warns Citizens Against 'Fake' Voters List
Contact Information
Office for Overseas Voting (OFOV)
Address: Palacio del Gobernador, 5th Floor, General Luna St, Intramuros, Manila, 1002 Metro Manila
Telephone Number: (02) 8521 2952
Website: https://www.facebook.com/overseasvotingph/
Email Address: overseasvoting@comelec.gov.ph
Office Hours: Daily; 8:00 am to 5:00 pm (Closed on weekends and public holidays)
Google Map Location
Please check out this map guide of the Commission on Elections office in Intramuros, Manila: