Filipinos have been greatly looking forward to 2022 because of several things, one of which is the national elections which will determine who will be the leader taking the highest post in the country. There are several renowned names, and a couple of unfamiliar ones joining the race which will culminate this May. Please check out the registered overseas voters list abroad in Canada in the links posted in this article.
Also Read: How Filipinos Can Vote in Canada for Philippine Elections 2022
Regardless of who's popular or not, every Filipino, including those based overseas will need to exercise their right to vote in determining who our next president will be. However, overseas voters will have to take a slightly different route when it comes to casting their votes for the said elections. Because of this, it is crucial that you know what to expect, what to do, ad how to prepare for the national event, even as you are based in Canada.
After registering, the next step you should take is to verify your registration details with the foreign mission post in your host country. You can do this by reviewing the official voters' list issued by the COMELEC thru either the Philippine Embassy or the nearest consulate in your area.
You will be able to participate in the voting process if you confirm your name on the list, which will be issued by the Philippine foreign missions in your host country.
Prior to the election, it is essential that you fully prepare for the procedure of overseas voting. This may be performed by visiting several websites that contain information about the candidates. It may also help if you take some time off from work to vote. If you are already registered to vote in Canada, this guide will assist you in getting started. Make sure to read this article all the way through to the end to learn more.
Philippine Elections 2022: List of Registered Filipino OFW Voters in Canada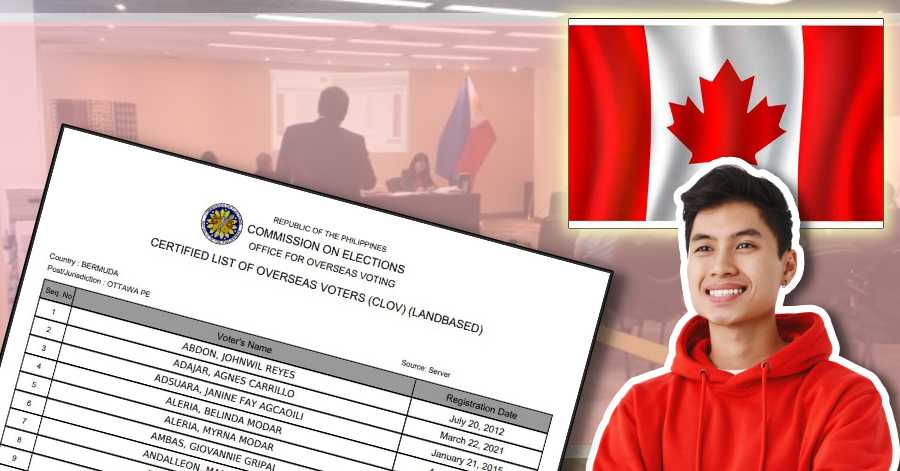 As the campaign for the next presidential election heats up, Filipinos throughout the world may expect the voting schedule to be announced in the coming weeks.
Before the election, make sure you're ready to vote in person or by mail. This will enable you to provide a valuable service to your countrymen and the nation.
Despite the fact that they are not in the Philippines, Filipinos in Canada have a considerable impact on the election of the country's next president. Because Filipinos in Canada make up one of the world's largest groups of overseas Filipinos, their votes will undoubtedly affect the election results. There are various ways to ascertain if you are eligible to vote.
As such, the Philippine foreign posts in this country are prepared to extend any help of assistance to registered voters who will participate in the national elections. With the help of this guide and due information issued by the Philippine missions, you should be able to prepare well for the overseas voting process, but the first step is to check whether you are included in the certified list of overseas voters (CLOV).
You can check the information on the Philippine Embassy/Consulate website or in person. You may also check the list of overseas Filipinos who are eligible to vote in Canada by clicking on the following links, which represent your area of jurisdiction in the country:
Certified List of Overseas Voters in Calgary
Certified List of Overseas Voters in Ottawa
Certified List of Overseas Voters in Toronto
Certified List of Overseas Voters in Vancouver
Filipinos living in Canada will be included on the list. There are various foreign posts issuing the list, so be sure to consult the one with jurisdiction in your area/region. If you want clarity or assistance, double-check the list or speak with consular officials as needed. The lists are simple to use. They have a large list of alphabetically arranged names. Furthermore, COMELEC officers may add information or remarks to the list. There are two options for navigating this: scrolling through everything or utilizing a simple shortcut.
Tip: To prevent having to go through a long list of names, use CTRL + F. On the page, a search box will open, into which you may input your last name to check if you are included. Because the document may not show the information you want, double-check that your name is spelled correctly and that there are no extra spaces or characters.
You can vote in the coming presidential elections in 2022 through overseas voting, which will take place between April 27 and May 9. if your name is on the country's official voters list, This will give overseas Filipinos enough time to prepare for voting or to contact a local Foreign Service Post for further help. Make sure to inform your employers before the polls open so that they can accommodate your chance to vote.
Question: What if I'm not on the list, can I still vote?
Answer: Those who have not registered to vote will be unable to vote in the elections. This means they'll have to wait till the current season is over before they can join the next. Here's a brief guide on registering to vote while residing in another country. Do it as quickly as feasible, or at the very least when the election season is through.
If you have any questions or require assistance with the overseas voting procedure, please contact the Philippine Embassy or Consulate-General in Canada, whose officials would happily assist you. You can contact them using the information supplied at the end of this tutorial.
How to Find your name in the list of overseas voters?
Answer: Simply click on the PDF file supplied on the websites of Philippine embassies or consulates to find your name. Although you may or may not be able to download the PDF list, you must evaluate its contents before deciding whether or not to vote.
What does it mean if my name is included in the list of Overseas Voters?
This implies you've completed all the registration requirements. You can now vote from abroad if you have lawfully registered for the elections! Congratulations! Fully utilize your voting privileges possible because YOUR VOTE COUNTS!
What if my name is not on the list of registered voters?
Unfortunately, you will not be able to vote in the Philippines' 2022 elections. You'll have to wait till the elections are over before you can vote in the next one. That being said, make certain that you register correctly and on time for the next one so that you may exercise your right to vote, even if you reside overseas!
I registered as an overseas absentee voter in 2013 and I was able to vote in the 2013 and 2016 National Elections but was unable to vote in the 2019 National Elections. Do I still need to apply for certification to vote abroad?
No, your name will stay on the National Register of Overseas Voters and your country's verified voter list. If you do not vote in the elections in your home country in 2022, your name will be deleted from the voter list at your embassy or consulate.
I registered as an overseas voter in 2019 but I know I will be in the Philippines come May 2022. Can I vote in the 2022 elections in the Philippines?
Yes, however you must also submit a Letter of Request for Registration Transfer to Manila from the embassy or consulate of your host nation, as well as to the COMELEC-OFOV.
When will the list of certified absentee voters in Canada be released?
The Commission on Elections (COMELEC) will produce a list of overseas voters for the May elections and distribute it to various foreign offices across the world within 120 days before the voting dates.
Please refer to the official statement here: "Preparation and Posting of Certified List of Overseas Absentee Voters. – The Commission shall prepare the Certified List of Overseas Absentee Voters within one hundred twenty (120) days before every election, and furnish within the same period copies thereof to the appropriate embassies, consulates, and other foreign service establishments, which shall post the same in their bulletin boards within ten (10) days from receipt thereof."
Final Thoughts
Your vote is extremely important to the government as it allows its citizens to participate in making important decisions.
Regardless of who you vote for, it's important that people exercise their rights by casting their votes on Election Day. The Philippines needs more intelligent voters to uphold its sovereignty as a nation. This will pave the way to how the future will look like in the homeland in terms of economy, national security, education, and more importantly health since the pandemic is nowhere close to ending just yet.
A leader who can navigate through this uncharted period in history while upholding other equally important activities will prove to be a beacon of hope to Filipinos both in the homeland and those on foreign soil.
Through one's right to vote, citizens can join various political and social activities that benefit the country. What is it that you care for?  What are the reforms that you would like implemented, consider these things when choosing your candidate. Regardless of who the people vote for, it's important that they use their voting rights in the upcoming elections.
Election Day is a day when voters can pick the ideal leader for the country – there is no right or wrong vote, only valid ones. That said, when you have the opportunity, nothing should stop you from exercising your rights. This is why resources such as this guide has been prepared to aid Filipinos overseas cast their votes for themselves, ther families, as well as the entire nation.
In the case of overseas Filipinos and overseas Filipino workers (OFWs), however, voting for a candidate whose platform is concerned about the rights and welfare of nationals faring overseas must be strongly considered. One has to look at the programs, benefits, and overall plans the candidate has for the modern-day heroes as well as Filipino nationals all over the globe.
So, after looking into the certified list of overseas voters, will you be able to participate in the coming elections? How do you find this process with the help  and organization of the foreign missions from Canada? Do you have any recommendations for other Filipinos who have yet to decide whether or not to vote in this year's national elections?
Are there tips you would like to share with other Filipinos who find this process a bit cofusing?  Please leave a comment in the space below – we'd love to know your thoughts! Please also forward this information to any friends or family members who may find it useful.
READ NEXT: How to Vote in Philippine Elections as an Overseas Voter Abroad
CONTACT INFORMATION
Philippine Embassy in Ottawa, Canada
Address: 30 Murray Street, Ottawa ON K1N 5M4
Tel. Nos. :  +1 613-2331121
Fax No. :  +1 613-2334165
Email : embassyofphilippines@rogers.com
Timings: 9:00 AM to 5:00 PM, Mondays to Fridays, except Philippine and Canadian holidays.
Google Map Location
Philippine Consulate General in Vancouver Canada
Address: 999 Canada Place, Suite 660 Vancouver, BC V6C 3E1
Phone: 604-685-1619
Fax Number: 604-685-9945
Email: vancouverpcg@telus.net
Timings: 9 AM – 5 PM (Monday to Friday except on Philippine and Canadian holidays)
Google Map Location
Philippine Consulate General in Toronto, Canada
Telephone   (416) 922.7181
Facsimile    (416) 922.2638
Email: consularmatters@philcongen-toronto.com
Timings: 10:00 am to 4:00 pm (except for Philippine and Canadian Holiday)
Google Map Location
Philippine Consulate General in Calgary, Canada
Address: Suite 920, 517 10th Ave. SW Calgary, AB T2R 0A8
Tels.: (403)4559343; 4559346; 4559457; 4559483; (587)577-1524
Email: calgarypcg@dfa.gov.ph/
Timings:  9:00am – 10:00am · 10:00am – 3:00pm; (except for Philippine and Canadian Holiday)
Google Map Location