The presidential elections are one of the most anticipated events in the Philippines. For Filipinos in Saudi, COMELEC has posted the list of overseas voters in Riyadh, Jeddah, and Al Khobar. Please follow the guidelines below on how you can check if your name is on the list of certified overseas voters.
The Philippine elections will take place in May 2022, and it will determine who will be the country's leader for the next six years. While they can still vote in their host nation, overseas voters must use a different voting process. Because of the difference in steps in overseas voting for the Philippine national elections, it is critical for overseas voters to adequately prepare.
Check the details of the official voters' list given by the Philippine embassy or consulate in the nation if you are a Filipino living in the Kingdom of Saudi Arabia.
By authenticating your name on the list, you will be allowed to participate in the voting process, which will be handled by the Philippine foreign missions in your host country.
It is critical that you properly prepare for the process of overseas voting prior to the election. This may be accomplished by browsing several websites that provide information about the candidates. It can also assist if you take time off from work to vote. This guide will help you in getting started if you are already registered to vote in Saudi Arabia. To understand more, be sure to read this article all the way to the conclusion.
Philippine Elections 2022: List of Registered Filipino OFW Voters in Saudi – Riyadh, Jeddah, Al Khobar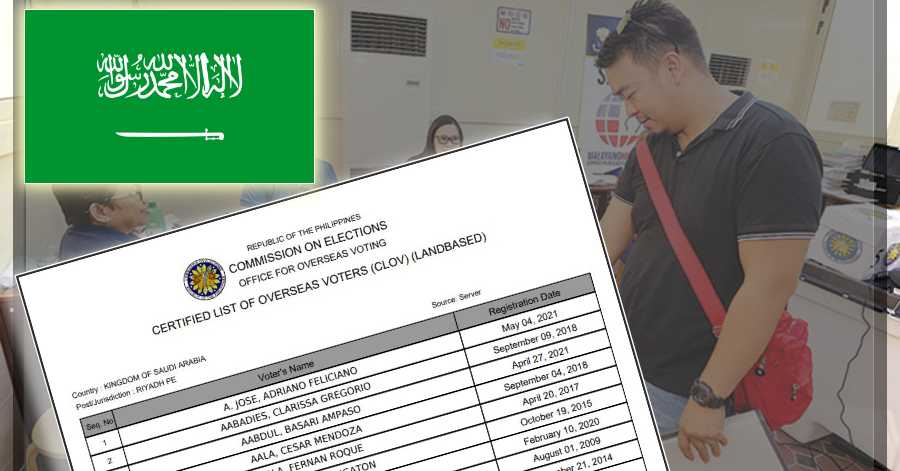 As preparations for the forthcoming presidential election heat up, Filipinos across the world may expect the voting schedule to be released in the coming weeks.
Make sure you're prepared to vote in person or by mail before the election. This will allow you to deliver a valuable service to your countrymen and the country, in general.
Despite not being in the Philippines, Filipinos in Saudi Arabia have a significant influence in determining the country's next president.
Because Filipinos in the kingdom of Saudi constitute one of the world's biggest communities of overseas Filipinos, their votes will very certainly influence the election results.
To ensure that you are entitled to vote, there are several ways to determine if you are qualified to do so.
You can verify the information on the website of the Philippine Embassy/consulate or in person. You may also look for the list of Filipinos who are qualified to vote in Saudi Arabia by referring to the following links:
Certified List of Overseas Voters in Riyadh
Certified List of Overseas Voters in Jeddah
Certified List of Overseas Voters in Al Khobar
The list will include Filipinos living in Saudi Arabia. Because there are only two foreign posts releasing the list, double-check each and consult with consular authorities as needed if you want clarification or help. The lists are easy to use. They have a huge collection of names that are all alphabetically ordered. Additionally, COMELEC officers may add some info or notes to the list. There are two ways to navigate this: scrolling through it all or using a simple shortcut.
Tip: To avoid having to wade through the lengthy list of names, use CTRL + F. A search box will appear on the page, into which you may type your last name to see if you are included. Because the document may not display the information you want, double-check that your name is spelled correctly and without any unnecessary spaces or characters.
If your name is on the country's official voter list, you can vote in the forthcoming presidential elections in 2022, which will take place between April 27 and May 9. This will provide adequate time for overseas Filipinos to prepare to vote, or to visit a local Foreign Service Post for further assistance. Before the polls open, make sure to notify your employers so that they can accommodate your chance to participate in the elections.
Question: What if I'm not on the list, can I still vote?
Answer: Those who have not registered to vote will be denied the right to participate in the elections. This means they'll have to wait until the current season concludes before joining up for the next. Here's a quick guide on registering to vote when living abroad. Do it as soon as possible — or, at the very least, when the election season is through.
If you have any problems or need assistance with the overseas voting procedure, please contact the Philippine Embassy and Consulate-General offices in Saudi Arabia, whose officers will gladly assist you. You can get in touch with them using the information provided at the conclusion of this guide.
How to Find your name in the list of overseas voters?
Answer: To discover your name, simply click on the PDF file provided on the websites of Philippine embassies or consulates. Although you may or may not be able to download the PDF list, it is critical that you review its contents before opting whether or not to vote.
What does it mean if my name is included in the list of Overseas Voters?
This means you've finished all of the registration criteria. If you have legally registered for the elections, you may now vote from abroad! Congratulations! Make the most of your voting rights because YOUR VOTE COUNTS!
What if my name is not on the list of registered voters?
Unfortunately, you will be unable to vote in the Philippines' elections in 2022. You'll have to wait till the elections are finished before you can register for the next one. That said, make sure you register correctly and on time for the next one so you can exercise your right to vote, even if you live abroad!
I registered as an overseas absentee voter in 2013 and I was able to vote in the 2013 and 2016 National Elections but was unable to vote in the 2019 National Elections. Do I still need to apply for certification to vote abroad?
No, your name will remain on the National Register of Overseas Voters and the verified voter list in your country. If you do not vote in your home country's elections in 2022, your name will be removed from the voter list at your embassy or consulate.
I registered as an overseas voter in 2019 but I know I will be in the Philippines come May 2022. Can I vote in the 2022 elections in the Philippines?
Yes, however you must also submit a Letter of Request for Registration Transfer to Manila from your host country's embassy or consulate, as well as to the COMELEC-OFOV.
When will the list of certified absentee voters in Saudi Arabia be released?
Within 120 days of the voting dates, the Commission on Elections (COMELEC) will compile a list of abroad voters for the May elections and transmit it to various foreign offices across the world.
Please refer to the official statement here: "Preparation and Posting of Certified List of Overseas Absentee Voters. – The Commission shall prepare the Certified List of Overseas Absentee Voters within one hundred twenty (120) days before every election, and furnish within the same period copies thereof to the appropriate embassies, consulates, and other foreign service establishments, which shall post the same in their bulletin boards within ten (10) days from receipt thereof."
Final Thoughts
Your vote is very important to the government as it enables its citizens to participate in decisions that affect their lives. Regardless of who you vote for in the upcoming elections, it's important that voters exercise their rights. Election Day is a day that people can cast their votes for the best leader for the country!
Remember, the country needs more intelligent votes in order to maintain its rights. This is why it's so important to vote for the right people. Through the right to vote, Filipinos can join various social and political activities that can improve the country's development.
The government values your vote because it allows citizens to participate in choices that impact their lives. It is critical that people utilize their voting rights in the next elections, regardless of who they vote for. Election Day is a day when citizens may vote for the ideal leader for the country!
Remember that the country requires more informed votes in order to protect its sovereignty. This is why it is critical to vote for the right people. Moreover, Filipinos can participate in a variety of social and political activities that can help the country's growth by using their right to vote.
So, are you certified registered to vote in the coming elections? How did you find it doing so from Saudi Arabia? Do you have any recommendations for other Filipinos who have yet to decide whether or not to vote in this year's national elections? Please leave a comment in the space below – we'd love to hear your thoughts! Please also forward this information to any friends or family members who may find it useful.
READ NEXT: How to Vote in Philippine Elections as an Overseas Voter Abroad
CONTACT INFORMATION
Embassy of Philippines in Riyadh
Address: Ummayah Abu As-Salat Street Diplomatic Quarter, Riyadh
Telephone Number: (011) 482.3559
Website: http://www.philembassy-riyadh.org/
Email:  consular@philembassy-riyadh.org
Google Map Location:
Consulate-General of Philippines in Jeddah
Address: Al-Sayeddah Kaddija Street Al Faisaliyah District 1 Jeddah 21412 Saudi Arabia
Telephone Number: (012) 660.0348
Website: https://jeddahpcg.dfa.gov.ph/
Email:  pc.jeddah@dfa.gov.ph
Google Map Location: