The Philippine Embassy in USA has posted the list of overseas Filipino voters qualified to vote in the upcoming elections. Please check out the list below from the embassies and consulates in Washington DC, California, Texas, Illinois, Agana, Hawaii, and New York.
Also Read: How Filipinos Can Vote in USA for Philippine Elections 2022
One of the most awaited Philippine national events is the presidential elections. And rightly so, as the entire nation including some 11-12 million overseas Filipino workers will get to exercise their rights to vote to decide who shall lead the country in the next six (6) years.
With this in mind, overseas voters need to prepare accordingly because the voting process overseas slightly differ from how it's done back in the homeland. So, for those who have registered to vote abroad, including the US, make sure that you first check the official voters' list of the Philippine Embassy and consulates in the US.
This is crucial because by confirming that your name is in the said list, which has been posted online as we will share the link to in the following sections, you can officially proceed with the next steps in the voting process facilitated by the foreign missions in your host country. It is critical that you prepare for the overseas voting process prior to the election. You may accomplish this by researching various websites for the candidates for those you may vote. It can also assist you in obtaining a leave of absence from work in order to vote during this period.
This post is for Filipinos in the United States who have already registered to vote in the upcoming elections. Make sure you read the rest of this guide to find out more.
Philippine Elections 2022: List of Registered Filipino OFW Voters in United States of America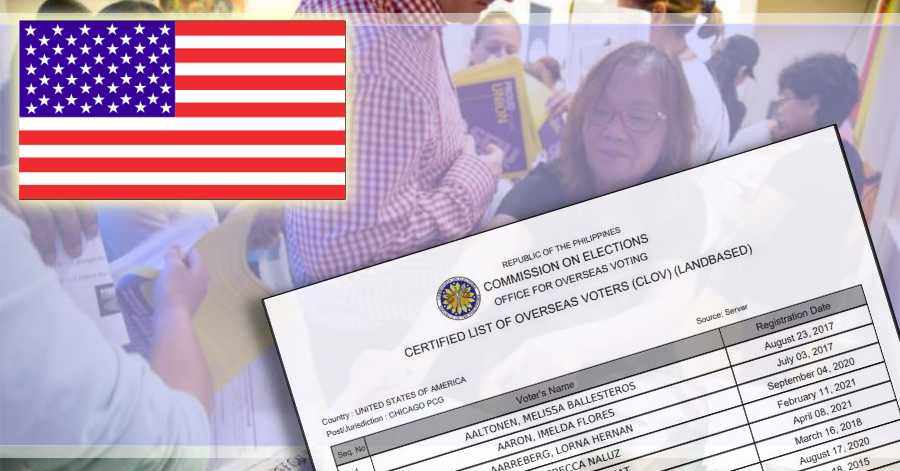 In line with this historic event in the making, Filipinos all over the world are advised to wait for the release of the schedule of voting in the coming weeks. Make sure you're ready to vote by mail or in person. You are not only doing yourself a great favor, but you are also providing a great service to the rest of the Filipino people.
Despite not being in the homeland, overseas Filipinos, especially in the US, have a huge role to play in deciding who will lead the country in the years to come. This is owing to the fact that Filipinos based in the US comprise the largest percentage of overseas Filipinos all over the world. Thus, their votes will most definitely create an impact in the results of the coming elections. This is especially important during these times when health and legislative reforms are most crucial for all Filipino citizens during this pandemic.
There are several methods for determining whether an overseas Filipino worker is qualified to vote in the US. Aside from checking it in person, you may also consult the list released by the Philippine Embassy/consulate on their website, through the links below:
Certified List of Overseas Voters in San Francisco, California
Certified List of Overseas Voters in Los Angeles, California
Certified List of Overseas Voters in Washington DC
Certified List of Overseas Voters in Agana
Certified List of Overseas Voters in Chicago, Illinois
Certified List of Overseas Voters in Honolulu, Hawaii
Certified List of Overseas Voters in Houston, Texas
Certified List of Overseas Voters in New York
Each list will cover certain areas of the US territories, so it's important to know under which jurisdiction you belong. This list is quite easy to use. It has a long list of names that are all alphabetically sorted. Additionally, COMELEC officers may have provided additional data or annotations to the list. This list may be navigated in two ways: by scrolling through the complete list or by using a simple shortcut.
Tip: Use CTRL + F to avoid having to scroll through the long list of names. A search box will appear on the page, into which you may input your last name to see if you are included. Because the document may not display the information you want, ensure that your name is entered accurately and without any extra spaces.
If your name has been included to the Philippines' official voter's list above, you are eligible to vote in the 2022 presidential elections. The overseas voting period begins on April 27 and ends on May 9. This is to provide overseas Filipinos sufficient time to plan and file a leave to vote or register at the nearest Philippine Foreign Service Post. If you have work on the said dates, best inform your employer ahead of time so that they would know that you intend to participate in the national elections as an overseas voter and hope they'll allow you to go off work for  at least a coupe of hours, if not for the whole day.
Question: What if I'm not on the list, can I still vote?
Answer: Those who are not registered to vote will be denied a vote in the forthcoming elections. This means they'll have to wait till the current season is decided before they can register for the next one. Here's a brief guide on registering to vote when living overseas. Do it as early as possible — or, at the very least, as soon as the election season is through.
If you have any problems or need assistance with the overseas voting procedure, please contact the staff at Philippine Embassy and Consulate-General offices in the US, who will gladly assist you. You can get in touch with them using the information provided at the bottom of this guide.
How to Find your name in the list of overseas voters?
Answer: You may simply discover your name by clicking on the PDF file provided on the websites of the Philippine embassies or consulates. Although you may or may not be able to download the PDF list, it is nevertheless critical that you review its contents in order to determine whether or not to proceed with the voting process.
What does it mean if my name is included in the list of Overseas Voters?
This shows that you have fulfilled all of the necessary steps for registration. If you've successfully registered for the elections, you may now vote from abroad! Congratulations! Make sure you exercise your voting rights because EVERY VOTE COUNTS!
What if my name is not on the list of registered voters?
Unfortunately, you will be unable to vote in the Philippines' elections in 2022. You'll have to wait until the elections are over before you can register for the next one. That being said, make sure you register for the next one correctly and on time so that you may exercise your right to vote, even if you live abroad!
I registered as an overseas absentee voter in 2013 and I was able to vote in the 2013 and 2016 National Elections but was unable to vote in 2019 National Elections. Do I still need to apply for certification to vote abroad?
No, your name will still be displayed in the National Registry of Overseas voters and the certified list of voters in your country. If you fail to vote in the 2022 elections abroad, your name will be removed from the list of voters at your embassy or consulate.
I registered as an overseas voter in 2019 but I know I will be in the Philippines come May 2022. Can I vote in the 2022 elections in the Philippines?
Yes, but you must submit a Letter of Request for transfer of registration before your embassy or consulate in Manila or the COMELEC-OFOV.
When will the list of certified absentee voters in the US be released?
Within 120 days of the polling dates, the Commission on Elections (COMELEC) will compile a list of abroad voters for the May elections and distribute it through various foreign offices across the world.
You may refer to the official statement here: "Preparation and Posting of Certified List of Overseas Absentee Voters. – The Commission shall prepare the Certified List of Overseas Absentee Voters within one hundred twenty (120) days before every election, and furnish within the same period copies thereof to the appropriate embassies, consulates, and other foreign service establishments, which shall post the same in their bulletin boards within ten (10) days from receipt thereof."
Final Thoughts
One's vote is essential to ensure that a government will run smoothly. It gives every citizen a chance to participate in the decisions that affect their lives.
Regardless of who you vote for, it's important that you exercise the rights that were given to us by our ancestors. Voting is also about choosing the best leader for the country. Election Day is a day when citizens can exercise their rights and vote for the people they believe will best serve them.
It's important to remember that choosing the right people isn't just about choosing a leader. It's also about upholding the rights that were given to us by our ancestors. This country needs intelligent votes more than ever. Whether you're a first-time voter or a veteran, it's important to remember that voting is our power.
Through the right to vote, we can join various political and social activities, which can help improve our country's development. The first step to ensuring that we fulfil our duty to our country and fellowmen is making sure that we follow all the guidelines set by the government to facilitate smooth and fair elections, wherever you may be in the world.
Regardless of one's political belief and affiliations, every Filipino must exercise their right to vote as a citizen, doing so means that you care about your country, your people, and the future generations. We hope that through the help of this guide, you were able to better understand the process in order to vote overseas, wherever you may be in the world.
So, have you registered for the upcoming elections? What was your experience like in doing so from the US? Are there any tips you would like to share to fellow Filipinos who may not be decided just yet to participate in the national elections this year? Leave a comment in the section below – we'd love to hear your thoughts! Also, make sure to share this guide with your friends or family who may benefit from this information.  
READ NEXT: How to Vote in Philippine Elections as an Overseas Voter Abroad
CONTACT INFORMATION
Embassy of the Philippines, Washington DC
1600 Massachusetts Ave NW, Washington DC
Tel: 202.467.9300 | Fax: 202.467.9417
Website:  www.philippineembassy-usa.org
Jurisdiction:
Alabama,
District of Columbia,
Florida,
Georgia,
Kentucky,
Maryland,
North Carolina,
South Carolina,
Tennessee,
Virginia,
West Virginia,
Aguila,
Antigua & Barbuda,
Bahamas,
British Virgin Islands,
Dominica,
Grand Cayman Islands,
Grenada, Guadeloupe,
Martinique,
Netherlands Antilles,
Puerto Rico,
Saint Lucia,
Saint Vincent & Grenadines,
Saint Kitts & Nevis
Google Map Location
Philippine Consulate General in Agana, GM
Address: Suite 601 & 602 ITC Building Marine Drive, Tamuning Guam
Tel: 671.646.4620 (or 30) | Fax: 671.649.1868
Website:  www.philippinesguam.org
Jurisdiction: Guam, Caroline Islands, Marshall Islands, Commonwealth of the Northern Mariana Islands, Wake Islands
Google Map Location
Philippine Consulate-General in Chicago, IL
Address: 122 S. Michigan Ave Suite 1600, Chicago IL 60603
Tel: 312.583.0621 | Fax: 312.583.0647
Website:  www.chicagopcg.com
Jurisdiction: Illinois, Indiana, Iowa, Kansas, Louisiana, Michigan, Minnesota, Missouri, Nebraska, North Dakota, Ohio, Oklahoma, South Dakota, Wisconsin
Google Map Location
Philippine Consulate-General in Honolulu, HI
Address: 2433 Pali Highway, Honolulu HI 96817
Tel: 808.595.6316 (or 19) | Fax: 808.595.2581
Website: www.philippineshonolulu.org
Jurisdiction: Honolulu, American Samoa, French Polynesia
Google Map Location
Philippine Consulate-General in Houston, TX
Address: 9990 Richmond Avenue, Suite 100N, Houston, Texas 77042
Tel: 832.668.5139 / 346.293.8773 |  Email:  houston.pcg@dfa.gov.ph
Website: www.houstonpcg.dfa.gov.ph
Jurisdiction: Texas, Arkansas, Mississippi, New Mexico, Oklahoma
Google Map Location
Philippine Consulate-General in New York, NY
Address: 556 5th Avenue, New York NY 10036
Tel: 212.764.1330 | Fax: 212.764.6010
Website:   www.newyorkpcg.org
Jurisdiction: Connecticut, Delaware, Maine, Massachusetts, New Hampshire, New Jersey, New York, Rhode Island, Vermont
Google Map Location
Philippine Consulate-General in San Francisco, CA
Address: 447 Sutter St, 6th Floor, San Francisco CA 94108
Tel: 415.433.6666 | Fax: 415.421.2641
Website:  www.philippinessanfrancisco.org
Jurisdiction: Alaska, Colorado, Idaho, Montana, Northern California, Northern Nevada, Utah, Washington State, Wyoming
Google Map Location