Despite the fact that the Filipino population in Macau is not as huge as in other nations, it is one of the most engaged foreign voter communities in the world. As a result, our kababayans in this country may start planning for the national elections in 2022 by assessing their voting eligibility. To begin, go to the website of the Philippine Foreign Mission and look for your name on the list of certified overseas voters.
Also read: Official List of Certified Filipino Voters in China for 2022 National Elections
The voter list for the 2022 elections has been made public by the Philippine Embassy in Macau. In the National and Local Elections, the most recent list of certified overseas voters (CLOV) will be utilized. This document can be used to locate overseas Filipino voters in the region.
Philippine Elections 2022: List of Registered Filipino OFW Voters in Macau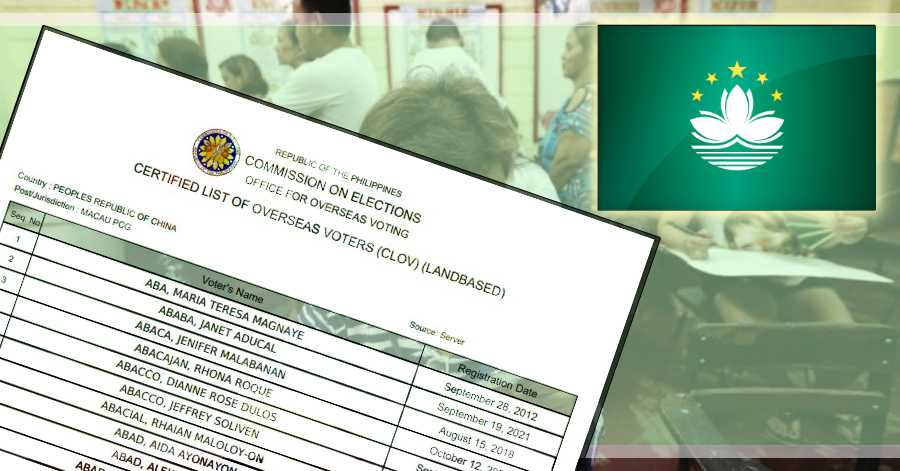 The Philippines will hold presidential elections in the near future (but sooner for overseas absentee voters). And right now, everyone is watching a variety of channels and platforms to assess each candidate's objectives and points of view before determining whether or not to vote for them.
Filipinos living abroad, such as in Macau, should be informed of the overseas voting system in order to have a nice and trouble-free election experience this year. This article will help you prepare for the election by giving you an idea of what to expect once the overseas voting process gets underway.
Philippine diplomatic posts may be able to help overseas Filipinos who have registered to vote in the elections. Citizens will be guided through the voting processes in the upcoming elections by officials from the Philippine embassies. Before voting in the Philippine national elections from Macau, make sure your name is on the country's list of certified overseas voters (CLOV).
Certified List of Overseas Voters in Macau
The Philippine embassy can provide you with the most up-to-date information and assistance on national elections and overseas voting in your host country by visiting their website or calling their office. You can find out who from Macau has registered to vote in the 2022 Philippine national elections by clicking on the link below.
Please contact the country's diplomatic office if you are a Filipino resident in Macau and require assistance with the overseas voting procedure or authenticating your information on the CLOV. Despite its enormity, the list is organized alphabetically to make it easier to navigate. COMELEC officials may also provide more information or write comments. To verify your voter's details from the list, use the simple shortcut offered in the following section.
Tip: To prevent having to navigate through a long list of names, use CTRL + F. On the internet, there will be a search box where you may input your last name to see if your information is available. Because the document is case-sensitive, double-check that your name is spelled correctly and that the field contains no additional spaces or characters.
If your name appears on the country's list of certified foreign voters, you will be entitled to vote in the Philippine presidential elections in 2022. From April 27 to May 9, overseas voters will be able to vote.
Question: What if I'm not on the list, can I still vote?
Answer: Anyone who has not registered to vote will not be permitted to vote in this election. Those who are unable to vote this year must register to vote in future elections once the current election cycle has ended. You may vote in Macau or from anywhere else on the planet by following this guide.
How to Find your name in the list of overseas voters?
On the website of the Philippine diplomatic mission in Macau, the list of registered voters is available in PDF format. This list contains everything you'll need to participate in the overseas voting process.
What does it mean if my name is included in the list of Overseas Voters?
This means you've registered to vote and will be eligible to cast your ballot in the forthcoming election.
What if my name is not on the list of registered voters?
Unfortunately, you will be unable to vote in the Philippines' national elections in 2022. If you want to vote in future elections, you must register to vote before the next election cycle.
I registered as an overseas absentee voter in 2013 and I was able to vote in the 2013 and 2016 National Elections but was unable to vote in 2019 National Elections. Do I still need to apply for certification to vote abroad?
Your name would appear on both the national voter list and the National Register of Overseas Voters. Your name will be deleted from the list if you do not vote in your host nation in 2022.
I registered as an overseas voter in 2019 but I know I will be in the Philippines come May 2022. Can I vote in the 2022 elections in the Philippines?
Yes, but you must also submit a Letter of Request for Registration Transfer from your host country's embassy or consulate in Manila to the COMELEC-OFOV.
When will the list of certified absentee voters in Macau be released?
Within 120 days of the official election campaign period, the Commission on Elections (COMELEC) will transmit a list of verified foreign voters to various diplomatic missions across the world.
In an official release, the COMELEC declared: "Preparation and Posting of Certified List of Overseas Absentee Voters. – The Commission shall prepare the Certified List of Overseas Absentee Voters within one hundred twenty (120) days before every election, and furnish within the same period copies thereof to the appropriate embassies, consulates, and other foreign service establishments, which shall post the same in their bulletin boards within ten (10) days from receipt thereof."
Reminders When Voting During PH Elections
Citizens' votes are important to the government because they enable Filipinos from all over the world to engage in political and social matters in their motherland. The ideal candidate will be able to manage the country's current situation while also conveying a positive image of Filipinos to the outside world.
Remember To Vote Wisely
Voters should consider the candidates' ideals and personality traits when selecting a political leader. When it comes time to elect a new president, these will help us make an educated decision. Only those with exceptional desires and goals should be considered for leadership positions. Examine the candidate's policies to determine if they make any attempt to improve the lives of Filipinos in other nations.
The Importance of Overseas Voting
The next national elections have a lot riding on them. Furthermore, the importance of votes cast by Filipinos residing overseas cannot be overstated. Over a million Filipinos have emigrated to other nations to live or work. Their revenues help the Philippines thrive economically.
Despite the small Filipino presence in Macau, Filipinos in the capital and other areas of the region are bonded by their ties to the country, their families, and their shared experiences of spending decades or more abroad.
Almost half of the Filipino and Vietnamese workers in Macau are domestic employees. The hotel and restaurant industry employs over 50,000 workers in the country.
Because the majority of these individuals are breadwinners, they have a voice in how their families run their homes. As a result, every vote cast by a Filipino residing in another country counts; make sure yours does as well.
FINAL THOUGHTS
As Election Day approaches, we have a short amount of time to prepare for the new leaders who will steer our country in a new direction.
Many people are astonished by the number of people who have shown they have the ability to lead the country, as well as the presence of dubious candidates claiming to be "the one" – but isn't this true of every election?
As a result, your vote will be crucial in electing a president with the necessary abilities and experience to guide the country through these trying times.
It would be fantastic to have a leader that could both deal with the country's current problems and show a positive image to the rest of the globe.
Leaders who are devoted to democracy and freedom will be needed if the country is to achieve its objectives. It is critical that we all work together to strengthen the country when we choose the leaders for future elections. Let us use our collective strength, as demonstrated by our votes, to improve our home country, the Philippines, regardless of where we are in the world.
Will you be able to vote in the next elections now that the official list of overseas voters has been made public? Under the supervision and guidance of the Philippine diplomatic mission in Macau, how was the verification procedure carried out? Do you have any recommendations for Filipinos who are planning to vote in this year's national elections? Is there anything else you'd like to say to other Filipinos who could be in your shoes? In the comments area below, we'd love to hear your thoughts. Also, please forward this information to any interested friends or family members.
READ NEXT: How to Vote in Philippine Elections as an Overseas Voter Abroad
CONTACT INFORMATION
Consulate-General of Philippines in Macau
ADDRESS: Units 1404-1406, 14th Floor, AIA Tower, 251A-301 Avenida Comercial de Macau, Macau
PHONE LOCAL: 2875.7111
INTERNATIONAL: +853.2875.7111
FAX        LOCAL: 2875.7223
INTERNATIONAL: +853.2875.7223
EMAIL   pc.macau@dfa.gov.ph
WEB SITE             http://www.philcongenmacau.org/
Google Map Location