As we are now in the 120 days before the Philippine national elections, Filipino residents as well as those based overseas, such as in Taiwan, who are not certain whether they are registered to participate in the 2022 National Elections, can verify their details from the official voters' list released by the Manila Economic and Cultural Office (MECO).
Also Read: How Filipinos Can Vote in Taiwan for Philippine Elections 2022
Since there is no designated embassy or consulate general in Taiwan, all foreign-related activities need to be addressed through MECO, including the process of overseas voting. If this is your first time participating in overseas voting for the national elections – don't worry!
By checking your registration details via COMELEC's official voters' list, you're on your first step to ensuring a smooth and hassle-free overseas voting experience.
This list is for Filipinos who have already registered via COMELEC in Taiwan. Just go to the Manila Economic and Cultural Office (MECO) website and download the PDF version. Though it may be a first to you, this process is actually very simple. All you have to do is to access the links provided in this guide, go through a long list of names, and verify your registration on the list.
Once you've accomplished this, the next thing you'll need to prepare for is the actual overseas voting process. You can prepare for this by doing your research on the candidates you will vote for, as well as filing a leave from work – perhaps a couple of hours to a day, if you're employer would be considerate about it.
That being said, this post is for Filipinos who are based in Taiwan and have registered to vote in the upcoming national elections through COMELEC's overseas voting facility. You can also check out the PDF version by going to the Manila Economic and Cultural Office (MECO) website. To learn more, make sure to read the rest of this guide.
Philippine Elections 2022: List of Registered Filipino OFW Voters in Taiwan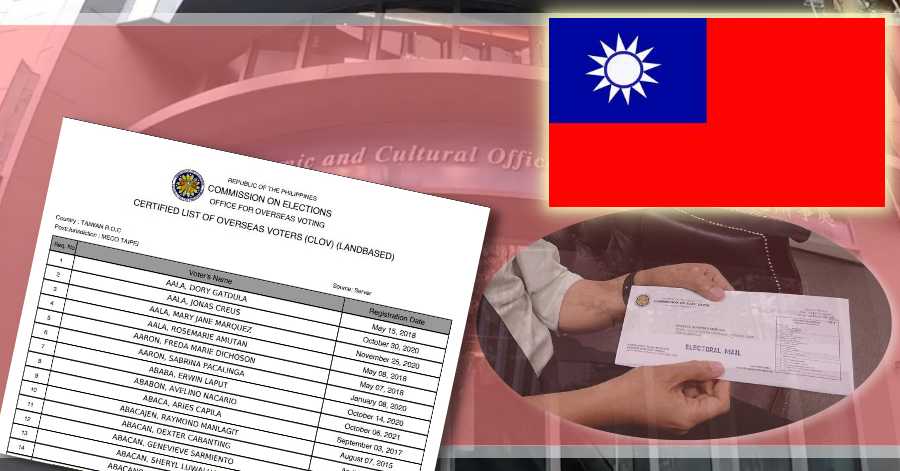 Expect the voting schedule to be released very soon as election day approaches, so make sure to prepare for voting, either by mail or in-person, as soon as this becomes available – you are doing yourself and the Filipino people a  big favor!
There are numerous ways to determine if you are eligible to vote in Taiwan as an overseas Filipino worker (OFW). Aside from checking it in person at the Manila Economic and Cultural Office (MECO), where the staff would be happy to help you, you may also refer to the lists they released as a guide for OFWs in Taiwan below.
Certified List of Overseas Voters in Taipei
Certified List of Overseas Voters in Kaohsiung
Certified List of Overseas Voters in Taichung
The list is very simple to navigate. You'll find a long list of names, ordered alphabetically, beginning with the registrant's surname, first and middle names, and date of registration. You may also notice some remarks from the COMELEC officers on the list indicating any concerns, directions, or extra data included on the list. You have two options: scroll through the entire list (which we do not encourage) or use this quick shortcut to see if your name is on the list.
Tip: To skip scrolling through the long list of names, hit CTRL + F. A search box will open on the page, where you may key in your last name to see whether you are included. Make certain that you input your name accurately and without any extra spaces, since the document may not display the information you need.
You are now confirmed and registered to vote in the Philippine national elections if you see your name on the list – that's all that you need! Please keep in mind that overseas voting begins on April 27 and ends on May 9, spanning barely two weeks. This is so to provide overseas Filipinos as much time as possible to plan, file a leave, and to vote, either at the Philippine service post or by mail. So, take a quick leave (maybe a few hours off) from work to accomplish this task, alerting your employer, of course, ahead of time for this crucial national event.
Question: What if I'm not on the list, can I still vote?
Answer: Those who are not on the voter registration list will be denied the right to vote in the coming elections. This implies they will have to wait for the current election to conclude before registering for the next one. Here is a short guide on how you can register to vote overseas. As a suggestion, do this as soon as possible – after election season, of course.
If you have any questions or require assistance regarding the overseas voting procedure, feel free to contact the Manila Economic and Cultural Office (MECO), so they can assist you accordingly. Click this link for more info: https://www.meco.org.tw/.
How to Find your name in the list of overseas voters?
Answer: By clicking on the PDF file issued by the Manila Economic and Cultural Office (MECO), you may simply look up your name. It's arranged alphabetically by the voters' surnames.
You may or may not download the PDF list, but be sure to properly review it to determine whether or not you need to take time off from work to participate in the overseas voting session.
What does it mean if my name is included in the list of Overseas Voters?
Answer: This indicates that you have completed all of the essential requirements to get registered. After successfully registering for the elections, you may now vote from abroad! Congratulations! Make sure you vote — your vote matters A LOT!
What if my name is not on the list of registered voters?
Unfortunately, you will be unable to vote in the Philippines' elections in 2022. This implies that you will be unable to vote in the elections for the rest of the year. Make sure to register correctly and on time for the next one so that you may exercise your right to vote, even if you are based abroad!
When will the list of certified absentee voters in Taiwan be released?
Within 120 days of the voting dates, the Commission on Elections (COMELEC) will compile a list of abroad voters for the May elections.
You may read the official statement here: "Preparation and Posting of Certified List of Overseas Absentee Voters. – The Commission shall prepare the Certified List of Overseas Absentee Voters within one hundred twenty (120) days before every election, and furnish within the same period copies thereof to the appropriate embassies, consulates, and other foreign service establishments, which shall post the same in their bulletin boards within ten (10) days from receipt thereof."
Summary
The upcoming national elections are not only important because of the political activities taking place during this time, but it's also a platform for OFWs to exercise their rights and duty as Filipino citizens, even if they are based overseas.
The good news is that the Philippine government is doing its best to keep everything organized, simple, and easy for all Filipinos, even outside the country to participate in the coming elections. With the support of the Philippine missions, foreign service posts, and other relevant offices, the process has become simple and easy to follow for all interested parties.
If you would like to know about the candidates or to simply get some insight into people who would potentially be responsible for leading the country in the years to come, then you may refer to this post.
As Filipinos, it is both our duty and right to vote for our leaders, not only to lobby certain rights and laws that favor the group we are a part of, in this case – OFWs, but also to find a leader who can help us walk to a future that's full of hope, brighter, and better for everyone, our kids included.
Is this your first time voting overseas? How was your experience registering, and coordinating with our Philippine mission regarding this matter? Have you verified your name on the official list through the help of this guide yet? If not, what's keeping you from doing so? Are there any questions or challenges you'd like to raise, too? We'd love to hear from you! Feel free to share your thoughts by leaving a comment in the section below.
READ NEXT: How to Vote in Philippine Elections as an Overseas Voter Abroad
Contact Information
MECO TAIPEI OFFICE
Address: 2F Chang Hong New Era Building, 55 & 57 Zhouzi Street, Neihu District, Taipei, Taiwan
114台北市內湖區洲子街55/57號2樓
Telephone Number: (886) 2-2658-8825
Fax Number: (886) 2-2658-8867
Google Map Location
MECO KAOHSIUNG EXTENSION OFFICE
Address: 9F-2, Grand 50 Tower, No. 80, Min Tzu 1st Road, Kaohsiung, Taiwan
807高雄市三民區民族一路80號9F 長谷世貿聯合國大樓
Telephone Number: (886) 7-3985935 to 36
Fax Number: (886) 7-3985929
Google Map Location
MECO TAICHUNG EXTENSION OFFICE
Address: 403, Taiwan, Taichung City, West District, Section 2, Taiwan Blvd, 220號20樓
Contact Number: Taichung office: +886 4 2322 8836
Google Map Location