The overseas voting for the Philippine National Elections in 2022 is going to take place between April 10 and May 9, 2022. That being said, Filipinos residing in Taiwan can vote promptly and safely in the next elections by confirming their identities against the list of certified overseas voters at their respective Manila Economic and Culture Office (MECO).
With this in mind, it is vital that registered overseas Filipinos understand the processes and conditions for voting in their respective countries' future elections.
Keep in mind, however, that this may differ from region to region, so make sure you follow the prescribed standards. Before participating in the overseas voting procedure, overseas voters in Taiwan are asked to double-check their information on the website of their respective MECO.
To start, you may utilize this guide to discover the step-by-step procedure for a smooth and trouble-free overseas voting experience from Taiwan.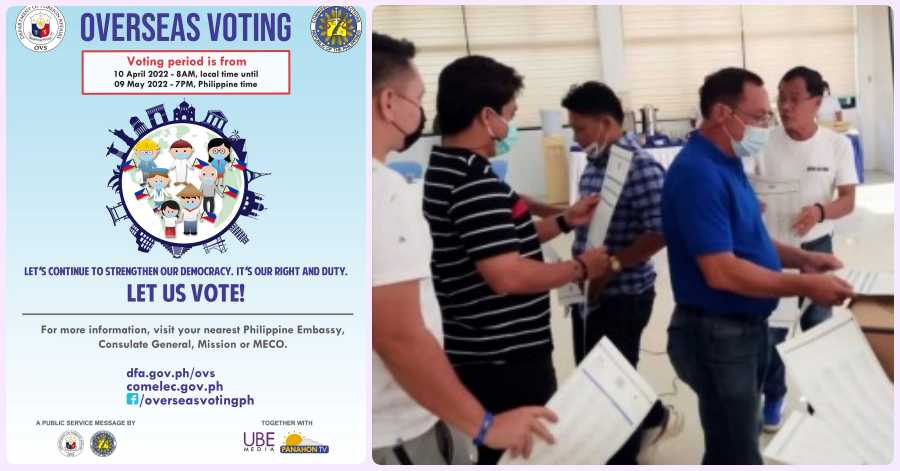 Voting Guidelines in Taiwan for the 2022 Philippine Elections
Filipinos who are registered voters in Taiwan may now vote easily and securely. After validating their name on the country's list of certified overseas voters (CLOV), the next step is to proceed with the overseas voting proper at the Philippine foreign post between April 10 and May 9 (1 month).
Of course, no one enjoys spending a lengthy time in line or having their plans disturbed on any given day. It is, however, a good opportunity for overseas Filipino workers and Taiwan residents to plan their schedules for the overseas voting session. Here's how to get started.
Step by Step Procedure of Voting as a Filipino in Taiwan
Step 1 – Check if your name is on the list of registered voters in Taiwan here.
Step 2 – Vote wisely.
At this stage, you should know who to vote for, including the candidates' work histories and political backgrounds, as well as their ideas on employment, health, foreign workers and immigration, to mention a few.
Step 3 – Cast your ballot in the vote-counting machine or VCM (formerly known as the PCOS machine).
This will allow for a more efficient review and counting of votes. Also, ensure that you have shaded all relevant sections of the ballot so that you do not overlook any names for whom you wish to vote.
Step 4 – Get the indelible ink marked on your index finger.
This will act as documentation that you voted earlier when you depart the Philippine Foreign Post. That's it! You may now leave the poll to go home, to work, to spend the day with your friends, or to unwind by yourself.
Overseas Filipino Voting Schedule in Taiwan
The voting period for the overseas elections is from 8 a.m. local time to 7 p.m. Philippine time from April 10, 2022, to May 9, 2022.
During this whole period, walk-ins are welcome at the Consulate-General. You must, however, authenticate your details on-site to guarantee that you are qualified to vote in the ongoing overseas absentee voting.
Video: HALINA'T BUMOTO!
The Department of Foreign Affairs (DFA) has released a video regarding the upcoming international elections. More information on the procedure for voting from abroad may be found here.
To fulfill their right and commitment to the country as Filipino citizens, every OFW and Filipino immigrant in Taiwan must vote overseas.
All Filipinos, no matter where they are in the world, must educate themselves on what to do and anticipate on election day.
Overseas Filipinos have an entire month to vote. This should give voters plenty of time to plan and research who they should vote for as the country's next leader. Once they've made their choice, personnel from the Philippine foreign posts in Taiwan will assist them in voting seamlessly and efficiently.
Frequently Asked Questions
What do I need to be able to vote in the 2022 National Elections?
During election season, Filipino citizens must bring their original passports or mariners' books to the polls. In order to vote, Taiwan residents with dual citizenship must also present their ID card or certificate of authorization.
How do I know if I am a registered voter in Taiwan?
The list of Taiwan voters, as well as the list of Filipino seafarers, may be accessed on the website of the Commission on Elections (COMELEC) or at MECO in Taiwan. Only registered Filipino voters will be able to vote in the 2022 elections.
How does COMELEC decide on which voter records to deactivate?
The records of voters who did not vote in at least two elections were deactivated by the Commission on Elections (COMELEC).
When can applicants collect their Voter's ID?
The Commission on Elections has paused the distribution and fabrication of voter identity cards across the country due to the implementation of Republic Act 11055, or the National ID System.
The Philippine Statistics Authority is working hard to implement the National ID system in the country. It is slated for implementation in all foreign service occupations by 2022.
Where can I find important information and updates on overseas voting?
Filipinos in Taiwan are encouraged to follow MECO's social media platforms to stay up to date on election updates.
Summary
The Philippine Consulate-General in Taiwan strives to make the overseas voting procedure as easy and comfortable for all Filipinos living in the nation as feasible. As a result, they encourage Filipinos in the country to double-check the list of certified overseas voters (CLOV) before traveling to the MECO starting April 10 to vote.
READ NEXT: Updated List of Philippine Overseas Labor Offices (POLO) Branches Abroad
Contact Information
MECO TAIPEI OFFICE
Address: 2F Chang Hong New Era Building
55 & 57 Zhouzi Street
Neihu District
Taipei, Taiwan
114台北市內湖區洲子街55/57號2樓
Telephone Number: (886) 2-2658-8825
Fax Number: (886) 2-2658-8867
Google Map Location
MECO KAOHSIUNG EXTENSION OFFICE
Address: 9F-2, Grand 50 Tower
No. 80, Min Tzu 1st Road
Kaohsiung, Taiwan
807高雄市三民區民族一路80號9F 長谷世貿聯合國大樓
Telephone Number: (886) 7-3985935 to 36
Fax Number: (886) 7-3985929
Google Map Location