As the overseas absentee voting for the Philippine national elections is set to take place between April 10 and May 9, Filipino residents as well as those based overseas including seafarers, who are not certain whether they are registered to participate in the 2022 National Elections, can verify their details from the official voters' list released by the Commission on Elections (COMELEC).
Also Read: How to Vote as a Seafarer in Philippine Elections
Because Filipino seafarers might be based anywhere in the world, all foreign-related activities of this group – including overseas voting – should be addressed through the Philippine foreign post in your region, if not through your accredited manning agency.
Don't be concerned if this is your first time voting in national elections from abroad. By double-checking your registration information on COMELEC's official voters' list, you're taking the first step toward guaranteeing a seamless and trouble-free overseas voting experience.
That being stated, this post is intended for Filipino sailors who have registered to vote in the forthcoming national elections using COMELEC's offshore voting service. You may also view the PDF version on COMELEC's website. Make sure you read the rest of this post to find out more.
Philippine Elections 2022: List of Registered Filipino Seafarer Voters Abroad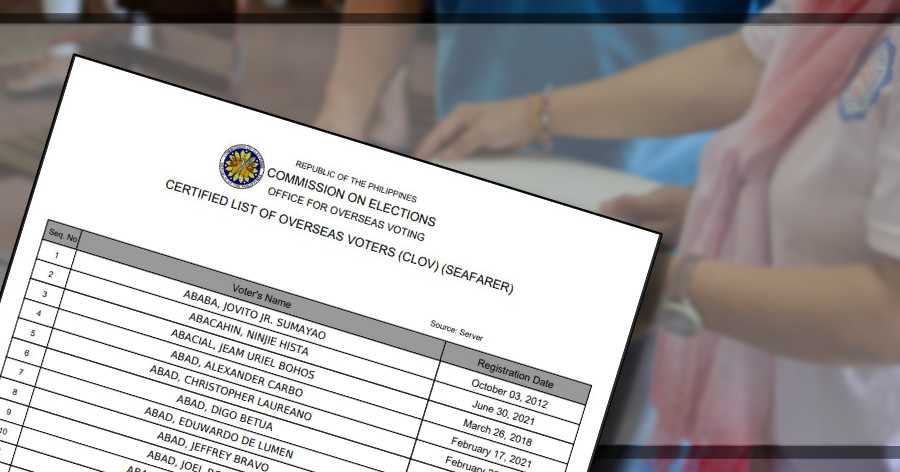 As election day approaches, expect the voting schedule to be posted very soon, so make sure to get ready to vote, either by mail or in person, as soon as it is available – you will be doing yourself and the Filipino people a tremendous service!
There are several ways to find out if you are qualified to vote in another country as an overseas Filipino seafarer. Apart from verifying with your manning agency, where the employees should be able to assist you, you may also refer to the list published by COMELEC as guide for seafarers below:
The list is easy to navigate. There is a long list of names, alphabetically sorted, beginning with the registrant's surname, first and middle names, and date of registration. On the list, you may also notice some notes from COMELEC personnel indicating any concerns, directions, or further details. You may either go through the full list (which we do not recommend) or use this quick shortcut to see if your name is on the list.
Tip: To skip looking at the extensive rundown of names, hit CTRL + F. A search box will open on the page, where you may enter in your last name to see whether you are registered. Ensure that you input your name accurately and without any additional characters or spaces. Otherwise, the report may not show the data you are looking for.
If you see your name on the list, you are now confirmed and registered to vote in the Philippine national elections – that's all you need! Please bear in mind that overseas voting begins on April 10 and finishes on May 9, an entire month  – to provide overseas Filipinos as much time as possible to prepare, file a leave of absence, and vote, either at the Philippine service post or by mail. So, take a little break (maybe a few hours) from work to do this task, notifying your employer ahead of time of this critical national event.
Question: What if I'm not on the list, can I still vote?
Answer: Those who are not registered to vote will be denied the opportunity to vote in the coming elections. This means they'll have to wait till the current election is over before registering for the next one. Here's a quick guide on registering to vote from abroad. Do it as quickly as possible — after the election season, of course.
If you have any problems or need assistance with the overseas voting procedure, please contact the Philippine foreign post in your region so that they can assist you.
How to Find your name on the list of overseas voters?
Answer: Simply look for your name by clicking on the PDF file given by the COMELEC or the Philippine Foreign Post nearest you. It's organized alphabetically by the surnames of the voters.
You may or may not download the PDF list, but be sure to thoroughly analyze it to determine whether you need to take time off from work to vote overseas.
What does it mean if my name is included in the list of Overseas Voters?
This signifies that you have completed all of the necessary steps to get registered. You may now vote from abroad if you successfully registered for the elections! Make sure you vote because your vote is VERY IMPORTANT!
What if my name is not on the list of registered voters?
Unfortunately, you will be unable to vote in the Philippines' elections in 2022. This implies that you will be unable to vote in the elections for the rest of the year. Make sure to register correctly and on time for the next one so that you may exercise your right to vote, even if you are based abroad!
When will the list of certified absentee voters be released?
Within 120 days of the voting dates, the Commission on Elections (COMELEC) will compile a list of abroad voters for the May elections.
You may read the official statement here: "Preparation and Posting of Certified List of Overseas Absentee Voters. – The Commission shall prepare the Certified List of Overseas Absentee Voters within one hundred twenty (120) days before every election, and furnish within the same period copies thereof to the appropriate embassies, consulates, and other foreign service establishments, which shall post the same in their bulletin boards within ten (10) days from receipt thereof."
Summary
The upcoming national elections are significant not only because of the political activities that will take place during this time but also because they will provide a platform for overseas Filipinos to exercise their rights and duties as Filipino citizens, even though they are residing abroad.
The good news is that the Philippine government is doing everything possible to ensure that this process is organized, straightforward, and simple for all, even those living outside the country, to participate in the next elections. With the assistance of Philippine embassies, foreign service posts, and other necessary offices, the procedure has become simple and straightforward for all parties involved.
If you want to learn more about the candidates or simply gain some insight into the people who may be in charge of guiding the country in the coming years, this post is for you.
As Filipinos, it is both our duty and right to vote for our leaders, not only to lobby for certain rights and laws that benefit the group we belong to, in this case, OFWs, but also to find a leader who can help us walk to a future that is full of hope, brighter, and better for everyone, including our children.
Is this your first time voting in a foreign country? How did you find the process of registering and collaborating with the Philippine mission? Have you checked to see if your name is on the official list using this guide? If not, what is it that is preventing you from doing so? Do you have any questions or problems you'd want to address? We'd be delighted to hear from you! Please leave a comment in the section below to share your ideas.