With the Philippine National Elections 2022 for Overseas Filipino Workers is taking place between April 10 and May 9, 2022, Filipinos residing in the United States of America (USA) can vote promptly and safely in the next elections by confirming their identities against the list of certified overseas voters at their respective Philippine Foreign Post.
With this in mind, it is critical that registered overseas Filipino voters understand the procedures and requirements for voting in coming elections in their respective countries.
Keep in mind, however, that this may vary from place to place, so make sure you adhere to the prescribed guidelines. Overseas voters in the United States are encouraged to double-check their information on the website of their respective Philippine Foreign Post before participating in the overseas voting procedure.
To start, you may use this guide to learn the step-by-step process for a seamless and trouble-free overseas voting experience from the United States.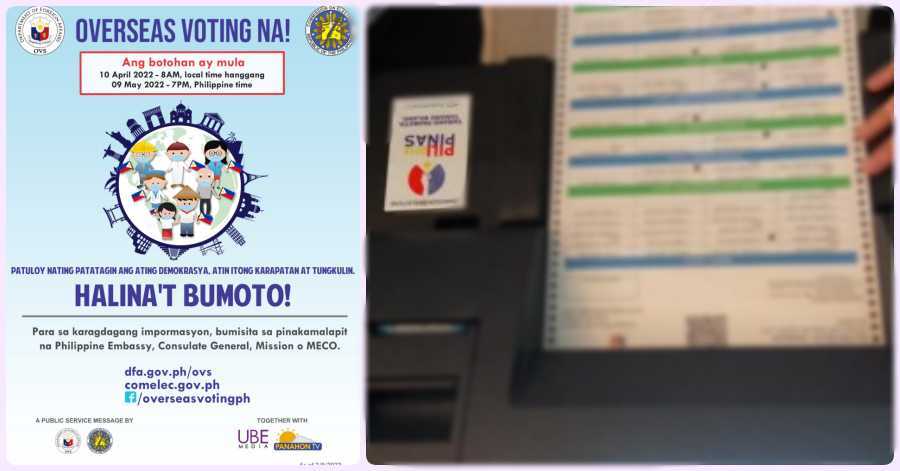 Voting Guidelines in United States for the 2022 Philippine Elections
Filipinos who are registered to vote in the United States may now do so conveniently and securely. Following the validation of their name on the country's list of certified overseas voters (CLOV), the next step is to vote in person at the Philippine Foreign Post between April 10 and May 9.
Of course, no one appreciates waiting in line or having their plans disrupted on any given day. It is, nevertheless, an excellent time for overseas Filipino employees and residents of the United States to prepare their calendars for the overseas voting session. Here's how to get started.
Step by Step Procedure of Voting as a Filipino in USA
Step 1 – Check if your name is on the list of registered voters in USA here.
Step 2 – Vote wisely.
At this point, you should know who to vote for, including the candidates' work history and political backgrounds, as well as their positions on issues such as employment, health, foreign workers and immigration, to name a few.
Step 3 – Cast your ballot in the vote-counting machine or VCM (formerly known as the PCOS machine).
This will allow for a more efficient vote review and counting. Also, make sure you've shaded all relevant portions of the ballot so you don't miss any names for whom you want to vote.
Step 4 – Get the indelible ink marked on your index finger.
When you leave the Philippine Foreign Post, this will serve as proof that you voted before. That's all! You may now exit the poll to go home, to work, enjoy the day with your friends, or relax alone.
Overseas Filipino Voting Schedule in the USA
The voting period for the overseas elections is from 8 a.m. local time to 7 p.m. Philippine time on April 10, 2022 to May 9, 2022.
During this whole period, walk-ins are welcome at the Philippine Foreign Posts. You must, however, authenticate your details on-site to guarantee that you are qualified to vote in the ongoing overseas absentee voting.
Video: HALINA'T BUMOTO!
The Department of Foreign Affairs (DFA) has made a film about the upcoming overseas elections available. More information on how to vote from abroad may be found here.
Every OFW and Filipino immigrant in the United States must vote overseas in order to fulfill their right and responsibility to the country as Filipino citizens.
No matter where they are in the world, all Filipinos must educate themselves on what to do and expect on Election Day.
Overseas Filipinos have an entire month to vote. This should give voters plenty of time to think about and examine who they should vote for as the country's future leader. Once they've decided, employees from the Philippine Foreign Posts in the United States will help them vote smoothly and effectively.
Frequently Asked Questions
What do I need to be able to vote in the 2022 National Elections?
During the voting season, Filipino nationals are required to carry their original passports or mariners' books to the polls. Residents of the United States who hold dual citizenship must additionally provide their ID card or certificate of authorization in order to vote.
How do I know if I am a registered voter in USA?
The list of registered Filipino voters from the USA, as well as the list of Filipino seafarers, may be found on the Commission on Elections (COMELEC) website or at the Philippine Foreign Posts in the United States. In the 2022 elections, only registered Filipino voters will be eligible to vote.
How does COMELEC decide on which voter records to deactivate?
The Commission on Elections deactivated the records of voters who did not vote in at least two elections (COMELEC).
When can applicants collect their Voter's ID?
The Commission on Elections has paused the distribution and fabrication of voter identity cards across the country due to the implementation of Republic Act 11055, or the National ID System.
The Philippine Statistics Authority is working hard to implement the National ID system in the country. It is slated for implementation in all foreign service occupations by 2022.
Where can I find important information and updates on overseas voting?
Filipinos in USA are encouraged to follow the Philippine Foreign Post's social media platforms to stay up to date on election updates.
Filipinos in the United States are invited to follow the Philippine Foreign Post on social media to remain up to speed on election news.
Summary
The Philippine Foreign Post in the United States attempts to make the overseas voting process as simple and convenient as possible for all Filipinos living in the country. As a result, they urge Filipinos in the nation to double-check the list of certified overseas voters (CLOV) before going to the Philippine Foreign Post to vote beginning on April 10.
READ NEXT: Updated List of Philippine Overseas Labor Offices (POLO) Branches Abroad
Contact Information
Embassy of the Philippines, Washington DC
Address: Bataan Street corner 1600 Massachusetts Avenue, N.W. Washington, D.C., 20036
Telephone: 202 467 9300 / 202 467 9363
Fax: 202 328 7614
Website:  https://philippineembassy-dc.org/
Jurisdiction:
Alabama,
District of Columbia,
Florida,
Georgia,
Kentucky,
Maryland,
North Carolina,
South Carolina,
Tennessee,
Virginia,
West Virginia,
Aguila,
Antigua & Barbuda,
Bahamas,
British Virgin Islands,
Dominica,
Grand Cayman Islands,
Grenada, Guadeloupe,
Martinique,
Netherlands Antilles,
Puerto Rico,
Saint Lucia,
Saint Vincent & Grenadines,
Saint Kitts & Nevis
Google Map Location
Philippine Consulate General in Agana, GM
Address: Suite 601 & 602 ITC Building Marine Drive, Tamuning Guam
Tel: 671.646.4620 (or 30) | Fax: 671.649.1868
Email: pcgagana@gmail.com
Website:  www.philippinesguam.org
Jurisdiction: Guam, Caroline Islands, Marshall Islands, Commonwealth of the Northern Mariana Islands, Wake Islands
Google Map Location

Philippine Consulate-General in Chicago, IL
Address: 122 S. Michigan Ave Suite 1600, Chicago IL 60603
Tel: 312.583.0621 | Fax: 312.583.0647
Email: chicagopcg@att.net
Website:  www.chicagopcg.com
Jurisdiction: Illinois, Indiana, Iowa, Kansas, Louisiana, Michigan, Minnesota, Missouri, Nebraska, North Dakota, Ohio, Oklahoma, South Dakota, Wisconsin
Google Map Location

Philippine Consulate-General in Honolulu, HI
Address: 2433 Pali Highway, Honolulu HI 96817
Tel: 808.595.6316 (or 19) | Fax: 808.595.2581
Email: honolulupc@hawaii.twcbc.com
Website: www.philippineshonolulu.org
Jurisdiction: Honolulu, American Samoa, French Polynesia
Google Map Location
Philippine Consulate-General in New York, NY
Address: 556 5th Avenue, New York NY 10036
Tel: 212.764.1330 | Fax: 212.764.6010
Website:   www.newyorkpcg.org
Jurisdiction: Connecticut, Delaware, Maine, Massachusetts, New Hampshire, New Jersey, New York, Rhode Island, Vermont
Google Map Location
Philippine Consulate-General in San Francisco, CA
Address: 447 Sutter St, 6th Floor, San Francisco CA 94108
Tel: 415.433.6666 | Fax: 415.421.2641
Website:  https://pcgsanfrancisco.org/
Jurisdiction: Alaska, Colorado, Idaho, Montana, Northern California, Northern Nevada, Utah, Washington State, Wyoming
Google Map Location