If you're an overseas Filipino in the UAE who have registered for the 2022 elections, you can check if you're eligible to vote by checking your details in the official voters' list issued by the Philippine Foreign mission in your respective location.
Also Read: How Filipinos Can Vote in UAE for Philippine Elections 2022
The Philippine Embassy in the UAE has compiled the list of Filipino voters in the country. You can check it out by going to their website or contacting the embassy or nearest consulate. Filipinos in Abu Dhabi, Dubai, and other parts of the Emirates can check their names in the files below.
Philippine Elections 2022: List of Registered Filipino OFW Voters in UAE – Abu Dhabi, Dubai and Northern Emirates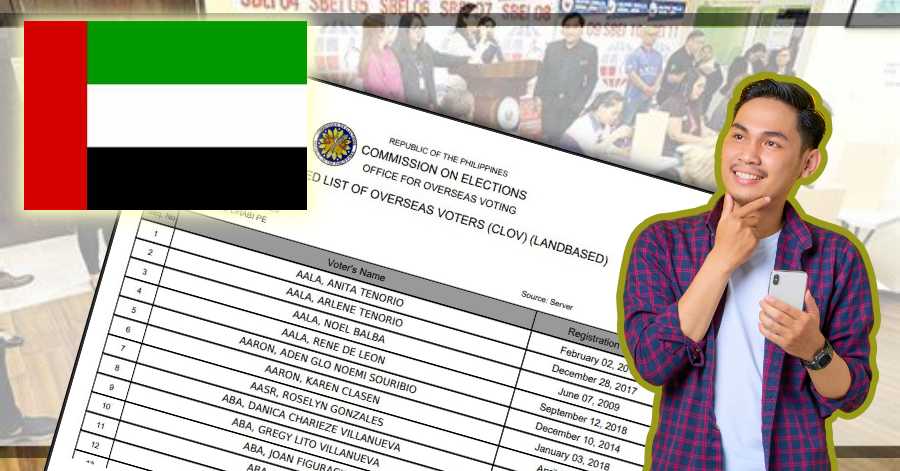 The Philippine national elections are only a few weeks away from now. And it can be said that this might be the most significant event of the year for the nation. With this in mind, citizens in the country as well as those based overseas, take a great deal of effort preparing for who they will vote for.
But for overseas Filipinos such as those in the UAE, will need to learn about the process of how they can vote for the upcoming elections. That said, it is crucial that you know what to expect, what to do, and how to prepare for the national event, even as you are based abroad, specifically, in the United Arab Emirates.
Despite the fact that they are not in the Philippines, Filipinos in the UAE have a significant effect on the country's next president's election. Because Filipinos in this region constitute one of the world's biggest populations of overseas nationals, their votes will definitely impact the election results. There are several ways to find out if you are eligible to vote, which you will learn in the following sections.
In preparation for the actual polling dates, you may need to visit different websites containing information about the candidates. It may also be beneficial if you take some time off from work to vote.
In line with this, the Philippine foreign missions in this country are ready to provide any support to registered voters who will vote in the national elections. You should be able to prepare adequately for the overseas voting processes through the aid of this guide. The first step is to determine whether your name is on the certified list of overseas voters (CLOV).
You can verify the information on the website of the Philippine Embassy/Consulate or in person. You may also check the list of overseas Filipinos who are qualified to vote in the Emirates by clicking on the links that correspond to your location in the country:
Certified List of Overseas Voters in Abu Dhabi, UAE
Certified List of Overseas Voters in Dubai and Northern Emirates
The preceding lists will only cover Filipinos living in the UAE, but ensure to consult the one with jurisdiction in your area/region. If you need more information or help, you may contact the consular officers in the foreign missions, as necessary. The lists are easy to use despite having a lot of names, which are arranged alphabetically. COMELEC officers may also add information or notes to the list. There are two ways to navigate this: browse through everything or use a simple shortcut.
Tip: Use CTRL + F to avoid having to scroll through a long list of names. A search box will appear on the page, into which you may enter your last name to see if you are included. Because the document may show the information you're looking for, make sure that your name is accurately spelled and that there are no additional spaces or characters in the field.
You can vote in the next presidential elections in 2022 by casting an overseas ballot between April 27 and May 9 if your name appears on the country's official voter registration list.
Moreover, confirming your name in the said list will allow you to adequately prepare for voting or to contact a local Foreign Service Post for additional assistance. Make sure to notify your employers ahead of time so that they can accommodate your right to vote.
Philippine Embassy in UAE Advisory of Overseas Voting Schedule
The PH Embassy in UAE (located in Abu Dhabi) has posted the overseas voting process and schedule as well as reminders on how registered voters can cast their votes at their office. Please check out the list below for your reference: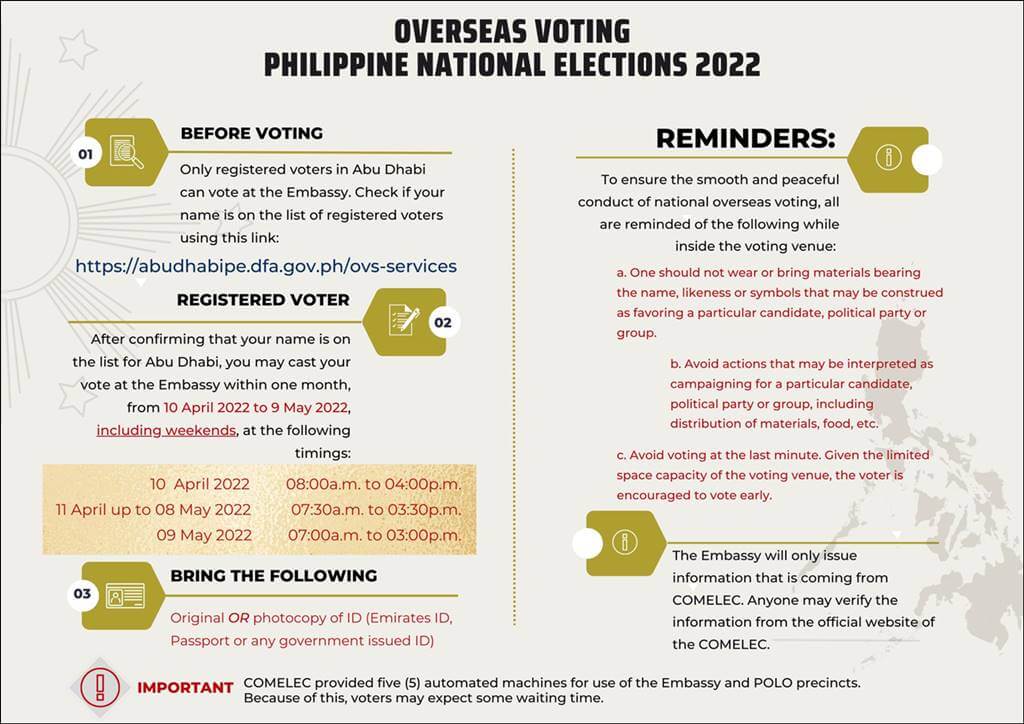 Philippine Consulate General in Dubai and Northern Emirates Advisory of Overseas Voting Schedule
On another note, the Philippine Consulate General office in Dubai and Northern Emirates has also posted the procedures when voting during this upcoming elections. If you are a Filipino based in Dubai, Sharjah, Ajman, Ras Al Khaimah, Fujairah, and Umm Al Quwain, you may visit the PCG Dubai office to cast your vote. Please follow the guidelines below: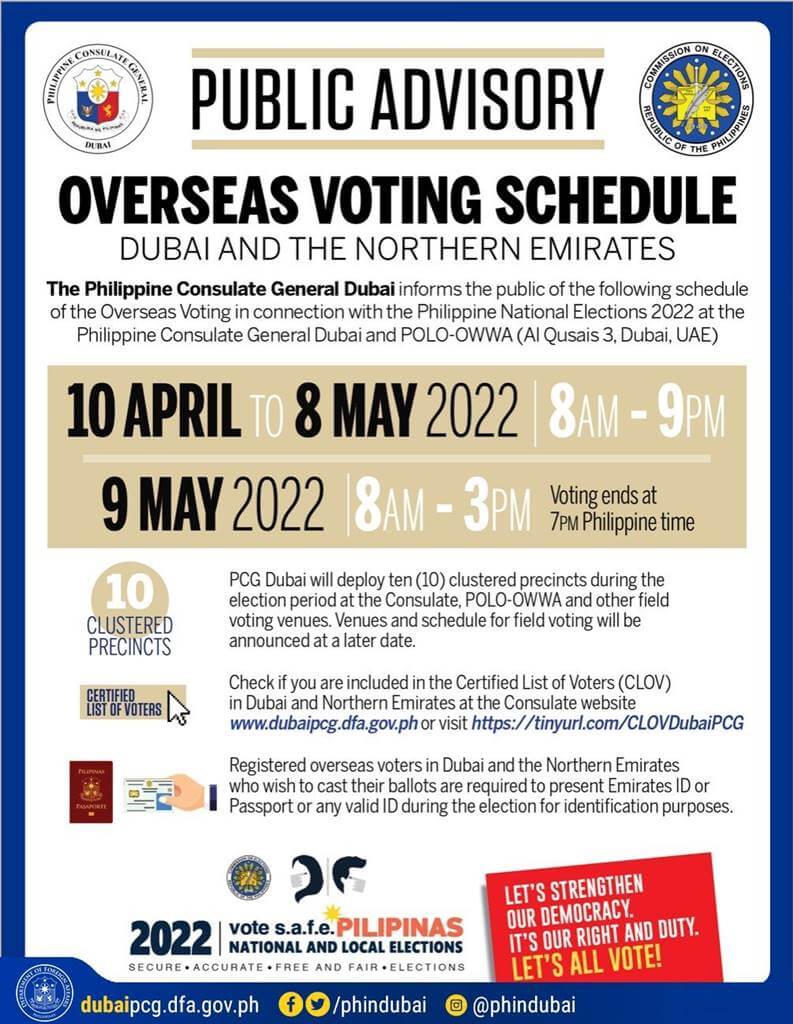 Question: What if I'm not on the list, can I still vote?
Answer: Those who have not registered for the elections will be denied the right to vote. This means they'll have to wait till the current election period concludes before registering for the next. Here's a brief guide on how to register to vote if you are based abroad. Do it as soon as possible, or at the very least when the election season is over.
If you have any questions or require assistance with the overseas voting procedure, please contact the Philippine Embassy or Consulate-General in the UAE, whose officials would happily assist you. You can contact them using the information supplied at the end of this guide.
How to Find your name on the list of overseas voters?
Answer: To discover your name, simply click on the PDF file provided on the websites of the Philippine embassy or consulates. Although you may or may not be able to download the PDF list, you must first confirm your details in its contents before voting.
What does it mean if my name is included in the list of Overseas Voters?
This indicates that you have fulfilled the registration process. If you have properly registered to vote in the elections, you can now vote from abroad! Congratulations! Exercise your voting rights to the fullest extent feasible because EVERY VOTE COUNTS!
What if my name is not on the list of registered voters?
Unfortunately, you will be unable to vote in the Philippines' elections in 2022. You'll have to wait till the elections are done to vote in the next one. That being said, make sure you register correctly and on time for the next, so you may exercise your right to vote, even if you live overseas!
I registered as an overseas absentee voter in 2013 and I was able to vote in the 2013 and 2016 National Elections but was unable to vote in the 2019 National Elections. Do I still need to apply for certification to vote abroad?
No, your name will remain on the National Register of Overseas Voters and the verified voter list of your home country. If you do not vote in your home country's elections in 2022, your name will be removed from the voter list at your embassy or consulate.
I registered as an overseas voter in 2019 but I know I will be in the Philippines come May 2022. Can I vote in the 2022 elections in the Philippines?
Yes, however, you must also submit a Letter of Request for Registration Transfer to Manila from your host country's embassy or consulate, as well as to the COMELEC-OFOV.
When will the list of certified absentee voters in the UAE be released?
Within 120 days of the voting dates, the Commission on Elections (COMELEC) will compile a list of overseas voters for the May elections and distribute it to various foreign offices around the world.
Please refer to the official statement here: "Preparation and Posting of Certified List of Overseas Absentee Voters. – The Commission shall prepare the Certified List of Overseas Absentee Voters within one hundred twenty (120) days before every election, and furnish within the same period copies thereof to the appropriate embassies, consulates, and other foreign service establishments, which shall post the same in their bulletin boards within ten (10) days from receipt thereof."
Reminders When Voting During PH Elections
Your vote is crucial to the government because it allows citizens to participate in making vital choices. Regardless of who you choose, it is critical that individuals utilise their voting rights on Election Day. To maintain its sovereignty as a country, the Philippines requires more informed voters.
This will set the path for how the future of the country will look in terms of economics, national security, education, and, most crucially, health, as the epidemic is far from over.
A leader who can navigate through this uncharted period in history while maintaining other equally essential tasks would be a light of hope to Filipinos both at home and abroad.
Remember To Vote Wisely
Citizens can participate in many political and social activities that benefit the country through their right to vote. What is it that you are concerned about? What are the reforms that you would want to see implemented? Keep this in mind while selecting a candidate. Regardless of who people vote for, it is critical that they use their voting rights in the upcoming elections.
Election Day is a day when voters may choose the best leader for the country — there are no correct or incorrect votes, only legitimate ones. That being said, nothing should prevent you from asserting your rights when the opportunity arises. This guide and other resources seek to help overseas Filipinos prepare to vote for themselves, their families, and the entire country.
FINAL THOUGHTS
Voting for a candidate whose platform is concerned with the rights and welfare of citizens living overseas must be seriously considered in the case of overseas Filipinos and overseas Filipino workers (OFWs). One must consider the candidate's initiatives, incentives, and general goals for modern-day heroes as well as Filipino nationals all over the world.
So, would you be eligible to vote in the upcoming elections after seeing the verified list of overseas voters? How do you find this procedure with the assistance and organisation of the Philippine overseas missions in the UAE? Do you have any advice for fellow Filipinos who haven't decided whether or not to vote in this year's national elections? Are there any advice you'd want to offer with other Filipinos who are confused by this process? Please leave a remark in the area provided below — we'd love to hear what you think! Please share this information with any friends or family members who might find it valuable.
READ NEXT: How to Vote in Philippine Elections as an Overseas Voter Abroad
CONTACT INFORMATION
Embassy of Philippines in Abu Dhabi
ADDRESS: Villa No. 2 Street 5, E-18/02, Plot No. 97 (behind Al Falah Plaza), Madinat Zayed, Abu Dhabi, United Arab Emirates
PHONE (02) 641.5922
EMAIL: pe.abudhabi@dfa.gov.ph
Google Map Location
Consulate-General of Philippines in Dubai
ADDRESS: 35 Beirut Street, Ext. no. 2 Villa No. 48 Al Qusais Area 3, Dubai, United Arab Emirates
PHONE: (04) 254.4331
EMAIL   pc.dubai@dfa.gov.ph
Google Map Location