As the race for the 12 senatorial seats is still wide open, Filipinos are urged to come up with the list of their senatorial bets, as well as one party list that they would like to represent them in congress and the senate.
ALSO READ: OFW Guide to Voting in May 2019 Elections
The midterm elections is important for every Filipino, including those based abroad because the incoming set of leaders will affect the direction of the Philippines' economic, statutory, and legislative priorities in the years to come, which would definitely impact the future generations and the country's growth and development or survival.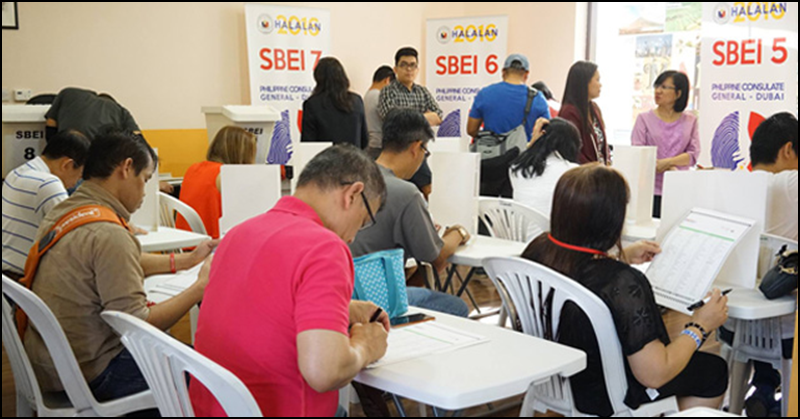 COMELEC Reminds OFWs of Overseas Voting to Start Next Week
The Commission on Elections (COMELEC) issued a reminder to overseas Filipino workers (OFWs) all over the world regarding the start of the month-long absentee voting period, which is set to begin on April 13, as shared in a report by the Philippine Star.
Through the overseas absentee voting, which is set to take place from April 13 to May 13, OFWs from all over the world may exercise their right to vote and select 12 senators and a party list in Congress.
The voting period will last for a month, and will end on the actual voting day in the Philippines.
As the voting period for Filipinos based overseas will run for a whole month, the PCGs abroad expect voters to cast their ballots early on, so as to avoid rushing towards the end of the OAV period.
According to previous reports, the COMELEC revealed that that a total of 1.8 million land- and sea-based OFWs are expected to participate during the midterm elections.
The Department of Foreign Affairs (DFA) also explained that out of the aforementioned figure, 794,286 are newly registered, which makes the number of OFWs for the upcoming ballot increase by more than 100 percent compared to the figure during the last elections.
In the UAE, the Philippine Embassy in Abu Dhabi, as well as the Philippine Consulate in Dubai and the Northern Emirates shared that there are around 361,365 registered voters, which easily comprise half of the Filipino population in the country.
Out of this figure, 209,202 are land-based voters, of which a majority are residing in Dubai and Northern Emirates, while there are about 109,130 land-based voters in the UAE capital, Abu Dhabi. The remaining 43,033 are sea-based OFWs.
ALSO READ: List of Senator & Party List Candidates for May 2019 Elections