Are you an English teacher? Do you want to teach English in Spain? There is one way you can do so, and that is through the Auxiliares de Conversacion program. Through this program, which will be elaborated on later in this article, you can get a primary or secondary high school teaching gig in any one of the major cities in Spain.
Also Read: 11 Most Common Jobs for Filipinos in Spain
There are many reasons why you would want to teach English in Spain. For one, while offered to native English speakers, Filipinos have managed to get into these programs once they have proven that they are highly capable of both reading and writing English skills. Second of all, Spain is just a really great place to live in, and you get to experience a rich culture that will surely expand your worldview.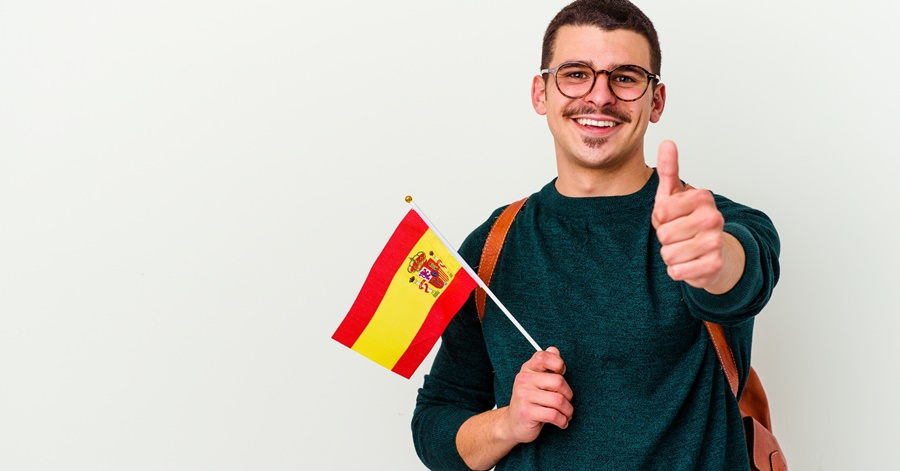 Disclaimer: The information posted here is based on the personal experiences shared by the OFW in the video below. Please let this post serve as a guide only. If you have specific questions, you may ask the OFW by commenting on their video on their accounts.
How to Join an English Teaching Program in Spain and Become an English Teacher
The information in this article comes from a YouTube video from an English teacher in Spain. Her name is Ayn Bernos, and through the Auxiliares de Conversacion, she was able to teach English in Spain for 9 months. If you want to know more about her full story, click below. Also, check out her channel for her other adventures and experiences in Spain and other parts of the world:
Auxiliares de Conversacion Program
Through the Conversa Spain program, prospective Auxiliares de Conversacion can find teaching placements in Spanish public schools.
This program is open to native English speakers. If you get accepted, you can get into one of more than 300 schools all over Spain that have participated. This experience is truly memorable, not just through teaching English but also by living in Spain.
This program will help you by providing:
Support as you move to Spain
Initial training
Advice
Health coverage
As to the stipend and other important details, that depends largely on which region in Spain you are teaching in.
For example, if you work in Madrid, then you will get the following conditions:
16 hours of teaching per week
9-month placement from October to June
1000 euros monthly stipend
You will most likely teach in rural and pueblo locations
If you want to know more about Auxiliares de Conversacion, then click this link to the Conversa Spain website.
Application process
So how can you apply to this program to teach English in Spain? To answer this question, the vlogger said that she simply contacted the embassy of Spain in Manila.
Basically what she did is just email them, and ask them if they can tell her more about the auxiliares de Conversacion program in Spain.
She got an immediate response and received all the important details regarding how to apply. As a graduate of the University of Santo Tomas, the vlogger says she had to go through the embassy route, unlike some other schools like Ateneo, UST, and De La Salle which has the program embedded in their curriculum.
She adds that applications run from January to March and that you have to get a slot as soon as possible if you want to because you will be competing against many others who want to join the program as well.
Visa
The program offers you a student visa. This means that you can't work outside of the program and that it's the only thing you can do except for private classes.
The vlogger also mentioned that you don't always get granted a student visa. It depends on two things:
The paperwork you submit
How well did you fare during the interview
There's a great chance you will be granted a student visa in this program though.
Do you always get granted a student visa? Is that guaranteed? No. it depends on the paperwork you pass, and the interview.
Moving to Madrid
The most stressful 10 days of her life were back in 2018. She said that she only had 10 days before the actual start of the program. That's because the validity of the visa begins just 10 days before the start of your contract.
This gives you but a small window of time to get settled, and the vlogger said this was the most stressful part of the whole Auxiliares de Conversacion experience. Having said that, every other experience was great according to her.
How might you go about settling in after getting accepted? Well, you can do what the vlogger did, and that is:
Get an Airbnb for 10 days
Start Apartment Hunting Immediately
Fix your paperwork
Open a bank account
Learn the basics of Spanish
She said that when she arrived, she spoke zero Spanish. She only knew the basic polite words which she learned from the internet, but that was it.
In getting an apartment, the strategy that she found useful was to join multiple Facebook Groups specifically for apartment hunting. You can also search for websites specializing in this endeavor.
The important thing is to be in Spain for apartment hunting. Landlords will give the apartment to whoever's first available, in-person; someone they can see and meet. Therefore, paying through an online deposit is not ideal. You need to see the place and be able to talk to the landlord whoever is in charge.
The vlogger said she got lucky that she found an apartment during the last day of her Air BNB reservation.
Auxilares de Conversacion
The vlogger said that Auxiliares de Conversacion translates to "language assistant." Basically, what you do is assist teachers in a Spanish high school, or it could be a primary school, in different classes so students are exposed to native English speakers.
While Filipinos are not native English speakers, we do have English as an official language. This is enough so that you get a chance to prove that your level of English is good enough to be a part of the program.
A Day in the Life of an Auxiliares de Conversacion in Spain
In the vlog, the vlogger gives an idea of what it's like to be an auxiliares. Basically, you may be asked to teach, or assist the teacher in teaching the following subjects:
English
Physical Education
Technology
Art
As expected, the bulk of your work is in English classes. That means you get to prepare presentations, and you can even choose Filipino culture as one of your examples. Basically, you have the liberty to choose any context that is related to the English language.
Mostly though, it's all about practicing speaking in English. The vlogger would take kids out of the classroom, talk to them in the library or hallway and help them prepare for exams. They are especially keen on taking the Cambridge certification exam.
By practicing with the students through speaking English, they get better at listening and trying to communicate with someone whose native language is English.
Since she is working in Madrid, she works 16 hours a week, which allows her to have credit classes on the side and allows me to work on her YouTube channel.
Aside from those perks, she also enjoys the following:
Enjoys working with the Spanish teachers
Likes working with her boss and other auxiliares
Likes the fact that her co-auxiliares are international: one from Canada, Australia, two from the USA, and one Mexican. She is the only Asian
Likes working only 4 days a week so she has the weekends and Monday as her chill-out days.
Teaching at a High school
As mentioned above, you can work at the primary or the high school level. Personally, the vlogger prefers working at the high school. That's because they are basically adults and she can connect with them more with real issues.
Working with primary students is fun as well, and many of my friends enjoy the fact that they do lots of coloring and storytelling, among others, during their job.
Finances
Auxiliares earn 1000 euros a month in Madrid for a 16-hour workweek. Converted to our currency, that's around 60,000 pesos. So many are asking, is this enough to afford to live in Spain?
Well, according to the vlogger, 1000 euros is typically enough to live comfortably in Madrid, Spain.
She spends 450 euros on rent, and even so, she still manages to save 200 euros a month.
Having said that, if you want to travel around Europe, you need to do private classes on the side.
Finding these jobs is easy though through Facebook and other websites you can just Google.
Making Friends and adjusting to the culture
The vlogger said she made a lot of friends outside her circle of Filipino friends. Most of them she met online through Facebook groups.
Indeed, she has been proactive in finding friends and building her social circle. She joined lots of digital marketing groups, like Melanin Madrid for people of color in Madrid. Other groups include marketing groups, creative writing groups, hiking groups.
You will also likely end up making friends with other international people in Spain, especially since one thing you have in common with them is the English language.
Speaking Spanish
Do you need to learn Spanish? Well, the answer is yes. It will definitely help. Remember though that she arrived with zero knowledge in Spanish. Even if she learned a little bit before coming to Spain, all of that knowledge is thrown out the window once you start a conversation with a native speaker. It's just different.
You have no choice but to practice while you're in Spain. What the vlogger does is practice with the canteen lady, because she knows zero English. That's why she is forced to try to communicate in Spanish with her.
Traveling in EU and Spain
With your student visa, you can go to any of the Schengen countries. Again, you need extra money you earn through private classes if you want to travel.
That's why you need to think about your priorities. You can either prioritize:
Saving
Partying
Exploring the city and its culture
Working
For the vlogger, she used her extra time to focus on her YouTube, blog, podcasts, and all her other creative endeavors.
She does enjoy her weekend hikes though and has traveled around Spain a bit. Through her outdoor trips, she was able to explore nature. She was also able to visit other Spanish countries like Barcelona and Toledo, which can be easily reached through buses, trains, and other modes of transportation.
In addition, she was also able to fly to Paris.
Struggles
So what are the struggles you might face doing this program?
Adjusting to the winter season
Homesickness
A bit of culture shock
A bit of racism
During the winter, you may have a fairly difficult time adjusting to the cold. The vlogger has raised all her life in Manila where it's always summer. Yet she finds herself going to work leaving the house and into a super cold environment which not only affects her physically but also emotionally.
She also missed her family a lot, especially since her family is really tight with a solid support system. That's why even if she likes traveling, she really doesn't want a home base far from home for too long.
In terms of racism, she only points to one experience. She was in line at the cashier when an old lady was just staring at her in disbelief as if she's never seen a brown girl before.
Overall, the pros outweigh the cons.
Final Thoughts
On leaving Madrid, the vlogger says she is partly heartbroken. She has been enjoying her freedom, being independent, being able to dictate what happens in her day. She enjoys the freedom to go where she wants to go, talk to whomever, and more.
She also loves the idea of having to learn a new language and enjoys the challenge of going to the grocery store and other daily nuances. She will miss the convenience of a highly efficient public transportation system in the Metro, which takes her places in a snap.
She will also miss taking private lessons, teaching English, and helping people in that sense. There are many other places you can teach English in, like Vietnam or China, but Spain is definitely one of the most rewarding places to do that.