As the 2022 Philippine national elections draw near, Filipinos residing in Germany who have registered to vote may now verify if they are eligible to vote from abroad by looking up their information on the Philippine Foreign Mission's list of certified overseas voters.
The Philippine Embassy in Germany has made a list of Filipino voters public. The list can be found on the website of the Philippine diplomatic mission or by calling the embassy. Filipinos in the capital and other parts of the country can look up their names in the files below.
Philippine Elections 2022: List of Registered Filipino OFW Voters in Germany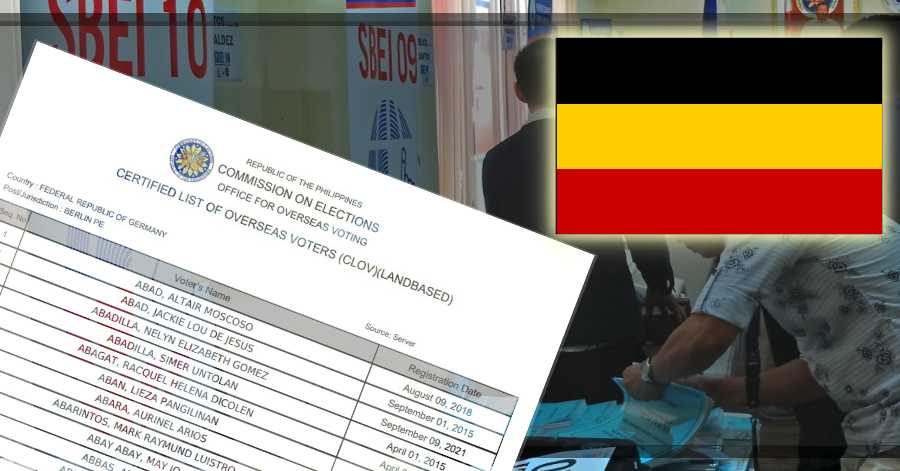 The Philippine presidential elections are only a few weeks away, and everyone is already thinking about who they will vote for. Filipinos in Germany and other places, as well as those in the Philippines, are expected to participate in this major national event. With the help of this quick guide, you'll know what to anticipate when overseas voting begins in your host country.
Despite the fact that they are not in their homeland, Filipinos in Germany have a big impact on the country's presidential election. Because this region has one of the world's largest overseas Filipino populations, their votes will have a significant impact on the result of the national elections.
You might also want to check out some of the numerous websites that provide candidate information so that you can vote wisely.
Filipino diplomatic posts may be able to assist individuals who have registered to vote in upcoming elections in other countries. This information might assist you in preparing to vote in a foreign country such as Germany. Before preparing to vote in the elections, make sure your name is on the list of certified overseas voters (CLOV).
You may get this information from the Philippine embassy by visiting their website or phoning their office. Alternatively, by clicking on the links below, you can obtain information on registered overseas Filipino voters who are eligible to vote in the 2022 elections in Germany.
Certified List of Overseas Voters in Berlin
Certified List of Overseas Voters in Frankfurt
The information provided above is for Filipinos staying in Germany. Please contact the Philippine diplomatic missions in the nation if you have any queries or require help. Despite a large number of names, the list is simple to navigate and is organized alphabetically for quick access. Officials from the COMELEC may add remarks and information to the list as needed. You have two options for checking the information provided: scroll down to locate your information or use the quick shortcut we'll show you in the next section.
Tip: Use CTRL + F to avoid having to scroll through a big list of names. You'll find a search box on the page where you may type your last name to see if your information is included. Because the document contains case-sensitive information, double-check that your name is spelled correctly and that there are no additional spaces or characters in the field.
You will be entitled to vote in the Philippine presidential elections in Germany in 2022 provided your name appears on the country's list of certified overseas voters. From April 27 until May 9, the overseas voting period will be active.
Question: What if I'm not on the list, can I still vote?
Answer: The right to vote would be denied to everyone who had not registered to vote in the next elections. Those who are unable to vote in this election must register to vote in future elections once the current election cycle ends. This information will allow you to register to vote in Germany or anywhere else in the world.
If you have any questions or want assistance with the voting procedure in your host country, please contact the Philippine Embassy in Germany.
How to Find your name in the list of overseas voters?
Answer: The names of registered voters may be found in a PDF file on the websites of the Philippine embassies in Germany. Details on how to participate in the voting process may be found on the list.
What does it mean if my name is included in the list of Overseas Voters?
The names of registered voters may be seen in a PDF file on the Philippine embassy's website in Germany. The list contains information on who is eligible to vote from Germany.
What if my name is not on the list of registered voters?
Unfortunately, you will be unable to vote in the national elections in the Philippines in 2022. You must register to vote before the next election if you wish to vote in future elections.
I registered as an overseas absentee voter in 2013 and I was able to vote in the 2013 and 2016 National Elections but was unable to vote in 2019 National Elections. Do I still need to apply for certification to vote abroad?
Your name would still appear on the country's verified voter list as well as the National Register of Overseas Voters. If you do not vote in your host country in 2022, however, your name will be eliminated from the list.
I registered as an overseas voter in 2019 but I know I will be in the Philippines come May 2022. Can I vote in the 2022 elections in the Philippines?
Yes, but your host country's embassy or consulate in Manila must also submit a Letter of Request for Registration Transfer to the COMELEC-OFOV.
When will the list of certified absentee voters in Germany be released?
Within 120 days following the election, the Commission on Elections (COMELEC) will distribute a list of certified overseas voters to various foreign offices across the world.
As per the official statement from COMELEC: "Preparation and Posting of Certified List of Overseas Absentee Voters. – The Commission shall prepare the Certified List of Overseas Absentee Voters within one hundred twenty (120) days before every election, and furnish within the same period copies thereof to the appropriate embassies, consulates, and other foreign service establishments, which shall post the same in their bulletin boards within ten (10) days from receipt thereof."
Reminders When Voting During PH Elections
The government values your vote because it allows citizens to participate in crucial national choices. The outcome of the presidential election will have an impact on the country's educational and healthcare institutions. It's also critical that the future president be ready to lead the country through these trying times. It would be ideal to have a leader that can both deal with the country's current condition and promote a favorable image of Filipinos across the world.
Remember To Vote Wisely
Voters should consider each candidate's platform as well as their character traits when deciding who to vote for. They should address social problems in their political addresses.
Knowing these facts will help us make an informed decision when it comes time to pick a new president. Before making a selection, take the time to thoroughly examine a candidate's background and agenda. It also helps in avoiding being hooked on misleading news articles and claims.
Only individuals with a genuine desire to serve the people should be elected, not those with money or political clout. And, most importantly, how they can use our unique voting position to help improve the conditions and status of overseas Filipinos.
FINAL THOUGHTS
Your vote will be critical in electing a president who has the qualifications to lead the country through these trying times. It would be ideal to have a leader who can deal with the country's current condition while simultaneously displaying a favorable image of Filipinos in the international community.
We require leaders who will put the country first. We need leaders who will fight for democracy and freedom in order to realize our country's goals.
We are choosing the fate of our country as we elect leaders for the next elections. To enhance the country, we must all work together, starting with the formation of a culture of cooperation and discipline.
We have the power to make our country better. Let us make the most of it and put it to good use!
Will you be able to vote in the future elections now that you've looked over our certified list of abroad voters? How has the verification procedure been carried out under the supervision and guidance of the Philippine foreign missions in Germany? Do you have any advice for fellow Filipinos who are still debating whether or not to vote in this year's national elections? Is there anything else you'd want to communicate to other Filipinos in a similar situation? We'd love to hear your thoughts in the comments section below. Also, please pass this information on to any friends or family members who might find it useful.
READ NEXT: How to Vote in Philippine Elections as an Overseas Voter Abroad
CONTACT INFORMATION
Embassy of Philippines in Berlin
ADDRESS: Luisenstrasse 16 10117 Berlin (Mitte) Germany
PHONE LOCAL: (030) 864.9500
INTERNATIONAL: +49.30.864.9500
FAX        LOCAL: (030) 873.2551
INTERNATIONAL: +49.30.873.2551
EMAIL   info@philippine-embassy.de
WEB SITE: http://www.philippine-embassy.de/
Google Map Location
Consulate-General of Philippines in Frankfurt
ADDRESS:            Brentanostraße 4 60325 Frankfurt am Main (Frankfurt)  Germany
PHONE LOCAL: (069) 2470.4356
INTERNATIONAL: +49.69.2470.4356
FAX        LOCAL: (069) 2470.4438
INTERNATIONAL: +49.69.2470.4438
EMAIL   hessen@philippine-embassy.de
WEB SITE: http://www.philippinen-bw.de
Google Map Location