With the recent announcement of the opening of Guam to Filipino workers, you might be excited to learn about what Guam, as a country, has to offer. That's great and useful, but if your long-term goal is to move to this US territory, then make sure to read the rest of this guide.
Also Read: 20 Things to Know about Life in Guam
You might wonder why moving to Guam is a good idea. In such a case, you should be aware that Filipinos account for 27% of the population, with their strong presence in modern-day Guam owing to remarkable historical events. This establishes the fact that Filipinos already have established a local presence in this community.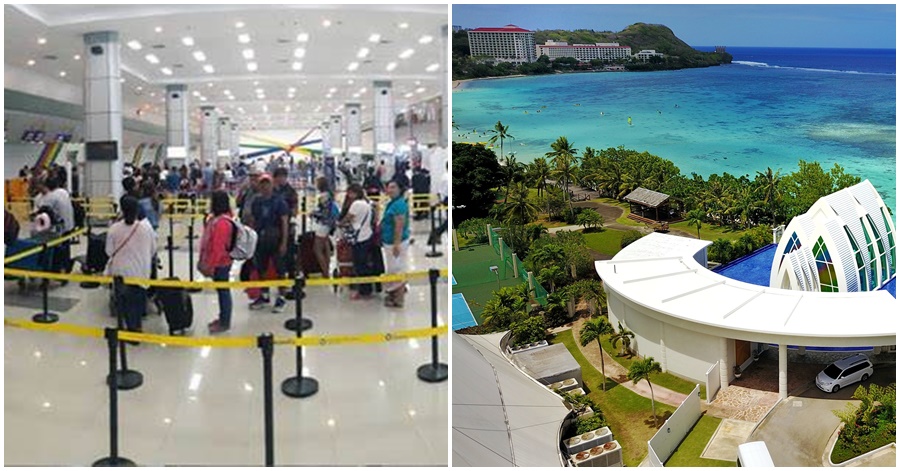 Here's What Filipinos Need to Know Before Moving to Guam
The island has an unusual cultural blend. Guam's indigenous people are known as Chamorros, and English and Chamorro are the official languages. Expats will experience unique traditions as a result of the residents' origins in Micronesia and the Philippines. Due to its three-century history as a Spanish colony, the lifestyle and culture have a Latin flavor. People from Japan, China, America, and other Pacific Islands now make up Guam's diversified population. To learn more about what you can expect in living in Guam, click here.
If you've made up your mind to move to this beautiful island state located in the Pacific, then here are some of the things you need to consider for your move:
Documentary Requirements:
Being a US territory, the entry requirements for Guam are similar to what you can expect for any destination in the USA.
Here are the documents that you need to prepare beforehand in preparation for your move:
For U.S. Citizens and Permanent Residents:
Although you are not strictly needed to submit your passport or Green Card if you haven't touched down in a foreign country before entering Guam, having both on hand will expedite your admission. Make sure you have:
a government-issued ID with a photo and a birth certificate, at the minimum.
A birth certificate will be enough for children below 16 years of age.
You'll need to present your passport and a valid U.S. visa in most circumstances. To avoid any potential difficulties, make sure to verify the specific rules that apply to your home country.
Health Requirements
This has become a far more important aspect of moving to any country nowadays, so it's best to keep on top of your vaccinations and medical status.
And while Guam does not have any specific vaccination requirements prior to entry, the Centers for Disease Control (CDC) recommends that travellers take the following vaccinations into consideration:
When in doubt, it's best to discuss this with your doctor. They can also create an appropriate immunization plan for you.
In terms of taking care of your health in your daily activities, as well as seeking assistance in case you get hospitalized (knock on wood), here is the following information that you should take note of:
Drinking water: Guam's tap water is safe to drink. For people who aren't used to it, there may be chlorination involved in the tap water, which may cause mild stomachache. For reference, around 98% of water treatment facilities in the United States employ some form of disinfection using chlorine to help maintain the potency of their drinking water. If desired, commercially packaged drinking water is readily accessible.
In the same manner, you can purchase dairy products and milk from the supermarket/grocery along with local meats, vegetables, and fruits.
Those who need medical care can go to Guam Memorial, the state's only civilian hospital.
Additionally, Guam has a number of private medical clinics, as well as medicine dispensaries that operate to assist with your daily health concerns.
Getting a Work Visa in Guam
Guam does not require a work visa for US citizens or permanent residents.
On the other hand, if you're a foreign national who plans to work in this US state, then you need to apply for one of these two visas:
H1B Visa – The most common visa for work obtained by international professionals in Guam, allowing them to work and stay in the country. The H1B visa, often known as a "dual intent" visa, allows visa holders entry into the United States while also pursuing lawful permanent residence status. To obtain an H1B visa, you must meet the following eligibility criteria:

Have an employer who will accomplish the necessary paperwork to sponsor you for a job.
Obtain a speciality role in a field such as business, teaching, computers, engineering, or finance, among others.

H2B Visa – This type of visa is offered to those employed for "temp" or seasonal jobs in the state. Sales reps, ticket dealers, camp counsellors, hospitality representatives, security guards, food service staff, and other similar vocations under this category. The visa is valid for the duration of the job contract. This normally does not last more than a year. To be eligible, you must:

Have a job offer right now.
Agree to come back to your place of origin when your contract with your employer expires.
Meanwhile, those admitted into an approved public or private institution (e.g., University of Guam), can apply for student visas.
Note: For assistance regarding a visa application in Guam, you may get in touch with your nation's respective consulate.
What Are The Things Can I Bring to Guam?
Guam has its independent Customs and Quarantine Agency as a US territory (CQA). Despite the fact that the agency is responsible for implementing hundreds of federal and local legislation, newcomers should be aware of the following rules:
Any home items you bring to Guam must have been in your possession for a minimum of three months prior to your relocation. They must also clearly state that they are not for resale.
You should carry your prescription medications at all times. If extra paperwork is required, bring a doctor's note.
A person is only allowed a maximum amount of 1.136 liters of duty-free alcohol. Anything in excess of that may be subject to customs tax.
The allowable duty-free tobacco for people who will relocate to this country is:
maximum of 200 cigarettes
tobacco of up to 2000 grams
50 cigars, or
any combination of the above-mentioned.
What Are The Things Not Allowed in Guam?
According to Guam Customs & Quarantine Agency, here is a list of the things you are not allowed to bring into the country:
Dangerous toys
Explosives (e.g., fireworks and ammunition), knives, and other weapons. However, firearms can be imported if strict legal processes are followed.
Illicit drugs
Items against US copyright laws (2,193 have been seized in 2017)
Live plants, flowers, vegetables and fruits
Milk, meat and meat products
Toxic, hazardous or poisonous materials like fertilizers among others
Pets are allowed to be brought into Guam. However, there's a set guideline in lawfully doing so:
Important: Since Guam is an island free of rabies, it has strong quarantine rules in place to protect both human and animal residents from rabies transmission.
There are four options offered by the Department of Agriculture for transporting pets into the state. These include
120-day commercial quarantine: Your pet needs to pass the Rabies Antibody Test for Pet Export (FAVN) screening plus other strict requirements. Your pet may need to complete a commercial quarantine that runs for 120 days.
Calculated Quarantine: After completing all the pet entry requirements and making sure that the rabies FAVN titer is at least 0.5 I.U., your pet will be able to spend the 120 days commercial quarantine required from the time the FAVN sample has reached the laboratory.
Home quarantine: Your pet may qualify for home quarantine instead of the commercial quarantine if it is coming from the USA or from a US military camp and they have met all the requirements and pass the rabies FAVN titer result of 0.5 I.U. Take note that your pet should not be exposed to public places until the 120 days have passed.
Quarantine Exemption: Your pet will not need to undergo commercial or home quarantine if it comes from an exempt country (like Australia or Japan) and has stayed in the exempt country for a minimum of 120 days.
Note: In such cases, working with your animal doctor to obtain the required paperwork, such as vaccination records and health certification for travel purposes will be crucial. Pets in Guam are also subject to microchipping so it would be best if you get to learn more about this if you are decided to bring your pet/s with you on your stay here.
Furthermore, there are guidelines that may allow you to skip tight quarantine rules if you're traveling with a guide or service dog to aid with your special needs.
In-Demand Jobs for OFWs in Guam
So now that you have a better idea of the requirements and what you can expect in the process of moving to Guam, whether for work or what have you, it's also worth noting what are the jobs you can apply for as an OFW:
Engineers
electricians,
camp cooks
carpenters,
construction equipment mechanics,
operating engineers or heavy equipment operators,
plumbers and pipefitters,
reinforcing metal workers (masons),
structural steelworkers, and
welders, HVAC [heating, ventilation and air-conditioning] and refrigeration mechanics,
FINAL THOUGHTS
The future is indeed bright for Filipinos who will be given the opportunity to work again overseas in open countries such as Guam. Not only will your chances of bringing your family and getting permanent residency status in these countries increase, but also your prospects of earning more for yourself and your family. Hopefully, this guide can help you achieve all that soon!
Remember that when applying for work, you must only pick job openings listed in the POEA website since the government of Guam will be directly releasing approved job offers to its counterpart in the Philippines, the POEA. You can keep posted of what the majority of these jobs are and a few new ones by regularly checking with the POEA website.
READ NEXT: How to Become an OFW and Work Abroad